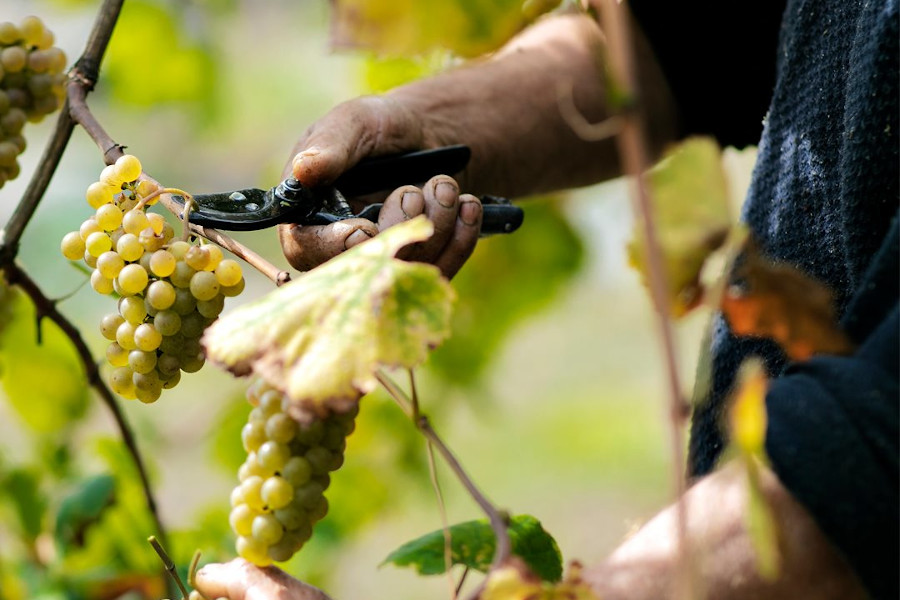 The wine producer Soalheiro and the textile company Tintex, both installed in Alto Minho, created an alternative fabric to leather that is made with organic cotton and grape marc and that can be used in products such as clothing and bottle labels.
"In addition to combining two important Portuguese industries – textiles and wine – this fabric fulfills the objective of circular economy solutions, that is, to give a new life to plant residues that would otherwise be waste ", point the promoters of the project to the Lusa agency.
A Sunny produces Alvarinho wines and is installed in Melgaço, while the dyeing, finishing and coating company Tintex is located in Vila Nova de Cerveira. There are about fifty kilometers of distance between the two companies in the district of Viana do Castelo that have in common the bet on sustainability and innovation.
The idea of ​​applying vegetable waste from grapes, resulting from the harvest, in the manufacture of an alternative fabric to leather appeared a few months ago on a visit to Quinta do Soalheiro made by Tintex's innovation director, Pedro Magalhães, who is "passionate about wines".
"We have a residue that is the grape marc, which result from pressing [extração do sumo que dá origem ao vinho]. These marcs have several possibilities to be used in the wine industry, but their valorization is not significant ", explains the manager and winemaker of Soalheiro, Luís Cerdeira to Lusa.
"Then the idea came up, with Tintex, to do an experiment and use this vegetable residue (which at the bottom are grape skins) to cover an organic fabric", Adds Luís Cerdeira.
The dream starts now …
This experience resulted in the creation, just a few days ago, of the first organic cotton fabric with grape incorporation, and its use in various products and purposes is now open. a leather substitute.
"Now the dream begins," says Luís Cerdeira.
Tintex's innovation director says he expects to have, "until the next harvest, several types of products" with the new fabric incorporated, "whether in label for bottles or in some types of clothing".
"The possibilities are many and depend on our customers, although always in partnership with us", sustains Pedro Magalhães.
This partnership between the two companies came about following a project in which Tintex was involved – the TexBoost, for the development of a new generation of innovative textile solutions.
This project made it possible to launch Tintex in production of a textile substrate that could be considered as an alternative to leather incorporating, on a cotton mesh, materials such as sawdust and pine bark.
In this context, the company currently has in patent submission of an "alternative textile material to leather made from by-products and residues of plant origin", whose application was submitted in June 2016 and which is expected to be completed "in a three-year horizon".
"We have already had interim evaluations with a positive result, but there is still a long time [para concluir o processo]. But as the international order is made, the technology and the know how are already protected ", points out Tintex's innovation director.
The intention is "to enter this product in the European, North American and possibly also in the Brazilian markets" and in sectors as diverse as health, fashion, leather goods, footwear or furniture.
Tintex works with fashion giants
The textile of Vila Nova de Cerveira is highly sought after by some fashion giants looking for fabrics with less impact on the environment, for example, implying less water consumption, use of natural raw materials and biodegradable fabrics.
Currently, Tintex works with several brands, namely from Northern Europe and Scandinavians (as is the case with COS, the Swedish group H&M), and is "trying to enter the US as well".
With around 130 workers, of which 10 are dedicated exclusively to innovation activities, Tintex invests around one million euros a year in Research & Development (R&D) and foresees that the technical textiles segment will account, within five years, for 20% of the company's turnover.
In 2020, the company's turnover amounted to 11 million euros, but the objective is to reach 20 million in five years, precisely through the bet on sustainable technical textiles, with the use of biopolymers and normally undervalued waste.
Soalheiro wines will have a seal vegan
This same bet on innovation and sustainability has been made by Soalheiro in the production of its wines. The company has biological certification of its vineyards since 2006 and the grapes are used in the production of natural wines, without the addition of sulphites and with minimal human intervention (without filtration).
The certification of all its wines is in progress. stamp vegan, having installed, last year, a vegetal covering in the cellar that will allow an estimated energy saving of 26% per year.
In 2021, Soalheiro is renovating its entire range with a new sustainable bottle, with 19% less glass and reduced carbon emissions used in its production and transportation.
Made in Portugal (when they were previously produced in the center of Europe), 90% of Soalheiro bottles will adopt this new format by the end of the year, which will allow for a estimated savings of 56 tonnes of glass per year.
Additionally, the packaging used by the company was also rethought to reduce 39% of card consumption, from responsibly managed forests (FSC certificate).