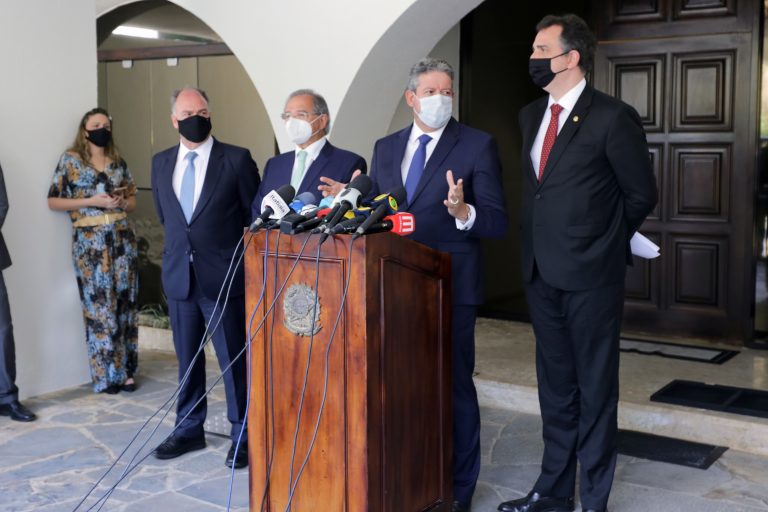 The objective is for the proposal to be constructed in a way that contributes to the payment of debts while respecting the spending ceiling and opening up fiscal space to fund Brazil Aid
Michel Jesus/Chamber of Deputies
Presidents of the Legislative met with the Minister of Economy, Paulo Guedes, to discuss the resolution of the precatoria

The Committee of precatory must be installed in the Representative body this Wednesday, 22, with the definition of the 34 members, the president and the rapporteur of the text. THE PEC was sent by Federal government and it deals with the installment of government debts recognized by the courts and which cannot be appealed anymore. At first, the amounts to be paid would be around R$89 billion reais in 2022 and the possibility of payment in installments was discarded.
Artur Lira (PP-AL), president of the Chamber, and Rodrigo Pacheco (DEM-MG), president of the Senate, proposed a payment limit for the next year of R$ 40 billion, equivalent to the court orders of 2016, before implementation of the spending ceiling. Pacheco defends that the rest of the amount be negotiated. "There would be alternatives included in the Proposal for Amendment to the Constitution (PEC) that would be possibilities of meeting accounts, offsets, realization with assets, negotiation between the parties, because precatoria, in the end, there is a creditor and a debtor who can, within an environment for negotiation, based on a legislative and constitutional authorization, to have a negotiation that could provide a solution to this balance of around R$ 50 billion already in 2022", said Pacheco.
With the agreement between the presidents of the legislative houses and the Minister of Economy, the PEC will change its concept and will be built based on three main points: the payment of court orders, respect for the spending ceiling and opening of fiscal space to fund Brazil Aid . Pacheco and Lira guarantee agility and commitment in negotiations. "We will try, starting from all the assumptions that were reported, to shorten the processing time of the PEC as soon as possible, if there is a convergence agreement, given the difficulties", said Arthur Lira.
Minister Paulo Guedes said that he trusts the National Congress and that he is sure that it will make the payment of precatory orders and the increase in Brazil Aid possible. "On the one hand, commitment and social responsibility. During that past time was the pandemic war. Now, we have to launch a layer of protection, of resources for Bolsa Família, increased precisely to minimize the impacts that this war brought", he analyzed. The economic team claims that the full payment of the amount would make the 2022 budget planning unfeasible. The PEC text needs to go through the special commission and be voted on in the Chamber's plenary. If approved, it goes to the Senate for consideration.
*With information from reporter João Vitor Rocha.