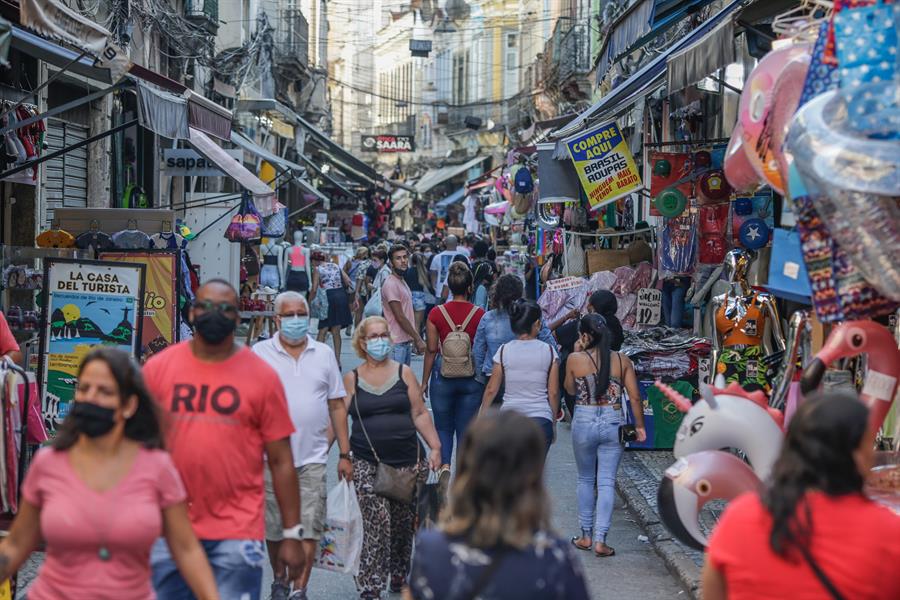 Gauge is measured on a ruler that runs from 0 to 200; thermometer comes close to neutrality,
EFE/André Coelho
The city of Rio de Janeiro reopened trade this Friday, 9th, after two weeks of closing to try to contain the spread of the pandemic

For the second consecutive month, the entrepreneur's optimism has been growing in the city of São Paulo. This is what the monthly survey of the Trade Federation. Business optimism increased 9.1% in July. Entrepreneur confidence is measured by a scale that goes from 0 to 200. Last month, it was just above 90. In July, it was close to 100. For Jaime Vasconcelos, economist at Fecomercio, there was an advance. The thermometer is close to neutrality, which indicates promising growth for the second half.
"This more optimistic scenario is also reflected by the confidence indicators that the Trade Federation has. One of them is Icec, which measures the confidence of our trade entrepreneur. Considering the most recent numbers compared to last year's data, the Icec grew 49%. I'm also starting to see a much more optimistic trend towards investing. And one of them is the workforce. For this reason, we are also observing the growth in employment with a formal contract. Also including temporary jobs." Therefore, there is still optimism amidst so many uncertainties, even knowing that temporary work does not provide stability for those seeking a replacement in the market.
For entrepreneurs, temporary hiring reduces the company's costs. The contract can be terminated at any time and without penalty. The company also does not commit to prior notice and the 40% fine of the guarantee fund. For the hired, usually young and inexperienced workers, it is a chance to have a starting salary, receive commission and other benefits, such as transportation vouchers, meal vouchers and even health assistance. According to the General Register of Employees and Unemployed, until May 2021, Brazil created 280 thousand formal jobs. Jaime Vasconcelos, economist at Fecomercio, foresees an even more promising scenario.
"Data from the new Caged show us that, last year from June to December, we had an advance of 108,000 temporary vacancies. Considering that the entrepreneur's confidence evolves 50% more this year, the trend is that we will operate this generation of jobs, which was already positive in the second half of last year." Even with the expectation of a resumption in sales, entrepreneurs from São Paulo still preach caution with regard to hiring because everything depends exclusively on vaccination. Having an immunized population brings security for new investments. The expectation is that the offer of temporary jobs will grow until the end of the year festivities. It is estimated that 110,000 new jobs will be created from June to December.
*With information from reporter Maicon Mendes