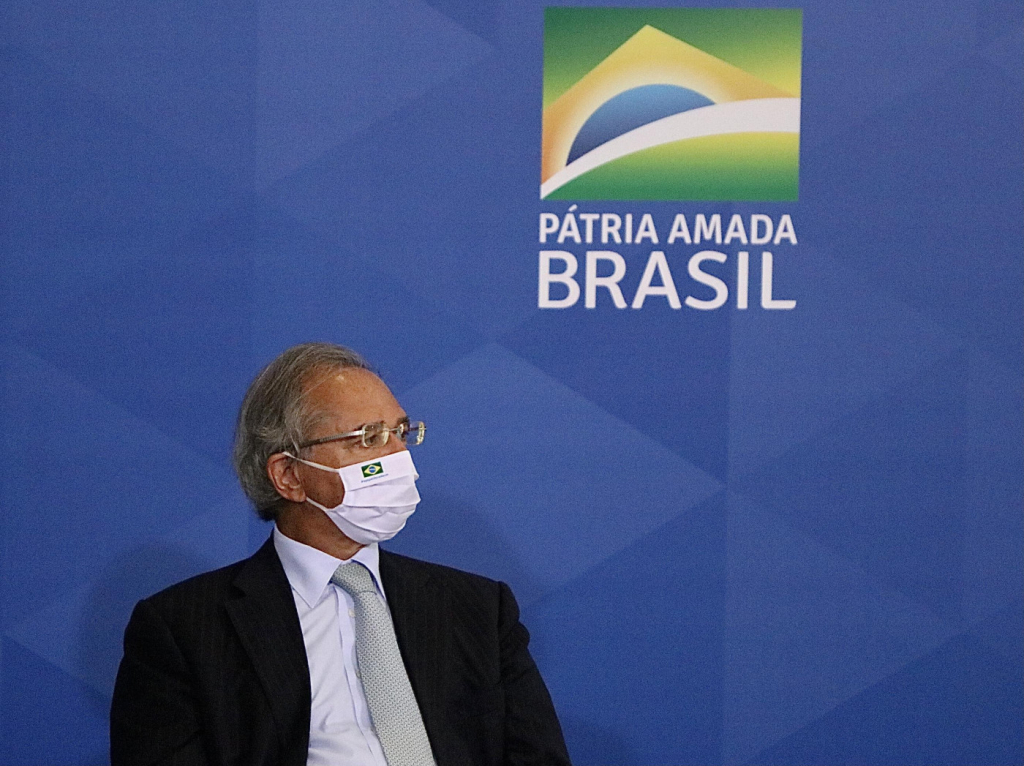 According to the Minister of Economy, the benefit is a 'weapon' and can be expanded if Covid-19 continues to advance.
FREDERICO BRASIL / FUTURA PRESS / ESTADÃO CONTENT
To guarantee the resumption of the Brazilian economy, Guedes again defended the need for mass vaccination in the country

The Minister of Economy, Paulo Guedes, admitted, this Thursday, the 27th, that the possibility of a new renewal of the emergency aid. In order to guarantee the resumption of the Brazilian economy, Guedes again defended the need for mass vaccination to prevent the negative effects of the pandemic Covid-19 continue to put pressure on the Brazilian productive sector. "Emergency aid is a weapon that we have and that can be renewed. If, contrary to what we expect, if the disease continues to strike, the deaths remain high, the vaccine for some reason is not coming, we will have to renew it. It is not our expectation today, "he said. During a meeting with businessmen, Paulo Guedes defended the need to reindustrialize the country and approve the tax reform. According to him, agribusiness shines abroad because there is no tax on agricultural products. The minister criticized the Tax on Industrialized Products (IPI), but admitted that he still cannot give up the revenue. And he stressed that the goal is to allow commercial opening without this, in practice, suffocating the national industry. "We are liberal, but we are not Muggles. So the whole pace of Brazilian openness has to respect this heritage, which is our industrial park. We are not going to bring down the Brazilian industry in the name of trade opening. "
Paulo Guedes recalled, however, that it is necessary to respect the characteristics of each region. According to the minister, Manaus, for example, needs to be the world capital of green economy, invest in new technologies and exploit the wealth of Amazon rainforest, protecting the region. When asked about the proposal that provides for the creation of a tax passport, the minister explained that the objective is to help companies that had a significant drop in the revenues. "We have to offer a way out, just like bankruptcy law has to allow companies that have fallen to be able to get up and start creating jobs again. Then there is the bankruptcy law, the provisional measure to improve the business environment, which will simplify taxes. Likewise, we want the tax passport be a set of facilities ", he pointed out. The meeting of the Economy Minister with businessmen was broadcast live on social networks. At the beginning of Paulo Guedes' speech there was an invasion of the transmission, when pornographic material was aired. The minister and the participants did not learn about the problem until later. Those who followed the event from a distance lost part of the minister's speech due to the attack. The so-called Industry Coalition explained that the profiles responsible for the invasion were quickly deleted. The group apologized and promised to investigate the facts.
* With information from the reporter Luciana Verdolin