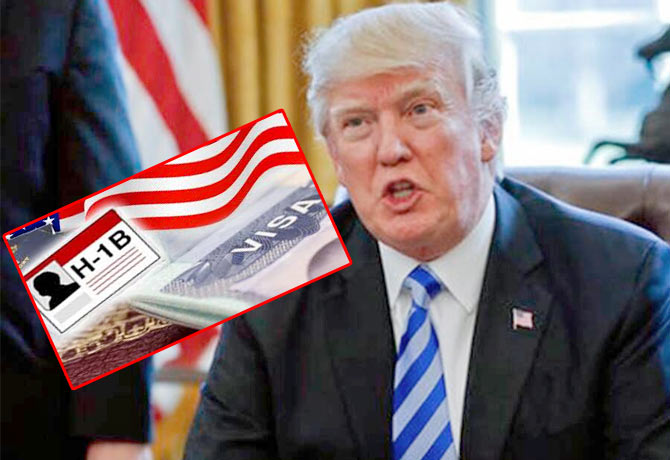 Prohibition on green cards, H1B and other working visas extended until March 31
Difficulties for Indian IT professionals
Not a good decision: Biden
Washington: President Donald Trump has extended the ban on greencards, H1B visas and other work visas in the United States until March 31. Trump, who will soon step down, is still exercising his executive power. Orders were issued to extend their suspension. This has created a lot of frustration for Indian IT professionals. Trump is now issuing these orders for reasons such as banning those who come from abroad and work for American companies, thereby protecting the interests of American employees. Trump also extended the existing ban on the issuance of green cards and employment-based visas, along with H1B visas, until March 31. It is unknown at this time what he will do after leaving the post.
The sanctions imposed by Trump have been in effect since April at various stages. The ban expires on December 31. With this in mind, Trump has once again hunted them down. Trump issued the orders within hours of the deadline. The U.S. will issue H1B visas during the new fiscal year, beginning October 1, 2021. This will now have an impact on the largest number of Indian IT professionals, as well as many American and Indian IT companies. Trump has defended his ban on visas. He asserted that his confession had been obtained through torture and that his confession had been obtained through torture. Trump initially banned greencards issued to family members living in the United States.
The highest number of Indians have high hopes for green cards that will qualify them for permanent residence in America. Following the ban on greencards, it also applied to H1B, H2B, JA and L1 visas. This prevented Indians who were employed in America from having jobs with other Native spouses. The Trump administration banned green cards on visas in the United States through ordinances issued on April 22 and later June 22. Now that Trump has extended the deadline on these visas, various companies will have to wait until March 31 for visas.
Trump has argued that the impact of Kovid's severity is still hurting U.S. markets, and that he has urgently increased the ban in the national interest. Trump said the livelihood of Americans has been damaged for a number of reasons, with the unemployment rate reaching 6.7 percent in November. Earlier in April, the rate was slightly better compared to the peak. It also announced the extension of visa restrictions on countries that refuse to extradite Americans living abroad who have become traitors.
This is Bad: Biden
Future President Joe Biden protests Trump's orders on visas and greencards. He did not say whether he would rescind the orders once he came to power. But constitutional experts say this will only complicate matters for Biden, as Trump has issued Wheeler's orders to withdraw these immediately in the most crucial way. Trump, who lost the US presidential election, has been issuing a number of key decisions and orders in the run-up to his ouster from power, which has been tainted by the courts. It is being analyzed that there are constitutional and legal implications.
Trump extends bans until March 31