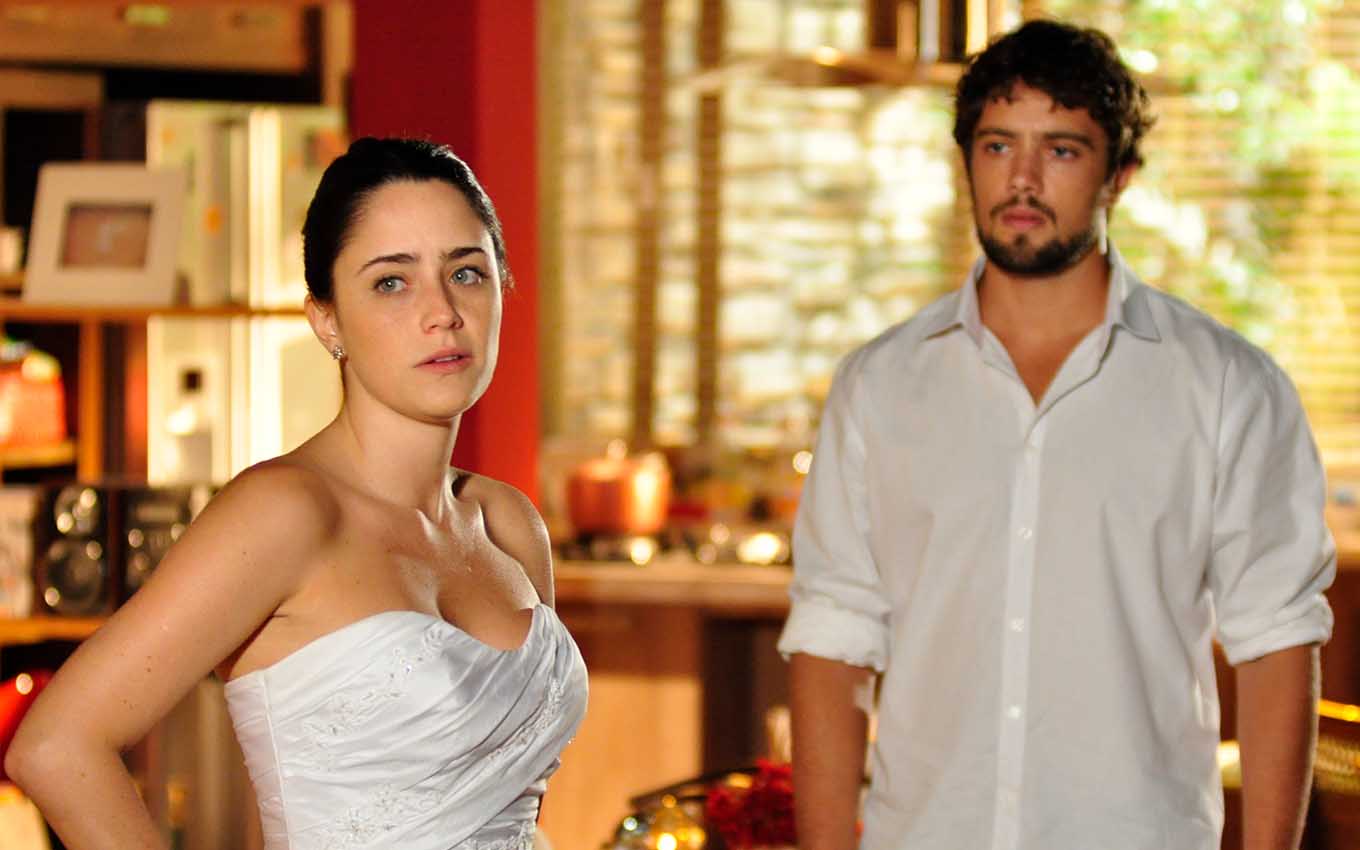 Ana (Fernanda Vasconcellos) is going to try on the wedding dress, but she won't marry Lúcio (Thiago Lacerda) this week in A Vida da Gente. In a crisis of conscience because of a fight with Manuela (Marjorie Estiano), the former tennis player will ask the surgeon for a break after Rodrigo (Rafael Cardoso) messes his head up even more on Globo's six o'clock soap opera.
Sofia's trainer (Alice Wegmann) will be dealing with the last details of the ceremony when approached by the architect in the scenes that will be shown next Thursday (22). "I came here to ask you. Or more than that, I came to beg. Don't go ahead with this marriage business," the boy will shoot.
"You have no right to come here to do this," the former athlete will complain. "You've already admitted that our story just didn't go through because of Julia [Jesuela Moro]. How do you think I'm feeling seeing you like this? Try to understand what this means to me", will add the handsome one.
With a hot head, Ana will ask Rafael Cardoso's character to leave, but he won't give up and insist:
I didn't believe you were going to go through with this story. I thought it was just another desperate attempt on your part to forget about me. Forget about us. And then I didn't make a move. I stayed still. Now, I need to try to make sure I don't regret it. Can't you see you're repeating the same mistake? You are running away again. Throwing yourself into a loveless marriage.
End of the line
After arguing with her ex-boyfriend, Ana will fall apart and break Lúcio's heart by revealing that he can no longer marry. "I prefer you to be able to tell me the truth, because I don't want to be here alone and wondering the reason for this abandonment. You can start by telling me if this has anything to do with Rodrigo," the doctor will demand.
The former tennis player will take a deep breath and reveal that she still has some affection for Nanda's brother (Maria Eduarda de Carvalho):
It has to do with me. It has to do with the deep lack of knowledge I have about myself. I wanted to ask you to forgive me, but it's not fair. No more lies, because they were the ones who poisoned everything. In the midst of my anger, I said something about ending my relationship with Rodrigo that made me realize that I'm not sure if we really broke up because of my choice.
Tears will well up in Lúcio's eyes. "What are you wanting? For me to feel sorry for you, is that it?" the doctor will ask. "I want you to understand me. I'm completely lost and I don't want to take you with me in this maze. I know I'm not entitled to ask for anything", will reply the ex-tennis player.
"You really don't. You have no right to ask me for absolutely anything. Get out! Get out of my house now!", the neurologist will shout, when he reaches his limit, in Licia Manzo's newsletter.
Lúcio (Thiago Lacerda) in A Vida da Gente
Chapter summary
Second, 7/19 (Chapter 121)
Ana tries to reassure Sofia before her tennis match. Sofia wins the game, and Cecília leaves the court booed for her attitude against her rival. Lorena tells Lourenço that she will help him in the process for guarding Tiago. Rodrigo hears Wilson talk to Laudelino about Ana's marriage. Renato asks to talk to Suzana about their relationship. Francisco takes care of Nanda. Alice overhears Renato and Suzana's conversation.
Tuesday, 7/20 (Chapter 122)
Julia tells Ana that Manuela will not go to her wedding. Lúcio advises Ana to look for Manuela. Lourenço calls Rodrigo to visit Tiago. Alice questions Suzana about her conversation with Renato. Olivia takes the ring Sofia got from Miguel to go to a party. Ana looks for Manuela, and the two sisters end up arguing.
Wednesday, 7/21 (Chapter 123)
Ana and Manuela argue. Nanda talks to Manuela. Suzana tells Renato that she'll try to save her marriage to Cicero. Nanda tells Rodrigo about the argument between Manuela and Ana. Manuela tells Iná that Ana hates her. Olivia tells Dora that she took Sofia's ring and lost it. Rodrigo begs Ana to give up marrying Lúcio.
Thursday, 7/22 (Chapter 124)
Ana asks Rodrigo to leave her house. Ana watches Lúcio at a cafe with Celina. Sofia catches Olivia giving her ring back, and Marcos and Dora end up getting into a big argument. Eva is shocked to see her daughter's wedding dress lying on the floor. Ana reveals to Alice that she has decided not to marry Lúcio. Ana looks for Lucius.
Friday, 7/23 (Chapter 125)
Ana tells Lúcio that she can no longer marry him. Eva loses control when she finds out that Ana is no longer getting married. Ana goes to Iná's house and asks to spend a few days with her grandmother.
Jonas tells Nanda that he won't support her anymore, since he decided to testify in favor of Lourenço in the process. Suzana tells Cicero that she was starting to feel involved with Renato. Rodrigo looks for Ana at Iná's house.
Saturday, 7/24 (Chapter 126)
Ana tells Rodrigo that she won't stay with him. Cicero decides to leave Suzana. Jonas, Cris and Lourenço testify to the judge about Tiago's life. Sofia visits Ana at Iná's house, and Ana says she can't train her friend anymore. Lúcio tells Celina that he doesn't want to hear from Ana. Marcos tells Dora and Sofia that he's closed his agency.
---
The chapters of A Vida da Gente are provided by Globo and are subject to change without notice
---
Subscribe to the channel TV news on YouTube and watch videos with revelations of what will happen in A Vida da Gente and other soap operas.
.