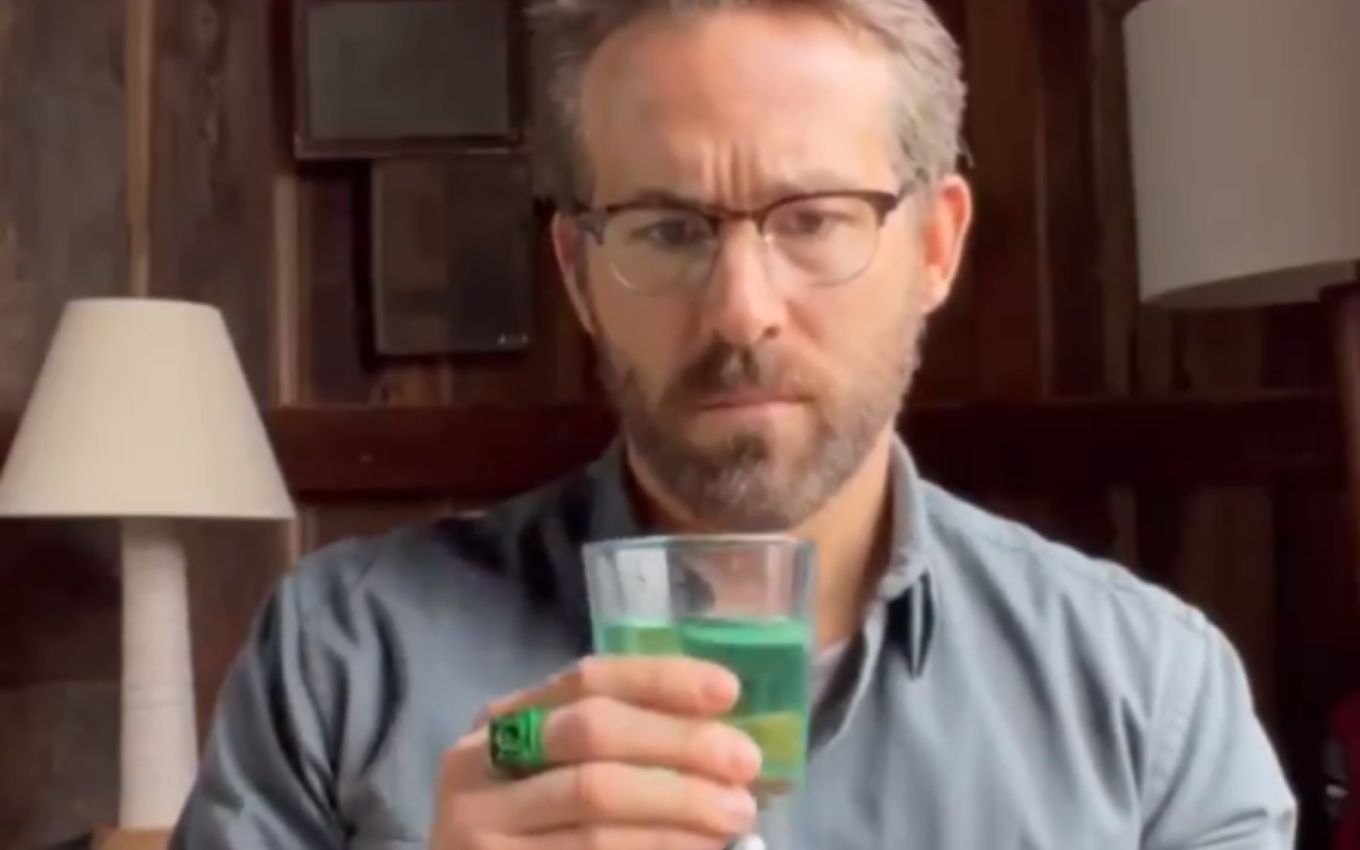 Ryan Reynolds used Twitter to share with fans his reaction to watching Green Lantern (2011), a movie he released ten years ago but said he had never seen. "It is nothing to be afraid of. Hundreds of incredible professionals and the cast members did a great job. Although it is not perfect, it is not a tragedy. Next time, I will not wait a decade to watch it," said the actor. .
The DC superhero feature was widely criticized by fans at the time of the release, and the protagonist himself has made several jokes about his work as Green Lantern, even considering the film a "failure".
Ryan Reynolds explained that he decided to see the production due to the release of Snyder's Cut, a new version of Justice League (2017) by Zack Snyder. "Before that, I'm going to do something I never did: watch the Green Lantern. Happy St. Patrick's Day," he wrote.
The actor also made a point of praising colleagues like Stanley Tucci, Angela Bassett, Michael Clarke Duncan (1957-2012) and Blake Lively, now his wife: "Honestly, this cast is incredible". "I only read my parts of the tour, so it's something genuinely cool for me to watch," he joked, at another point.
"Watching him was not everything I imagined. I am usually hard on myself. But being a decade later made the experience a little strange and kind," concluded Ryan Reynolds, who also published a photo showing that he kept the Green Lantern ring worn in the recordings until today.
Check out some of the posts (in English) made by Ryan Reynolds when watching the movie Green Lantern for the first time:
Still have the ring pic.twitter.com/eDezX6iTQc

— Ryan Reynolds (@VancityReynolds) March 17, 2021
Excited to see the Snyder Cut. But ahead of its debut – and with the aid of a good amount of #AviationGin – tonight at 6pm EST I'll do something I've never done: actually watch Green Lantern. Happy #StPatricksDay

— Ryan Reynolds (@VancityReynolds) March 17, 2021
This protagonist seems reckless but likable

— Ryan Reynolds (@VancityReynolds) March 17, 2021
This was not bad foreshadowing for my life as a dad pic.twitter.com/sj5jzWrWUt

— Ryan Reynolds (@VancityReynolds) March 17, 2021
Do you have any idea how weird it is to act while being attacked by invisible space energy?

— Ryan Reynolds (@VancityReynolds) March 17, 2021
Maybe it's the Aviation Gin talking, but #GreenLantern was nothing to fear! Hundreds of incredible crew and cast members did amazing work — and while it's not perfect, it ain't a tragedy. Next time I won't wait a decade to watch.

— Ryan Reynolds (@VancityReynolds) March 17, 2021
Feedback Policy
This space aims to expand the debate on the subject addressed in the news, democratically and respectfully. Anonymous comments are not accepted nor do they violate ethical and moral laws and principles or promote illegal or criminal activities. Thus, slanderous, defamatory, prejudiced, offensive, aggressive comments that use bad words, incite violence, express hate speech or contain links are summarily deleted.
.