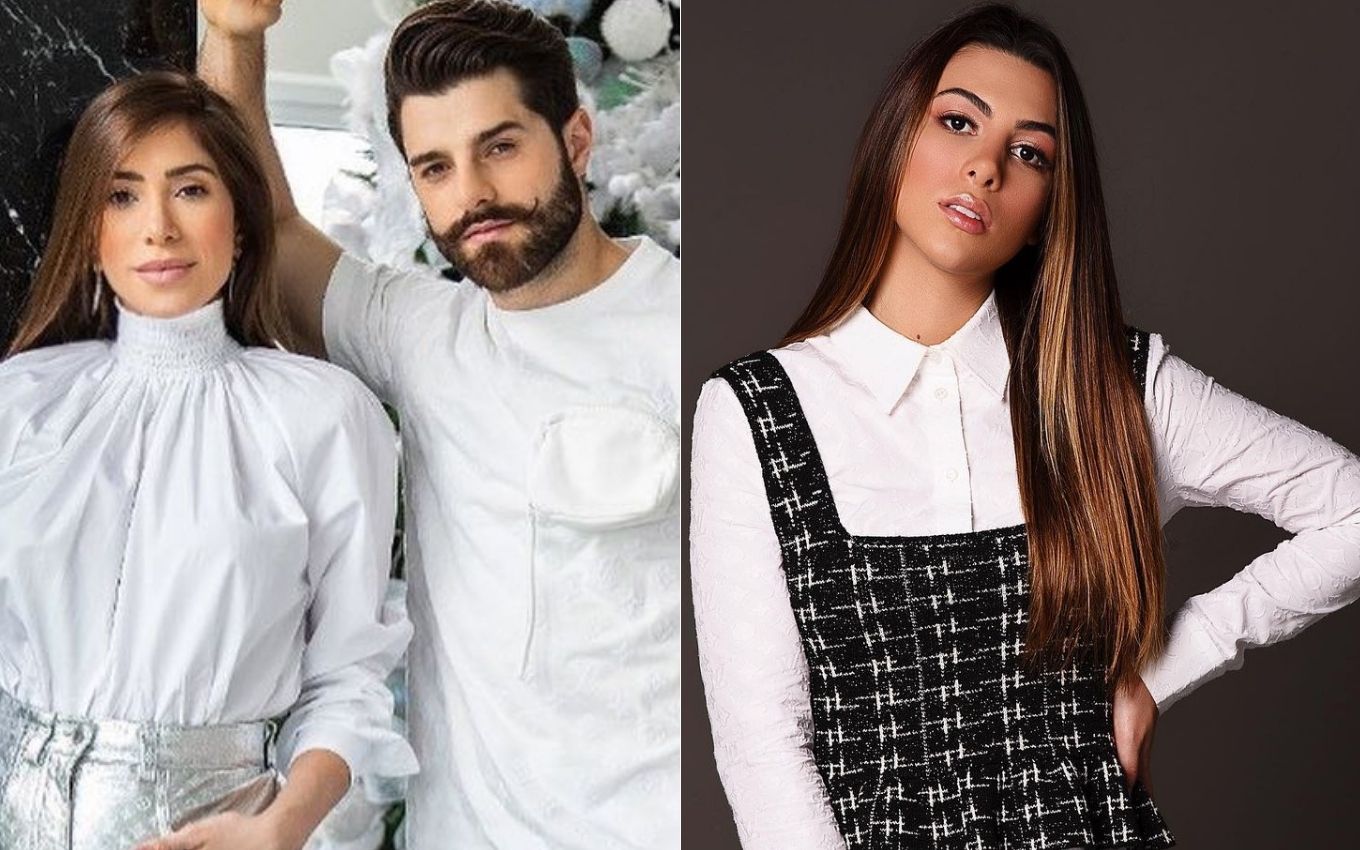 Alok and Romana Novais sought out Pétala Barreiros, ex-wife of Marcos Araújo, businessman who takes care of the DJ's career, after the scandal in which the young woman became involved this week. The influencer revealed that she received the support of some artists who work with her ex-husband. "She [Romana] made financial aid available if needed, "he said.
In an interview for Antonia Fontenelle's YouTube channel, Pétala gave details of the abusive relationship she had with Araújo since she was 14 years old. He is the owner of Festival Villa Mix, president and CEO of Audiomix and entrepreneur of artists known to the general public.
Now 21 and the mother of two – Lorenzo, 6, and Lucas, just 1 month -, she exposed the end of her marriage and explained how her personal life and his affair with Lívia Andrade came to the fore .
In the face of so much exposure, Pélata cited that many questioned whether her ex-husband's famous friends sought her out. "My children's father is an artist entrepreneur. There were many comments asking about their position. Marcos never let me be close to them. I have already traveled with Alok and Romana, but he [Araújo] he never allowed me to approach them ", he said.
"When all this started to happen, Romana contacted me. She provided financial assistance if needed," he noted. According to her, Sarah Biancolini, wife of the countryman Kauan, of the pair with Matheus, also offered protection.
"Alok, Romana, Sarinha and all the people who supported me, with all my heart, I will never be able to thank you," he declared to Na Lata with Antonia Fontenelle on Wednesday (30).
In a statement to the presenter, the young woman narrated how she met and fell in love with Araújo at the age of 14. According to her, the initial approach happened by chance after he appeared in the background of a photo she took with singer Israel Novaes at a concert. From then on, he started looking for her on social networks.
"He called me beautiful. I thought it was strange because, at first, I thought he wanted to be with my 26-year-old cousin," she confessed. The teenager found herself involved by the professional, who invited her to barbecues, concerts, trips, events and offered to pick her up at school for meetings. The courtship was inevitable. Initially, on the sly.
Pregnant at 14
For Antonia, the model said she was a virgin when she met her ex-husband. The pregnancy took place months after the first sexual intercourse. "When I got pregnant, I was 14 years old. Then my parents found out. My mother was very nervous, she sought justice, the police station. Only she discovered it was not a crime," he said. The crime of rape of the vulnerable is configured with the carnal conjunction or the practice of libidinous acts with children under 14 years old.
"As soon as I got pregnant, he distanced himself from me," she recalled, who has declared herself in love in the past. Supported by the family, Pétala had her son in the United States. After delivery, she had to do a DNA test to prove that the baby belonged to the businessman.
"When Lorenzo was three months old, we did the exam. This was the first time he saw his son. As I was a minor, my mother was responsible for everything. She didn't want to fight. She took me to the United States to have Lorenzo When we did the DNA, he repaid [os custos]. The judge determined a pension and since then he has paid ", he detailed. The Justice defined R $ 17 thousand of pension for the firstborn.
Aggressive man
According to the young woman, although the businessman is not a present father, she found herself emotionally involved by him. Not even the assaults, which started after the third year together, made her give up on the marriage. Lucas was born a month ago, the couple's second child. "I was in love. He asked me for forgiveness, said it would be different and I believed," he admitted.
Petal said that it ended when she was still pregnant. For Na Lata, she said she suffered aggression when she was expecting her second child. "That was the reason for our ending. It was on the day of Villa Mix's first live. At the beginning of the year, I was already pregnant and he was very upset with me", he recalled.
"That was when I realized that my pregnancy would be at risk. So, I put an end to it. I broke up with him, said it was our last day together and left for my parents' house," he said.
"He was always drunk. And that was what I ended up accepting. The next day, he woke up very sorry, said he was going to change and we went to church together. I am a Christian and I believe in the power of God. I tried everything. I thought he had the possibility to change. Every time he attacked me, he was drunk. The other day, he asked for forgiveness and said he would change ", he lamented.
According to Pétala, Araújo still does not pay the youngest's pension and the request for this runs in court. She even reported that she provided a DNA test to prove that the two children have the same father. Faced with a scandal, the young woman says that she regrets having lived a "sick relationship" and said she feared for her own life.
"After this exhibition, I am very scared for myself, my family, my parents and my children. I am very scared. Today I received some directs [mensagens diretas no Instagram]. I forwarded everything to my lawyers ", he warned.
Lívia Andrade and tennis
In an interview with Antonia, Pétala again asked that Internet users not attack Lívia Andrade. According to her, the ex-husband confirmed an affair with the former SBT presenter in November 2019. Involved in the issue, the artist spoke out against the young woman on social networks.
"She is not to blame. She is not to blame for what is happening. Everything she said, I see Marcos' words. So, she is being manipulated by him to attack me. Since he doesn't like to show up, he won't put his face, he's using her to do this. So, with all his heart, she is not to blame ", he analyzed.
Lívia was quoted in the story after a photo of her with a sneaker that was of circular Petal in WhatsApp groups. The ex-husband would have passed on the gift to the presenter. "I sent [a foto] in a group. It's a shoe that he gave me and as soon as we separated, I sent a message [pedindo de volta]. They sent me pictures of her wearing sneakers and I saw that she was with him ", he explained.
"I don't want the tennis back. From the heart, you can stay. You can do whatever it is," concluded Pétala on the controversy.
O TV News contacted Marcos Araújo and AudioMix, but did not receive a return until the publication of this text.
See interview with Pétala Barreiros:
.