Ana Maria Braga paid tribute to Tom Veiga (1973-2020), interpreter of Louro José, at the premiere of the new scenario of Mais Você, in São Paulo, this Monday morning (22). The presenter cried when showing a video with her best moments with the parrot and made an emotional narration. "I decided to record, because here I thought I would not be able to speak," he explained.
After only a few words of utterance, the veteran did not contain her tears and, with a choked voice, continued the speech dedicated to the actor, who died on November 1, 2020.
"My dear parrot, from the beginning you closed with me and we took the first steps towards a successful 22-year trajectory. We have conquered a huge audience. The affection that we received and receive until today is a job that I am very proud to have performed at your side ", started.
PLAYBACK / TV GLOBE
Tribute outside the studio
"I miss you immensely, Louro José. There were more than five thousand programs at your side. And you are always faithful, attentive, loving, cheering up Globo's mornings with a lot of humor, intelligence. The parrot never hid the person and the wonderful partner he lived with backstage. The two were one. How much I miss you, my friend Tom. Going back to São Paulo studios without your company gives you a squeeze in. This is a new beginning, a new challenge that I dedicate to you. , which was, is and will always be so important to me ", he declared.
REPRODUCTION / TV GLOBO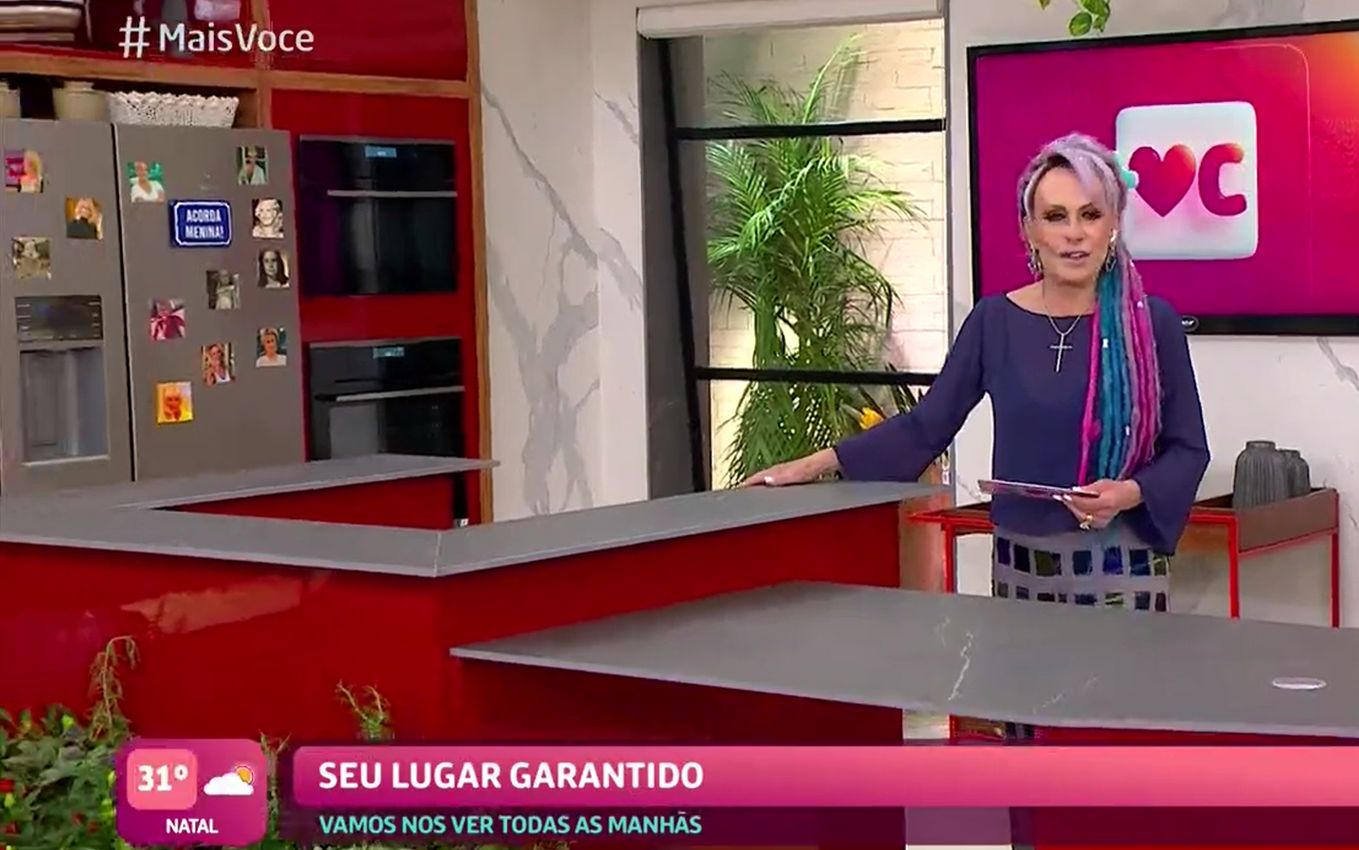 Ana showing the space reserved to Louro
During a walk through the new space, Ana Maria showed that she asked the team to include in the kitchen a countertop similar to the one she had for Louro José in previous studios. According to her, the puppet has to be part of the program forever.
"I booked our piece of Louro José, because I couldn't see this scenario without having a little piece of it. It will always be in our life. will never leave our life ", he explained.
Before entering the studio, Ana started the attraction in the station's garden, where there was a giant-sized morning logo, assembled with colorful flowers. She also revealed that she chose the same outfit for the attraction that she wore on her debut at Globo in 1999.
REPRODUCTION / TV Globo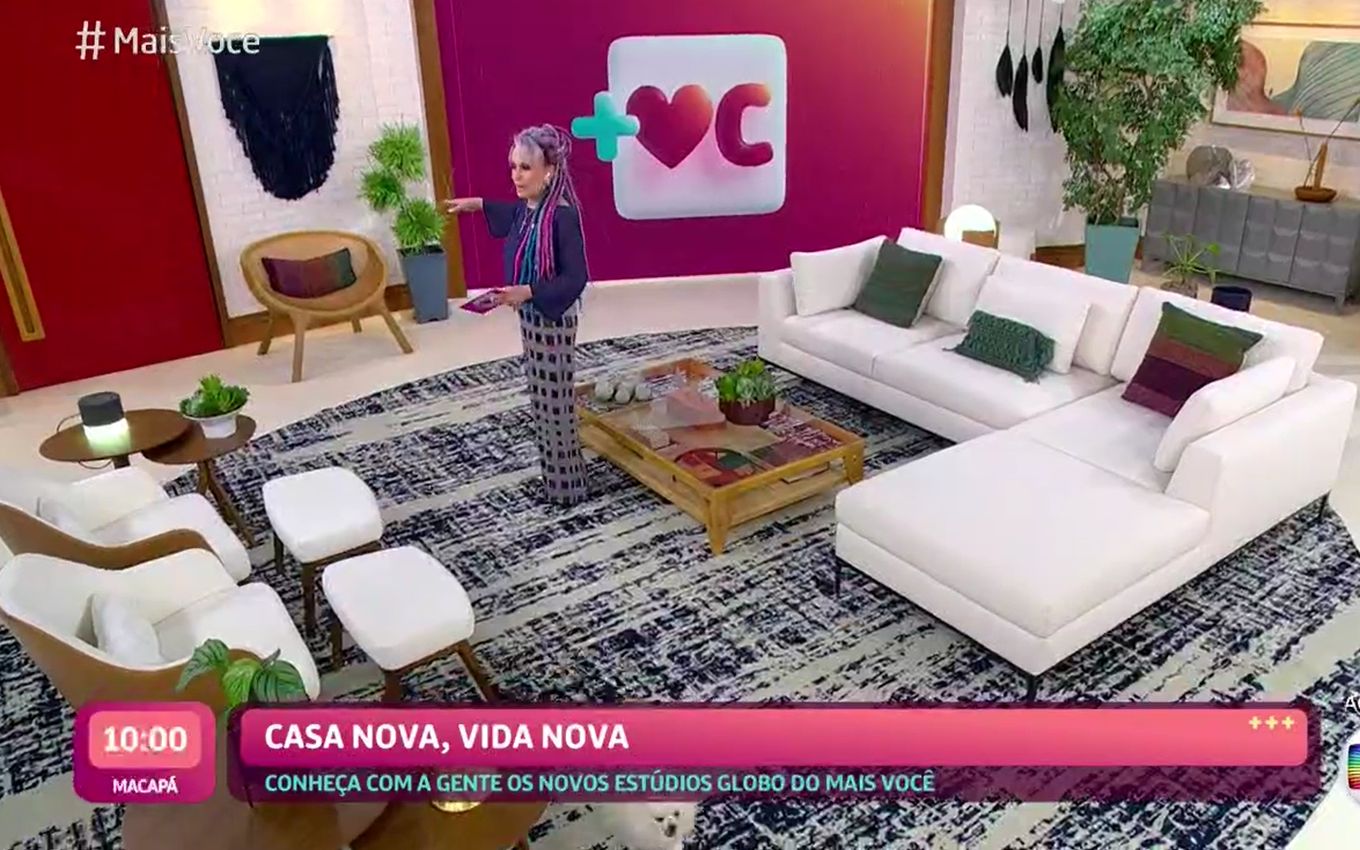 The new scenario of Mais Você
"I am wearing the same clothes that I debuted at Globo. After 22 years, I had to tighten, not stretch. It is not for everyone", amused the veteran, who bet on pink and purple dreads for compose the hairstyle.
Internet users spoke about Ana Maria's new scenario. Check out some reactions below:
I respect Ana Maria Braga's trajectory a lot. What a woman, what a communicator. It deserves all the success! #More you

— Wiglêr Torres (@WiglerTorres) February 22, 2021
and there I go cry again. this definitive beginning of the #more you without Louro José it shows the emptiness, the lack that Tom Veiga makes after all these decades with Ana Maria and with us 3

— Princess Consuela Banana Hammock (@annystonreal) February 22, 2021
Guy too tearful with Ana Maria's homage to Louro José

– Renato Mendes (@Renatdz) February 22, 2021
Ana Maria is so fresh and pleasant to watch. I love the way she reinvents herself and stays current in visuals and speeches 💓 #More you

— MODO TURBBB 〄 (@dani__hell) February 22, 2021
Ana Maria Braga of fake colored dread is not the heroine that Brazil wants, but it is the heroine that Brazil needs

— m i r o e z (@miroez) February 22, 2021
It is sad to think that Ana Maria went to RJ with Louro José and returned without him 🙁#More youpic.twitter.com/C4sk5JXHSI

– jao 💥 (@_Juaumvict) February 22, 2021
We cried a lot with longing for Louro José 😭 also Ana Maria Braga pic.twitter.com/0YNva9oJ6f

– Rosângela Piropo (@PiropoRosangela) February 22, 2021
I will never be able to express the height, how much it all means to me. Laurel José forever my king, my angel, my inspiration. Ana Maria my biggest reference. I love you I love you I love you! 😭😭😭😭🙏🙏🙏🤩🤩🤩 #More youpic.twitter.com/OOWpMbFphl

– Leles (@lelesrodrigao) February 22, 2021
As I wanted to give you a hug Ana Maria, and say strength in your new blond home will always be #More youpic.twitter.com/AlDvdPvQWw

— Aline Lopes (@AlineLo90949513) February 22, 2021
Poor Ana Maria, I can see it's been a struggle to live without the blonde

– I'm in the B series (@acatchup_) February 22, 2021
I got emotional😢
I'm sure the sky is happy to have you, blonde José. But here we miss you. The + ❤VC without you will never be the same. But good luck Ana Maria, shine a lot this program cannot end, may God cover you with health and peace. Strength Ana❤ #More youpic.twitter.com/ECxWunr7gw

– Janaína Marques 👸🏼💖🦋 (@ JananaMarques17) February 22, 2021
.