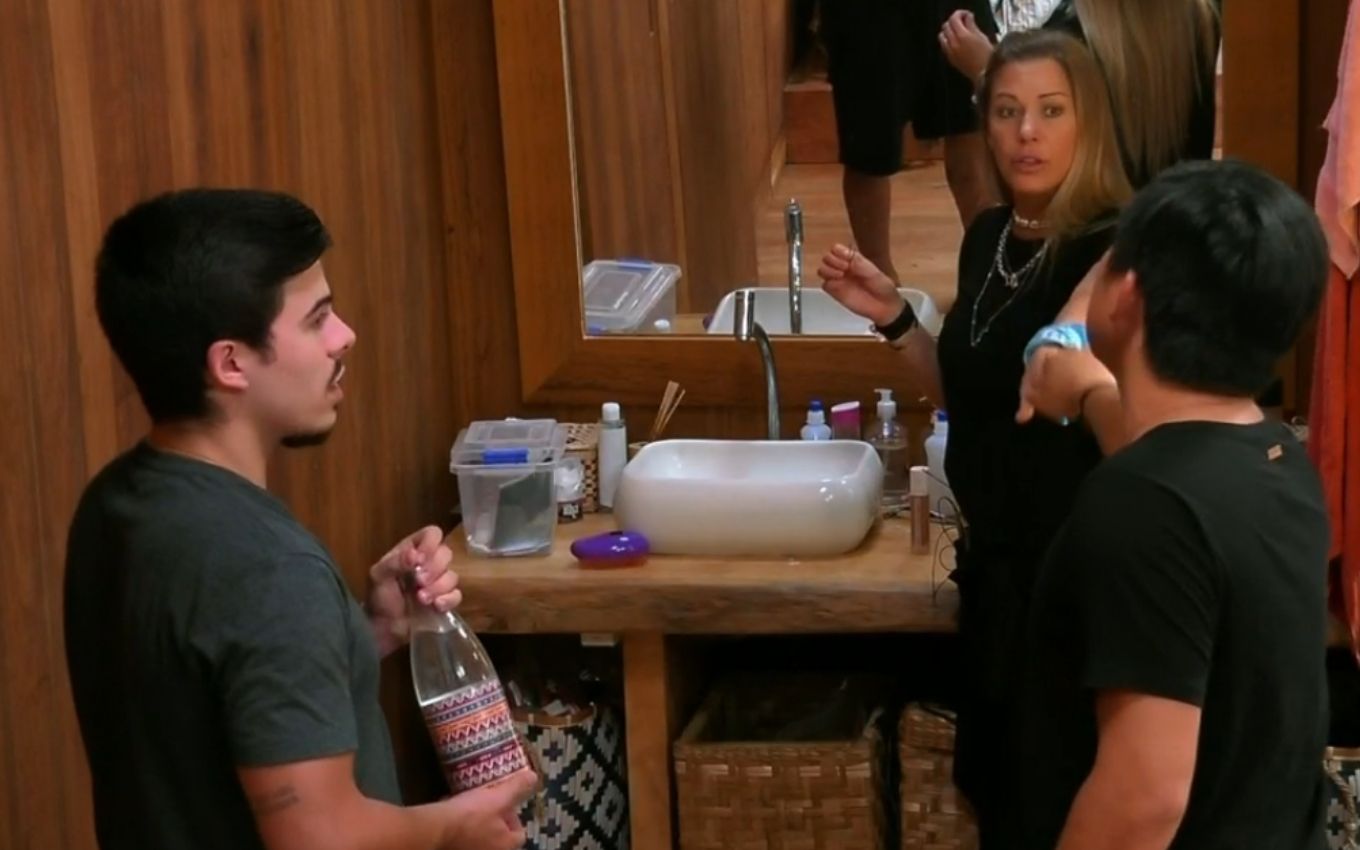 Antonela Avellaneda lost patience with Thomaz Costa during this Wednesday (8) edition of Ilha Record. The actor commented on the Argentine's excessive approach to Pyong Lee and ended up causing an uproar among the allies. "Don't touch my name," fired the model.
After returning to the Vila, Antonela told Pyong about the comments that Thomaz had made about her. "He keeps bugging me, he keeps bugging everyone. He keeps bugging me, your piss, I'm pissed off," she complained.
"These are comments in a context he doesn't know, that he wasn't here, that he was commented on in Exile," continued the blonde in an interview with the reality show's production.
Worried that the fight between the two allies would jeopardize the treasure hunt of the grand final, Pyong advised Antonela: "There's a final to do today and tomorrow. I'll have to deal with mine outside and that's fine," he reacted. "I'll deal with it too. Every time you go to sit next to me, he comes and wants to be on top. He looks like a child, if he cares," continued the participant.
"Don't you mind?" asked the Argentine. "Whatever for me, I don't keep getting the battery, you keep getting the battery. I'll talk to him, just keep my balance," Pyong replied.
After talking to the hypnotist, Antonela approached Thomaz to talk about the situation. "Don't bother Pyong Lee because he's no fool and you don't have 20 years to talk about him, about his family. We've already talked and we've already figured out. It's annoying for you to poke around all the time. you don't know about my life," she snapped.
"It's boring for everyone who is watching. I would be ashamed!", countered the ex-boyfriend of Larissa Manoela, who left the place soon after. "He's a fucking muggle," Antonela yelled as she spoke to Pyong.
Later, the actor returned to the bedroom and approached the model, who asked the ally to stop with the comments: "It looks ugly, Thomaz, I have a family out there too. You don't talk about it, that's all I'm asking you". "I play yes because [ele] he's my friend," explained the actor. "I'm telling you not to talk about me, don't touch my name," continued Antonela.
Watch the video:
Geeeee… even in the final stretch, there's bullshit going on between Antonela and the @euthomazcosta. 🔥 Go to https://t.co/aETZz312g4 to watch the #IlhaRecord now! pic.twitter.com/PFsDt5fxOf

— Ilha Record (@ilharecord) September 9, 2021
---
Learn all about reality shows with the podcast O Brasil Tá Vendo
Listen to "#52 – All about the new season of the Show of the Celebrities!" on Spreaker.
---
Subscribe to the channel TV news on YouTube to check out our daily newsletters, interviews and live videos
.