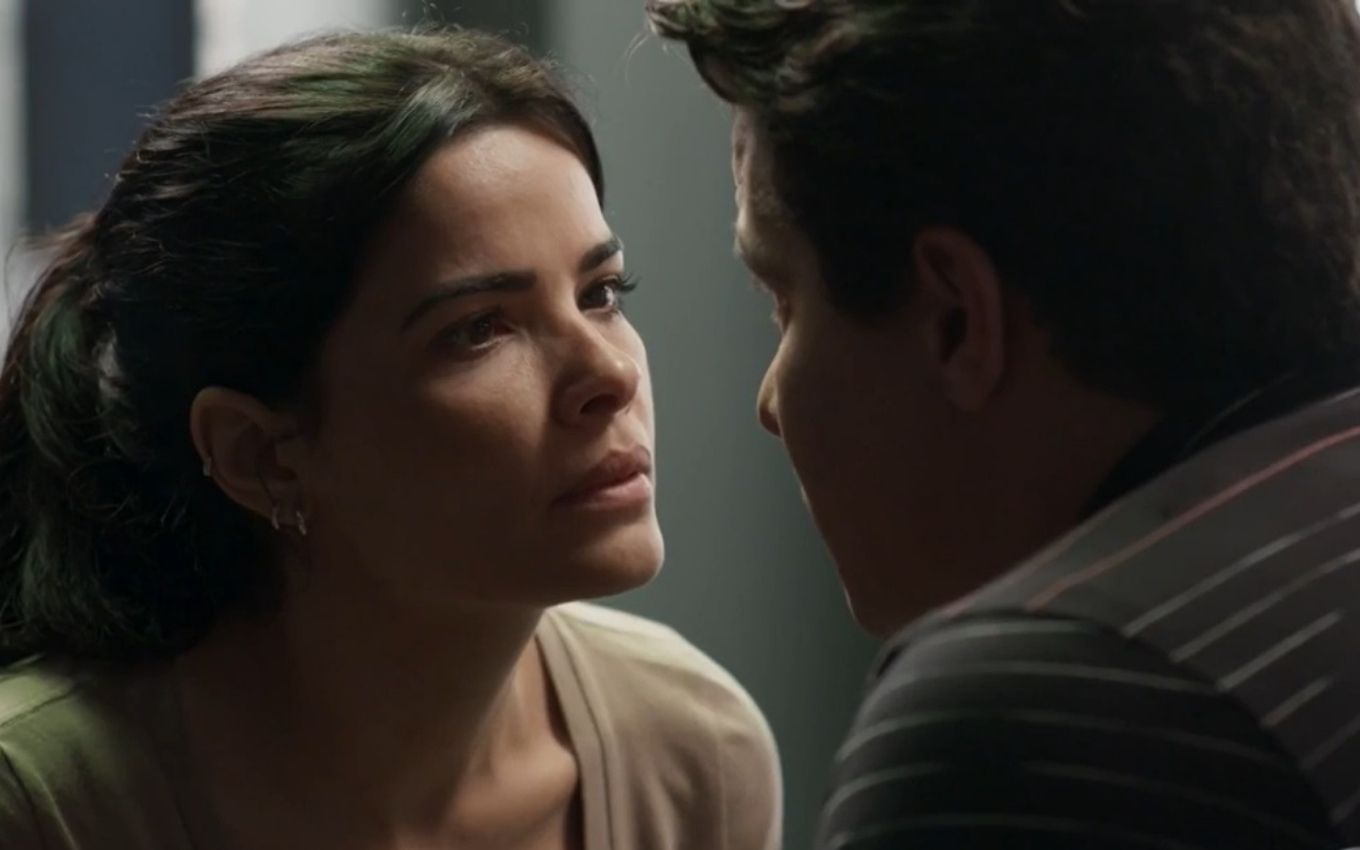 Antônia (Vanessa Giácomo) will fall into temptation and will end up kissing Júlio (Thiago Martins) in Pega Pega. Still hurt for having been involved with one of the Carioca Palace thieves, the policewoman will regret her relapse. "You used me, you deceived me", she will shoot in the Globo telenovela.
In Claudia Souto's serial, Arlete's son (Elizabeth Savala) will go to the police station after his house was invaded. "Could it be that you didn't do it yourself? It's just that in addition to being a thief, you're also sleepwalking," Domenico (Marcos Veras) provoked, jealous of his partner. Sister Nelito (Rodrigo Fagundes) will scold him and ask how her ex-boyfriend's aunts are doing.
The former waiter will tell that Prazeres (Cristina Pereira) was having dinner with a friend when the bandits entered. "The worst thing is that they ransacked my whole house and didn't take anything. I'm scared," he'll admit. "He has to be, he went to associate with a criminal, right", will nudge the inspector, who will decide to take over the case. Afterwards, she will talk to the boy alone.
"I only came here because I was really scared," says Elza's (Nicette Bruno) nephew. "I am worried about your aunts", will confess Antonia. Thiago Martins' character will ask if the agent believes the criminals think he has more money than he returned. "And you do? You only had those ten million dollars?", the policewoman will press.
But the young man will emphasize that he only had one suitcase belonging to Pedrinho (Marcos Caruso). "I think it's better if you deliver whoever's defending. I know you and Agnaldo [João Baldasserini] they didn't do it alone," says Chief Siqueira's subordinate (Marcello Escorel). The brunette will then tell her that she's going to better investigate the invasion of his house.
Antônia will kiss Julio in the soap opera
The meat is weak…
In the scenes planned to go aired next Saturday (11), the girl will go to the village where her ex-boyfriend lives and will end up meeting him. "I came to know about the invasion, to talk to your aunts. I ended up talking to your mother," the inspector will explain.
"For a few seconds, I thought you had come… I was happy that you came here, to see you", will release Julio, who will take courage and kiss the agent. "We love each other," the former waiter will say as soon as Antonia leaves. "No, I loved a hardworking, honest guy. You lied to me. You used me, you tricked me," she'll revolt.
Sandra Helena's ex-neighbor (Nanda Costa) will ask them to forget about the past and will claim to have forgiven his ex-girlfriend for having investigated him. "Look what you're saying. It will always be like this. You'll think I'm lying to you, I'll think you're lying to me", will imagine the character of Vanessa Giácomo.
She will even admit that she mistrusted the boy when all the clues about the hotel robbery indicated him as a suspect: "I didn't want to see it because I was in love. Stupid." "This love that I feel inside of me is very big. And I know that it is also inside of you", will insist Julio, but he will take a warning from the agent:
My values, my principles, what I consider right and wrong come first. I've been disappointed before, but with you I thought it would be different. You were the biggest disappointment of my life. But, like the others, it will pass.
Pega Pega (2017) won a "special edition" to fill the hole left after the final stretch of Salve-se Quem Poder. Como Mais Vida, Melhor, the next unpublished soap opera in the 7:00 pm band, was postponed because it is being recorded with security protocols that make the execution process slower.
---
Learn all about the upcoming chapters of soap operas with the Noveleiros podcast
Listen to "#73 – José Alfredo finds out Maurílio is dead in Império!" on Spreaker.
---
Subscribe to the channel TV news on YouTube and watch videos with revelations of what will happen in Império and other soap operas.
.