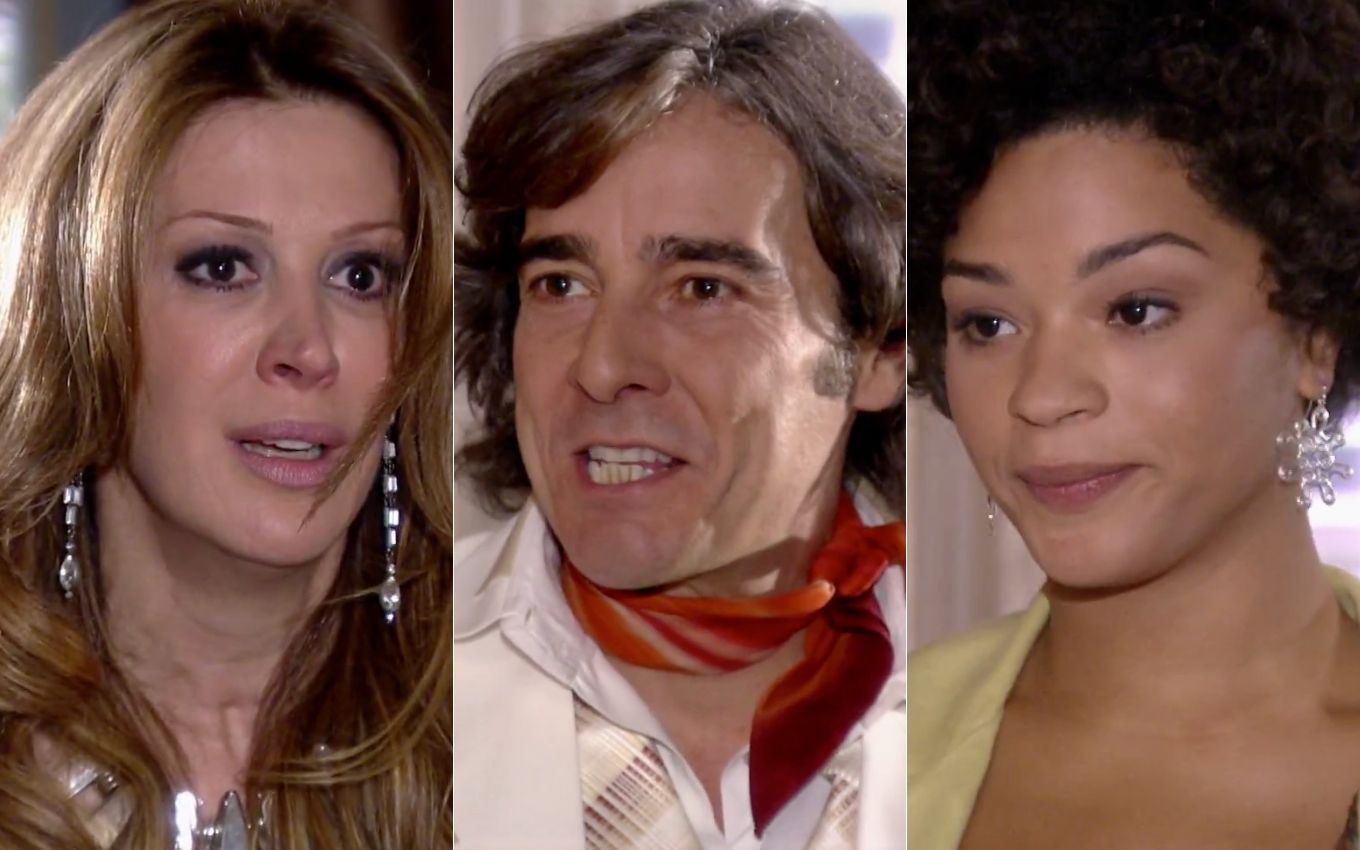 Jacques Leclair (Alexandre Borges) will promote a swap in Ti Ti Ti. The canastrão will get rid of Jaqueline (Claudia Raia) after another failure in his career and will blame her. The protagonist will chase his ex-girlfriend from his house and will not waste time replacing her: he will ask Clotilde (Juliana Alves) to marry him.
Ariclenes' rival (Murilo Benício) will fulfill Marta's (Dira Paes) prophecy in the next chapters of Vale a Pena Ver A Again. In previous sequences, the seamstress had told Thaísa's mother (Fernanda Souza) that the dressmaker would change her at the first opportunity. And that's what he did.
Jacques Leclair will be humiliated in the media after a video of him with beggars leaked onto the internet. Angered by the story, Mabi's father (Clara Tiezzi) will blame Jaqueline for having become an inconsequential man: "Being around you so much, I'm acting in the same impulsive, unthinkable, self-destructive way. You're the one doing this," he'll fire.
"Since we met, my life has gone backwards. But now it's enough! i want you out of my house and out of my life forever", will continue Júlia's nephew (Nicette Bruno), hurt.
Breno's (Cassiano Gabus Mendes) ex-wife will question whether the problem was having helped Marcela (Isis Valverde) to flee her marriage, but Jacques will accuse her of boycotting. The rich woman will not remain silent with the ingratitude of the beloved:
Boycott? Me? You must have a memory problem, you're an ungrateful… I was the one who recreated Jacques Leclair. Who pulled you out of the mud… It was me. All your models that were successful, I created them. I was the one redoing all of your sketches, you bastard. Who introduced you to the fashion popes? It was me. Ed Silveira [Dorival Carper], Stela Sanchez [Mila Moreira]?
The "trash boy" will sneer at all of Jaqueline's reinforcements: "Look here, you hysterical bitch. Long before you showed up, I was Jacques Leclair, and my clientele was three times as big," the man will remember. The eccentric will retort that the canastrão has always disowned its most loyal consumers, but the stylist will be firm in his decision to end the romance and professional partnership:
With each step that made me go up, you made me go down three. But enough now, I have no obligation to put up with you. From now on, there is no longer any bond between us. So pack your things and get out of my house! Already!
Clotilde will win the stylist
eyeing the other
Right after chasing Jaqueline away, Jacques Leclair will run into Clotilde's arms. The secretary will pretend to move into the country to hook the ex-boss.
"We're going to Tupã", the shrew will lie, as soon as Ariclenes' rival arrives at her apartment. "We'd better hurry, the bus is leaving in half an hour", complete Ricardinho (Eduardo Magalhães).
"It just so happens that she won't go. Her place is by my side," the beau will fire. In love, the canastrão will ask the ambitious woman in marriage and will punch the girl's partner for believing that the boy was her boyfriend.
Sonsa, the character played by Juliana Alves will feign surprise with the statement: "Are you sure you're not acting rashly?". The protagonist will open his heart: "You are the woman of my life!"
The serial that Globo reruns in the afternoon at the Vale a Pena Ver de Novo session is a reinterpretation of two classic novels by Cassiano Gabus Mendes (1929-1993): Ti Ti Ti (1985) and Plumas and Paetês (1980). Originally aired between July 2010 and March 2011, the plot was written by Maria Adelaide Amaral and Vincent Villari.
---
Learn all about the upcoming chapters of soap operas with the Noveleiros podcast
Listen to "#63 – All about Kyra and Rafael's reunion in Save Yourself!" on Spreaker.
---
Subscribe to the channel TV news on YouTube and watch videos with revelations of what will happen in your favorite soap operas!
.