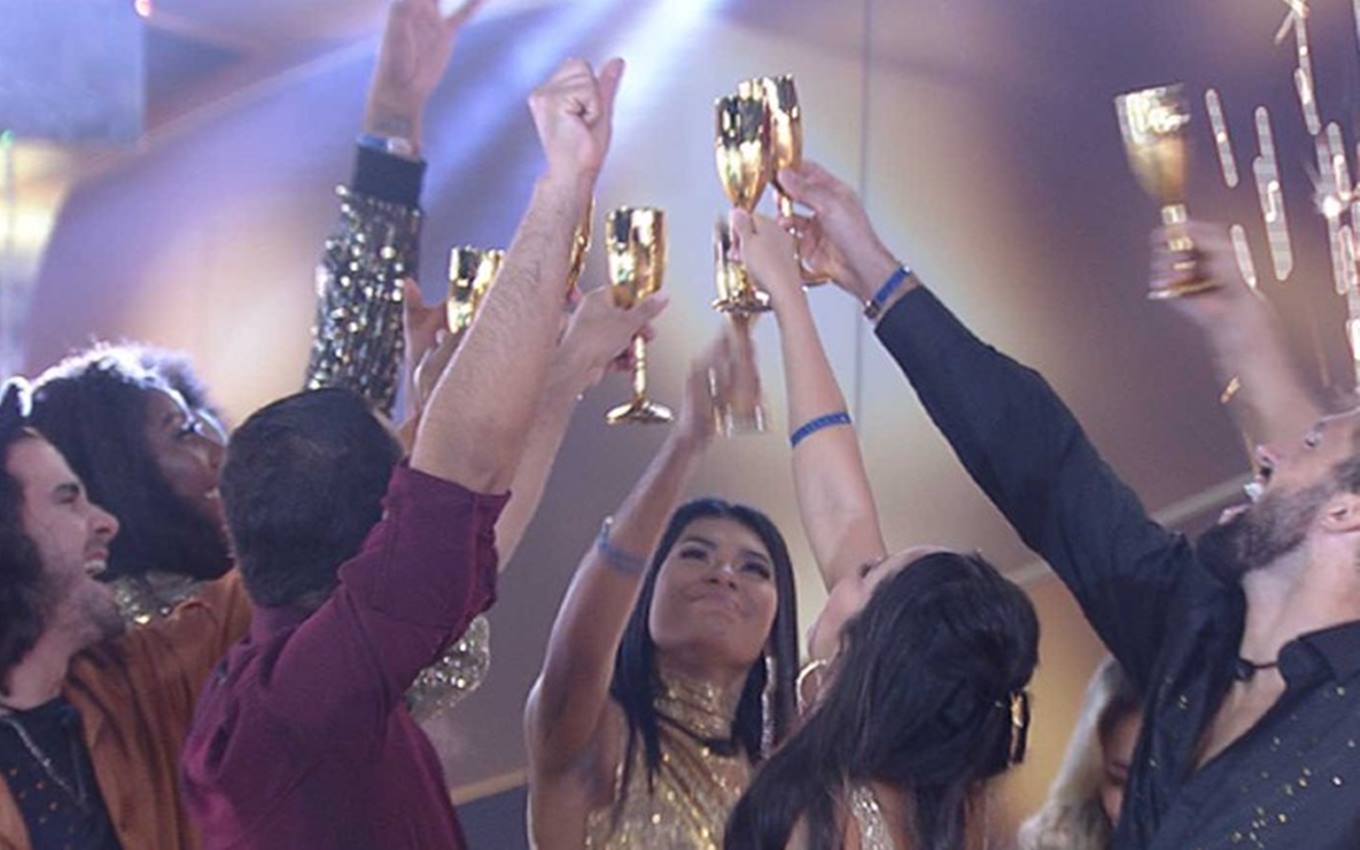 Friday night (16) started with a show by Simone and Simaria at BBB21. Excited, Arthur Picoli and Fiuk got very close. Until days ago they were rivals in the game. Caio Afiune spent the night desperate with theories about the next wall. Gilberto Nogueira was very upset by the behavior of Viih Tube, who is the leader of the week.
After the end of the classmates' presentation, Arthur talked to Camilla de Lucas about his fame as a quarrel. The crossfit instructor explained that he is trying to change and also said that he is not an aggressive person in the way that other participants think. "I never fought at a party," said the big guy.
Fiuk had two moments of emotion during the night. First, the musician talked about his friendship with Gilberto. "Only person who welcomed me," said the musician. Then he cried in the room when he said that he feels excluded from living with other confined people.
It didn't take long for Cleo's brother to get excited. After a while, he started to "surround" Juliette Freire. The lawyer smelled the neck of the famous, and he asked to sleep in the double bed with his sister. "Get out, temptation!" Replied the man from Paraíba.
Fábio Jr.'s son also had a lot of fun with Arthur, his great friend from the house. The two really decided to put the fights aside and promised to live together in harmony.
Juliette was happy to see the union of Fiuk and Arthur and praised the crossfit instructor for the "peace and love" moment in the final stretch of the reality show. "I just want to be fine until the end of this program," explained the capixaba.
Revolt and fear in confinement
If joy reigned in a corner of the house, for Gilberto, it was a different story. The economist was very upset to realize that he was being ignored by Viih Tube, the leader of the week. In the sight of youtuber, the Pernambuco complained about the situation. "Don't even look me in the face. What did I do for this girl?", Asked the brother to Fiuk.
Outside, Viih confirmed to Juliette that she intends to indicate Gil to the wall. The lawyer advised her friend to do what she feels is right at the moment. "It is not my priority anymore", justified the blonde.
The wall issue also did not come out of Caio's mouth. The farmer believes that there will be a hot surprise and bet that he, Gilberto and Fiuk are already walled up.
"Maybe I will release the vote only tomorrow and it will only be 24 hours. There is no reason for us to spend Sunday the way we are at Xepa," said the Goiano, who also complained about the little food available for the next few days.
Before going to sleep, the farmer again speculated about the next events in the game. He believes that the production will prepare a surprise involving the white room. "[Vão dizer] 'Put on any clothes and go there', nobody will understand anything ", bet Caio in a chat with Fiuk and Gil.
Check out some moments below:
People I'm dying with the glove of Simaria

Thiaguinho | CACTO FOLLOW CACTO | Champion Juliette | Simone Simaria | Pablo | Caio and Gil | GIL / JULIETTE CHAMPION / People Gil / Juliette and Camilla # FestaBBB21# BBB21pic.twitter.com/qGSsgYptrC

— 🌵ANTHONY I'M A GIRL FROM JULIETTE (@ganthonyi) April 17, 2021
JULIETTE: "Do you really believe that our friendship is real?"
ARTHUR: "I believe …"# bbb21# festabbb21#juthurpic.twitter.com/rjPY7ODgeQ

— Coach Crossfiteiro 🎮 (@WillianCulture) April 17, 2021
I can't take Camilla 🗣😂😂 She gets really funny drunk # FESTABBB21#CamilladeLucas# bbb21pic.twitter.com/wv0TEVyKmz

– Vanderson Moreira (@ vanmoreira1997) April 17, 2021
Juliette teaching Arthur to ride in the forrozin ❤️# FESTABBB21# BBB21

Champion Juliette

Juliette e Arthur pic.twitter.com/BMzEIZC40y

– Juliana〆 • (@lasanhasemcreme) April 17, 2021
Juliette and Camilla peck 😂
Ju "I kissed Camillaaaa"
Camilla "I kissed Juliette from bbb21"

I only have top 2, so far Caju # bbb21#RedeBBB#PlantaoBBB#FestaBBB Simaria Caio e Gil # FESTABBB21 Gil and Fiuk Arthur and Juliette #ProvaDoAnjo#cashewpic.twitter.com/TGlznDpHbj

– hindi babi (@oshbabi) April 17, 2021
Juliette and Gil make me laugh too much!
😂😂😂😂😂# FESTABBB21#passousecou#GilDoVigor#JulietteFreire
Cactus follows cactus / Simaria
Classmates / Pocah and Juliette
Transphobia is a crime / Giuk
Juliette e Arthur / Freire pic.twitter.com/O2EJHrSu8g

— Fill Silva 📺 (@Fill_Silvaa) April 17, 2021
Arthur saying that he may appear to be a bad boy, but that yesterday when he was sick he just wanted his mother 🥺 pic.twitter.com/ACmZL1O1hs

– I swear I tried not to be Car | Thur (@todeboafodase) April 17, 2021
arthur: "a lot of people look and must think, wow, this guy is a bad boy (judge the stereotype) i don't know what .. i never fought at a party saw" he explaining what happened in conduru and that he is not a fight guy. pic.twitter.com/0cXAuvZYhf

– marcos (@oucabuloso) April 17, 2021
Juliette being forced to kiss Fiuk. She looks very uncomfortable 👀 pic.twitter.com/eArdONAxR4

– FIUK MERCURY 🎸💙 # BBB21 #TEAMFIUK (@elli_anadl) April 17, 2021
So health pic.twitter.com/M8WoOLrQ3A

– Camilla de Lucas ⭐️ (@camilladelucas) April 17, 2021
ARTHUR AND FIUK: "Days ago I fought with you, it's not like that anymore!"

Let's see how long hahahaha pic.twitter.com/Bbm5yFpiaV

— Coach Crossfiteiro 🎮 (@WillianCulture) April 17, 2021
---
Subscribe to the channel TV News on YouTube to check out our daily BBB21 newsletters
---
Find out everything that is happening on BBB21 with the podcast O Brasil Tá Vendo
Listen to "# 35 – Viih Tube, Juliette and BBB21's toxic friendships" on the Spreaker.
.