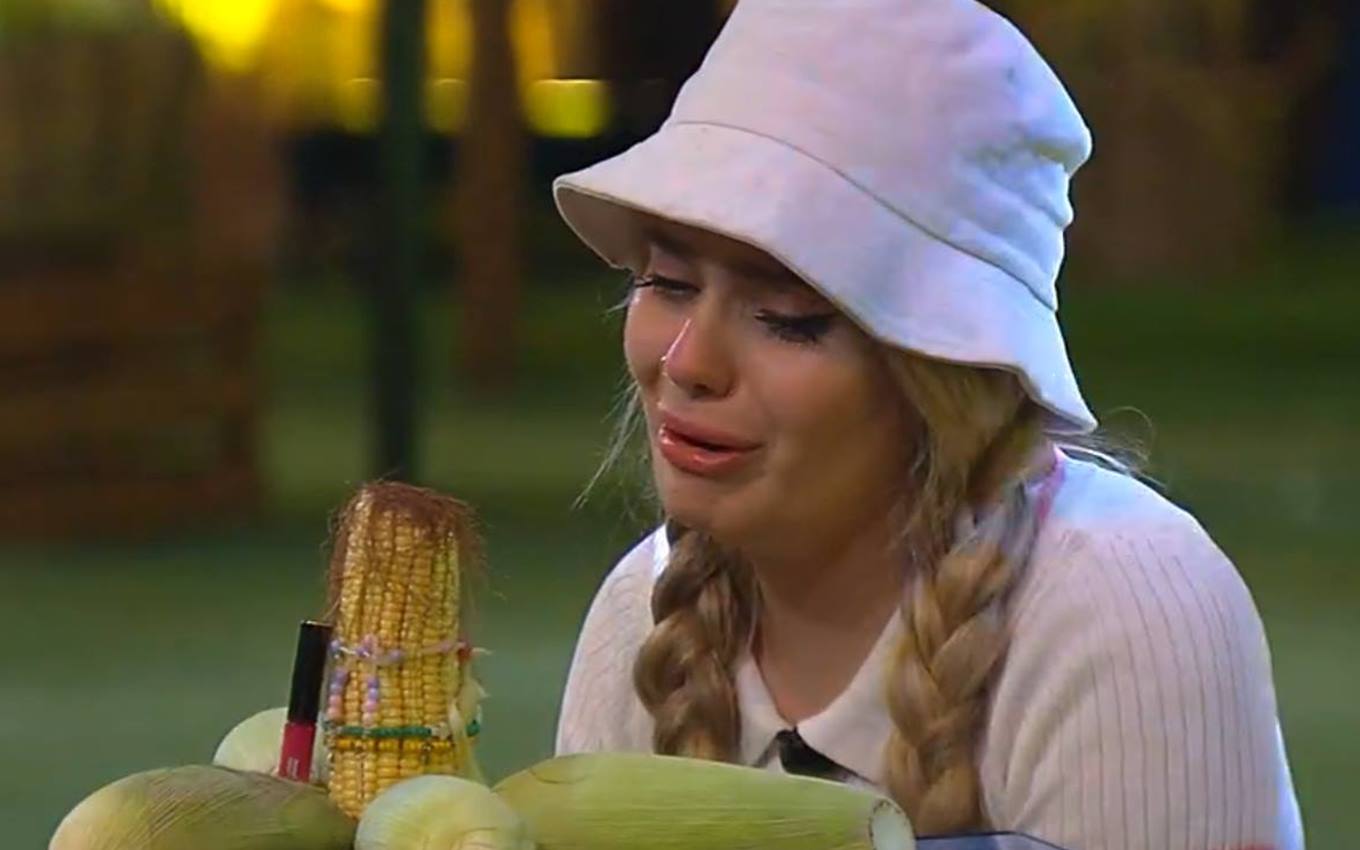 The party of leader Caio Afiune left some participants shaken at BBB21. Viih Tube named Thaís Braz a corn and spent the whole night crying for the elimination of her friend. Juliette Freire was angry with Gilberto Nogueira and complained about the behavior of the economist, who lost part of the celebration raising the possibility that the last wall was false.
Early on Wednesday night (14), Gil, Pocah and Camilla de Lucas talked about a possible return of Thaís to the game. "She didn't leave, no," he said, referring to the fact that the production did not remove the dentist's name from the screen that is located in the living room of the house. "Friend, are you there? Are you watching me?" Asked Pocah.
Juliette and Viih Tube complained about the undoing of the other participants with Caio, who was the honoree of the time. "Gil is waiting for Tata to come back, I said you can wait now, she will arrive," said the lawyer. "I think there is a lack of respect with Caio. I just didn't say it because I don't want to be boring. I think there is a lot of lack of respect", countered the youtuber.
After a while, the makeup artist called the economist to talk about what happened. "In a little while everyone was there. His bride called the people because everyone is in the bride. I will not say anything else, I will leave," she warned.
After the weather, Viih Tube, who was already drunk, began to surround Juliette and did not stop pulling the bag from Paraiba. "I want you in my final," said the famous.
Fiuk was also excited during the night and had a more intimate chat with Gilberto and Juliette. The singer complained about the lack of sex in the confinement and said he is missing a relationship with another person. "I already woke up feeling sick in bed," he assumed.
Meanwhile, Arthur Picoli, who usually stays at parties until the end, felt sick and had a stomachache. The brother had to go to the confessional to ask for help. "They gave me the deal there. A tiny little cream," he told Fiuk.
Gilberto was also sick and vomited after exaggerating alcohol. The economist had to withdraw early from Caio's party, who also left his celebration to sleep crying after seeing his family's photos.
Outside, Viih Tube started crying again because of Thaís elimination. "Friend, come back, please, I miss you," she asked. Juliette then consoled the blonde. "In a little while you will be with her", promised the Paraiba.
Before leaving the fraternization at dawn, Caio also complained about Gilberto's behavior and said that the Pernambuco man has a habit of creating paranoias. "It took everyone out of the party," he lamented in conversation with Arthur.
In another corner of the house, Fiuk spoke with João Luiz Pedrosa about the scolding of Tiago Leifert during the live program last Monday (12th) at Jogo da Discórdia. "I didn't have the courage to take a position, I was bad for Arthur," he explained.
Towards the end of the celebration, Viih Tube also needed to be carried by João Luiz. The famous drank a lot and was thrown on the floor. The teacher then scolded her friend and took her to the bedroom.
Check out some moments below:
viih tube talking to gil who didn't like the way he treated juliette kkkkkkkkkkkkkkkkkkkkkkkkk # BBB21

🎥 Playback: GloboPlay / Rede Globo pic.twitter.com/qeG1T6hNwR

– marcos najar (@marcosnajar_) April 15, 2021
Gil do Vigor and Juliette, the face of # BBB21.
The human being in its essence: reason, will and heart. Both will be unforgettable. It's PAUUUU! TCHAKI TCHAKI #festadoliderpic.twitter.com/X58Yy3BdZc

– social_tweet (😷) (@henriquecanossa) April 15, 2021
Viih Tube longing for Thaís talking to a Corn #ViihTube#festadolider# BBB21pic.twitter.com/KSCs1k6sjb

– Janner Alves (@janneralves) April 15, 2021
Thus health:
pic.twitter.com/lNotbHJi4S

– Gilberto Nogueira 🎓 (@gilnogueiraofc) April 15, 2021
Camilla is down a little bit. Let's send her good energy! 🥺🙏🏾 # BBB21

– Camilla de Lucas ⭐️ (@camilladelucas) April 15, 2021
Arthur saying he is not proud of some attitudes
pic.twitter.com/t083Nt64PJ

– Arthur Picoli 🎮 (@arthurpicoli) April 15, 2021
Gil do Vigor in: rapid change of expression pic.twitter.com/l9FPWtzGrJ

– Gilberto Nogueira 🎓 (@gilnogueiraofc) April 15, 2021
"This is not how I fall in love, Gil". #RedeBBB# BBB21pic.twitter.com/yfPp5EO4Xq

— Big Brother Brasil (@bbb) April 15, 2021
And the drunk Gil saying "Brasil eats me" at 05h in the morning! KKKKKKKKKKK # BBB21pic.twitter.com/zRs6du0x1V

– Jhonatan Queiroz (@ jhonqueiroz21) April 15, 2021
Thaís is not in this role. KKKKKKKKKKKKK

This woman is an icon #CactosComBoninho# bbb21#festadoliderpic.twitter.com/O8QQZq0h6N

– bbbzeira (@Cuviteira) April 15, 2021
Gil wanting to give * the * rich and Viih wanting to hold the breeze # BBB21#festadoliderpic.twitter.com/HX9w5Os2OQ

– Mari 🐞 (@ mari_aragao08) April 15, 2021
---
Subscribe to the channel TV News on YouTube to check out our daily BBB21 newsletters
---
Find out everything that is happening on BBB21 with the podcast O Brasil Tá Vendo
Listen to "# 34 – Rancidity scale: Who are the favorites and the canceled ones from the top 10 of BBB21?" in the Spreaker.
.