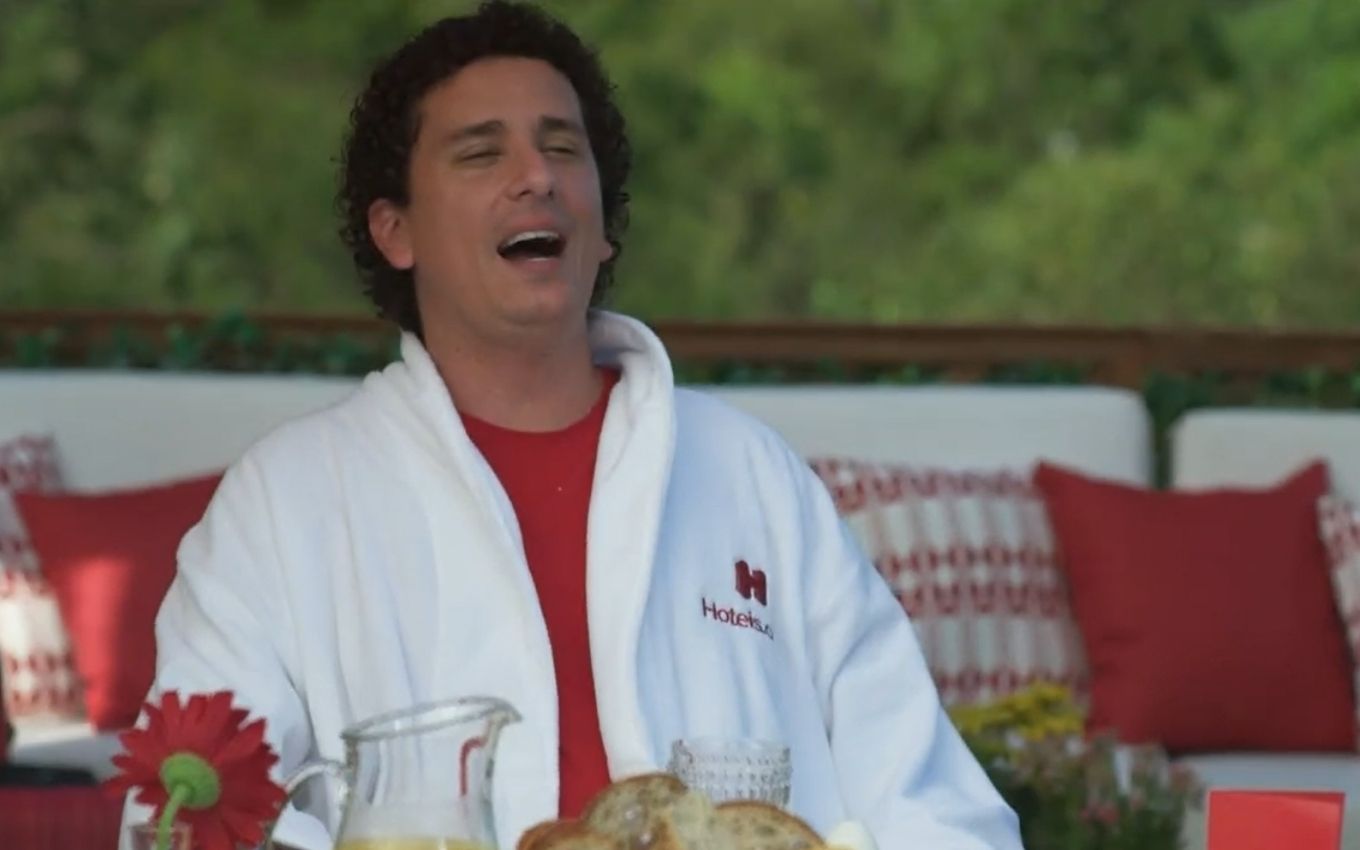 Rafael Portugal became a poster boy for one of the Big Brother Brasil 21 advertising brands. During the CAT BBB on Tuesday night (31), the comedian emerged in a paradisiacal setting to talk about the promotions on the Hotels.com website.
Tiago Leifert announced the news during the live program, before revealing the name of Sarah Andrade as eliminated for the time being. "CAT is now on another level. CAT BBB will start today with merchandising. Rafael Portugal, you are impossible", praised the presenter.
During the action, the Globo contractor appeared praising the breakfast of the fictional hotel. "This one, not even Fiuk knows how to prepare," he joked.
On Twitter, the artist celebrated Globo's prime time appearance. "CAT BBB with publi, call on dad," he wrote on Twitter.
In the social network, the humorist's name ended up in the most commented subjects of the moment. "BBB21 became the balance sheet [Record], a merchan all the time. I'm passed, shocked. They are profiting horrors on this issue. Rafael Portugal from CAT BBB who got along ", wrote an internet user called Nathacia.
"Rafael Portugal it's so wonderful that it got a merchan to call yours! ", commented another user identified as Thais.
Check out some posts below:
BBB BBB WITH PUBLI LINKS IN FATHER

– Rafael Portugal 🤙🏻 ☎️ (@rafaelportugal) March 31, 2021
Rafael Portugal is so wonderful that he got a merchan to call his own! # BBB21

– Tha – BBB commentator -Tweets with expiration date (@thaisserpa_) March 31, 2021
Say that @rafaelportugal success is getting repetitive huh ?! But he is now with merchan!# bbb21

– Flávia Carvalhaes (@flacmoreira) March 31, 2021
Merchan action on Cat Bbb and my happy heart that @rafaelportugal will earn a fee 🤓#CATBBB# bbb21

– Fafahlizando (@Faffaahh) March 31, 2021
Rafael Portugal was more concerned with merchan than the board this week

— ʟᴏʀᴇɴᴀ (@spfclo) March 31, 2021
Boninho getting into merchan even at Rafael Portugal

– henrique (@rickadz_) March 31, 2021
Boninho even put merchan in Rafael Portugal.

There is no longer any place to enter money in this station, the next 5 years can go without an audience that does not break.

– murilo (@murinogueira) March 31, 2021
Even Rafael Portugal got his merchan. # BBB21pic.twitter.com/vz08Jboiaz

– Sérgio Santos (@ZAMENZA) March 31, 2021
---
Subscribe to the channel TV News on YouTube to check out our daily BBB21 newsletters
---
Learn all about BBB21 with the podcast O Brasil Tá Vendo
Listen to "# 32 – From beloved to canceled: Sarah's fall on BBB21" on the Spreaker.
Feedback Policy
This space aims to expand the debate on the subject addressed in the news, democratically and respectfully. Anonymous comments are not accepted nor do they violate ethical and moral laws and principles or promote illegal or criminal activities. Thus, slanderous, defamatory, prejudiced, offensive, aggressive comments that use bad words, incite violence, express hate speech or contain links are summarily deleted.
.