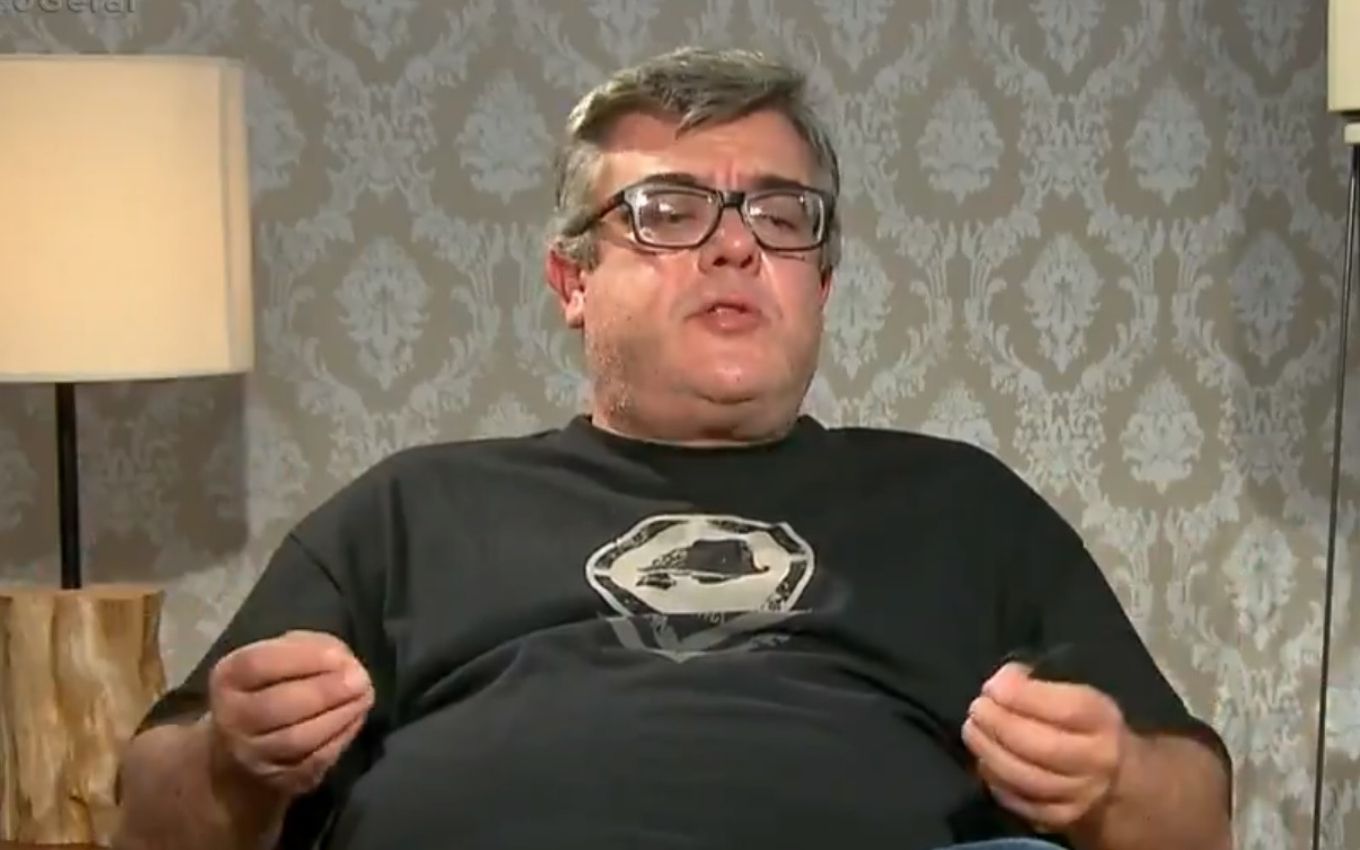 Biological son of Cid Moreira, Rodrigo Radenzev Simões Moreira spoke in an interview with Fabíola Reipert that he never received affection from his father. In the conversation, shown in the São Paulo General Balance Sheet this Thursday (15), the heir said that he even sued the journalist in BRL 1 million for emotional abandonment, but lost the action and gave up on being loved and having a family relationship with the former anchor of Jornal Nacional.
The lawsuit was filed in 2006 and ran in secret from the courts. "I filed for paternity leave, the money was a consequence of affection. How will he give me love, how will he pay love? There's no price. He doesn't want his father. I lost the process and left it alone, I didn't want to more messing with that wound," reported Simões.
The son is the result of the marriage of Cid Moreira to Olga Verônica Radenzev Simões. The two got together in the early 1970s. "The Cid and my mother lived together until I was a year and a half. My mother left the Cid, it wasn't the Cid who left my mother," he said.
"My mother told me, I don't remember, that I was learning to walk and I dropped objects on the floor while pulling a tablecloth. She told me he hit me. She couldn't stand it, it's a detail few people know." , spoke the heir of the anchor to Fabiola Reipert.
After the separation, the mother would have tried to get father and son to bond again. The two met when Rodrigo was six and when he was nine. But the now merchant doesn't have good memories.
"I was nine years old, and my mother tried to make a new rapprochement. We went to a hotel in Rio de Janeiro, he came to visit us and it was agreed that I would go to his apartment the next day. The next day, I went there, and 10 minutes later he left, went to the studio to work and left me at the apartment with his wife, then his wife also left. I spent a whole afternoon alone hiding from a dog," said the son.
According to Rodrigo, Cid paid the pension correctly until the heir turned 18, but he never showed affection. The son was trying to get in touch with his father through his aunt (the journalist's sister), who died. At the wake, years ago, there was a reunion:
With my aunt's death, we met, and I created an expectation of being able to get along. He even accepted at first, invited me to go to Rio de Janeiro. But I arrived and he was accompanied by two lawyers. I said that I had gone as a son, not an enemy. Then he disarmed, we spent some time talking and then everyone went to lunch.
"Lunch ended, everyone went to their car, and I stayed there. After that day, we scheduled a tennis match, but his lawyer called me saying he wouldn't be close and sending me back to São Paulo," he said. Rodrigo.
It was after this that the son decided to file a lawsuit against the father, but it ended defeated in justice. "This subject hurts me a lot, it's part of my life I'd like to bury, but there's no way. Sequels are left over and will stay forever, I ease up and try to forget. But remembering all this I don't feel good. It hurts me. , I don't understand how angry he is with me. I've never done anything to him," lamented Simões.
desire for affection
Questioned by Fabíola, Rodrigo said what would be the request he would make to Cid: "I would like the impossible, which would be for him to hug me, go out with me, and for me to know a little about his tastes, what he likes to eat. A father's coexistence. for son, but this is impossible".
In a note to the Balanço Geral, read by Reinaldo Gottino, Cid Moreira's advisors denied that the journalist had hit his son and argued that the divorce with Olga happened because she was jealous. The ex-Fantástico's team also denied that the boy was alone in the apartment when he was nine years old.
In addition to Rodrigo Moreira, Cid was also the target of accusations from Roger Moreira, an adopted son who said he was "disinherited" by the 93-year-old presenter. Despite the fight, Brazilian law does not allow children to be disinherited.
On the Record program, the two children had a virtual meeting. Watch the videos below:
EXCLUSIVE: Cid Moreira's biological son talks about the confusion between father and adoptive son #General balancepic.twitter.com/j5TX8kH57z

— General Balance Sheet (@balancogeral) July 15, 2021
Fabíola Reipert interviews Cid Moreira's biological son. follow up #AHoraDaVenenosa live at https://t.co/EsiKDUNakY#General balancepic.twitter.com/rjPHXaG5gy

— General Balance Sheet (@balancogeral) July 15, 2021
"I would like him to hug me", says biological son of Cid Moreira #AHoraDaVenenosa#General balancepic.twitter.com/X9YvXB9Knq

— General Balance Sheet (@balancogeral) July 15, 2021
Children of Cid Moreira who accuse their father of abandonment meet again #AHoraDaVenenosa#General balancepic.twitter.com/PxL0ZUPe5q

— General Balance Sheet (@balancogeral) July 15, 2021
Advice of Cid Moreira denies assaults and accusations of biological son #AHoraDaVenenosa#General balancepic.twitter.com/7FRalJ7aKF

— General Balance Sheet (@balancogeral) July 15, 2021
.