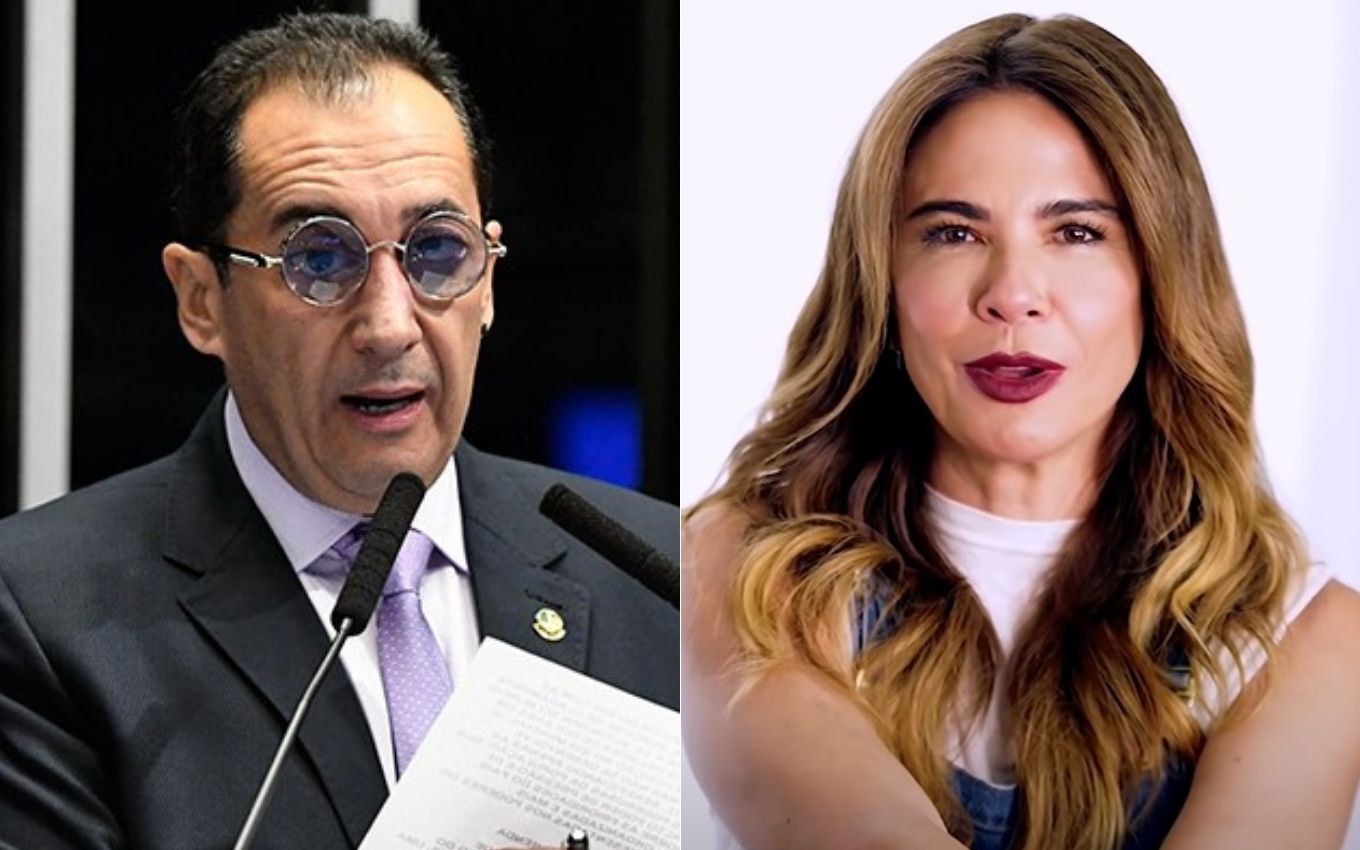 In a decision published on Monday morning (5), the São Paulo Justice granted an injunction with "provisional emergency relief" prohibiting Senator Jorge Kajuru from "speaking, commenting or disclosing" provocations and attacks against Luciana Gimenez. The presenter of RedeTV! filed the lawsuit after being called "program woman" by the politician.
If he does not comply with the decision, he will have to pay a daily fine of R $ 20,000. O TV News had access to the sentence of judge Valentino Aparecido de Andrade, of the 1st Civil Court of São Paulo. The magistrate understood that Kajuru's statements have "an offensive content and purpose, and cannot be qualified, in theory, as the regular exercise of a right of free expression".
On March 25, during an interview for Antonia Fontenelle's YouTube channel, the senator said that Luciana did not deserve his respect. "I'm not talking about a woman on show. Screw it. She already sued me, she can sue again. She is a disqualified woman, so much so that she became what she became for 30 seconds with Mick Jagger. Or do you think it was for love?" , provoked.
"Then she ended up marrying one of RedeTV! 'S partners, so you can see that her life has always been of interest," he said. Jorge Kajuru referred to Luciana Gimenez's two past relationships.
In the late 1990s, the presenter had a brief affair with Mick Jagger, lead singer of the Rolling Stones. Out of the relationship, his first son, Lucas, now 21, was born. Luciana was also married to Marcelo de Carvalho, partner and presenter of RedeTV !, between 2006 and 2018. During this period, the couple had a son, Lorenzo, currently ten years old.
The court understood that Kajuru's statements were intended "to violate, in addition to any reasonable reasonable measure, the privacy, honor and image of the plaintiff, including when it comes to undermining her intelligence. The defendant's scorn arises, in theory , explicit when he says he is not afraid that the plaintiff will sue him again for such offenses, given that he has already been prosecuted and convicted for similar facts ".
After receiving the judicial notification, the senator is prohibited from "speaking, commenting or disclosing, by any means of communication, by speaking or writing, namely through social networks, information, allegations or expressions that relate to the author's personal and professional life. , namely as regards those aspects that formed the content of the interview referred to in
starting piece ".
Although Kajuru is a senator and has a privileged forum, the judge of the 1st Civil Court of São Paulo understood that parliamentary immunity does not apply in this case. "The allegations and comments that the defendant had made in the interview are not related to the exercise of parliamentary mandate," explained Valentino Aparecido de Andrade.
The decision on the ban is preliminary and provisionally prevents the journalist from speaking about Luciana Gimenez, but it is subject to appeal.
.