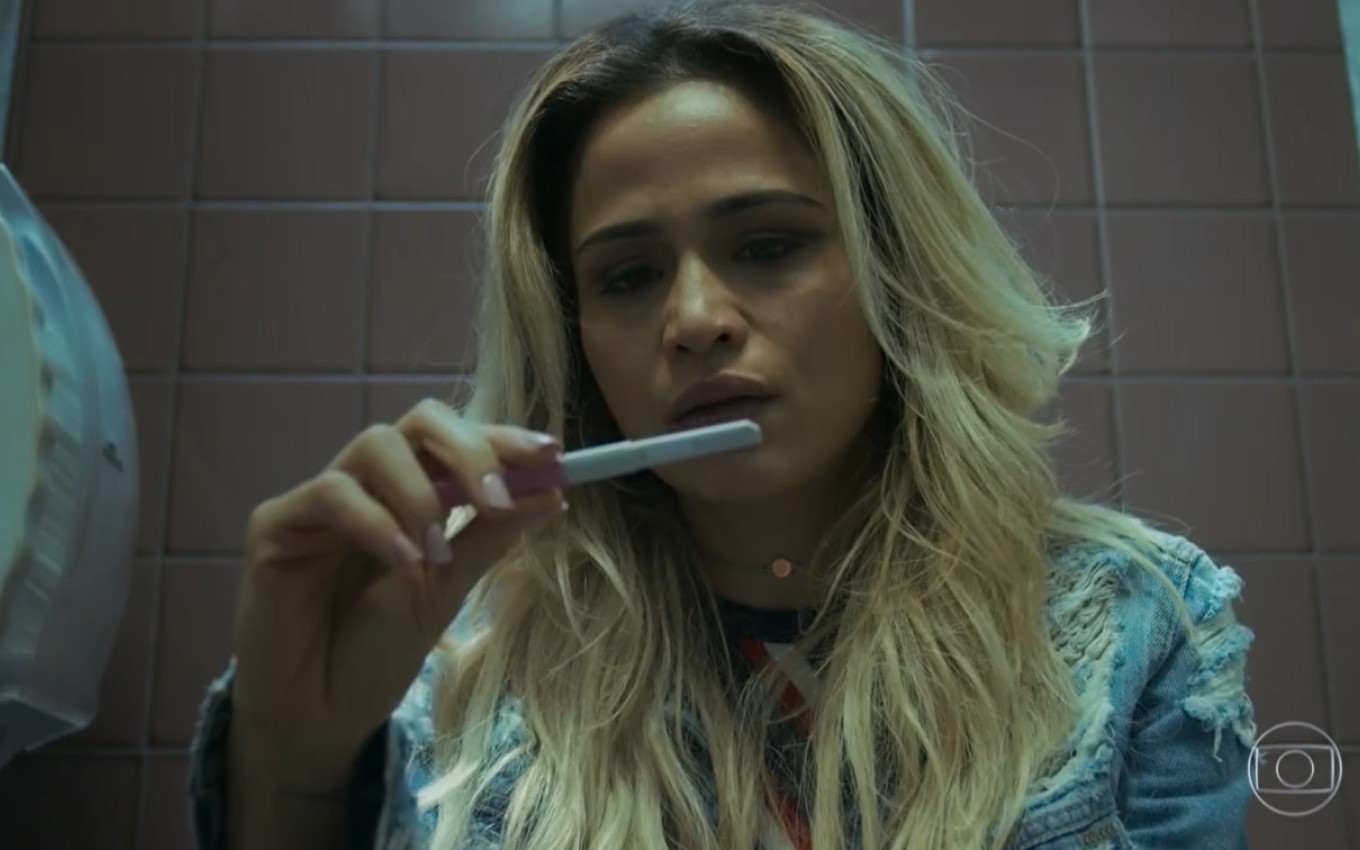 SUMMARY: Sandra Helena (Nanda Costa) will suspect that she is pregnant and will be tested with the help of Malagueta (Marcelo Serrado). The porter will deceive the maid and pretend the result was positive. Desperate, the woman will decide to be part of the gang that will rob the Carioca Palace. Afterwards, she will go to the doctor and discover that she had no pregnancy
Second, 7/19 (Chapter 1)
Nelito and Júlio hear Pedrinho tell the lawyer that he will sell the Carioca Palace to Eric. Pedrinho tells Nelito that he's going to promote a party for Luiza's birthday. Pedrinho tells Eric that Luiza doesn't know he's selling the hotel.
Márcio gives Bebeth a ride and ends up being chased by two men. Agnaldo and Sandra Helena use the bathtub in one of the hotel's suites. Julio learns that he and the aunts will be evicted.
Maria Pia notes that Eric was delighted with Luiza. Márcio finds Bebeth lost in the forest. Eric and Luiza kiss. Malagueta talks to Sandra Helena, Júlio and Agnaldo about his plan to steal the money from the sale of the hotel.

Tuesday, 7/20 (Chapter 2)
Malagueta helps Sandra Helena to take the pregnancy test and lies to her colleague saying the result was positive. Luiza and Eric have their first night of love. Maria Pia is angry when she finds out that Eric spent the night with Luiza. The day of Luiza's party at Carioca Palace arrives.
Malagueta, Júlio, Sandra Helena and Agnaldo play their part in the safe robbery. Eric tells Luiza that he stayed at the hotel to stay with her after the party. Bebeth steals the earrings from a guest at Luiza's party. Luiza doesn't like to know that Pedrinho sold the hotel to Eric.
Wednesday, 7/21 (Chapter 3)
Eric fights with Maria Pia after his argument with Luiza. Maria Pia watches people carrying Pedrinho's bags with the dollars from the hotel sale and registers Malagueta's face. Pedrinho gets sick when he finds out he was robbed. Nelito informs Antônia about the robbery at Carioca Palace, and she starts to investigate the case.
Bebeth tells Flor that she stole to satisfy her, including the glasses Malagueta used in the robbery. Maria Pia tells Luiza that she loves Eric. Sandra Helena tells Júlio that she is pregnant. Agnaldo and Malagueta think about what to do with the van used in the robbery and where they are going to hide the money.

Thursday, 7/22 (Chapter 4)
Antônia analyzes the hotel's cameras and notices a scratch on the thief's glasses. Antônia reveals to Luiza that Pedrinho was thinking of leaving the country with the money. Eric asks Bebeth to get ready to go home and, on his way out, picks up the glasses his daughter found on the floor at the party.
Júlio disguises his tension by accompanying Antonia to the hotel's premises. The doctor tells Sandra Helena that she is not pregnant. Eric decides to stay with the hotel. Antonia observes Eric's photo in the newspaper and notices that he is wearing the hotel thief's glasses. Pedrinho remembers the robbery when he saw Eric and feels sick again. Eric is arrested.

Friday, 7/23 (Chapter 5)
Eric assures Chief Siqueira that he didn't rob the hotel. Julio decides to send his suitcase with the money from the robbery by mail. Repentant, Julio thinks about returning the money because of Antonia.
Maria Pia tells Malagueta that she knows he's one of the robbers at the hotel and that, in exchange for his silence, she wants him to help her separate Eric from Luiza. Sandra Helena warns Agnaldo not to talk about the robbery with Wanderley.
Malagueta tells Maria Pia that Eric has been arrested. Siqueira tells Antonia that they found another arrest warrant against Eric. Elza and Prazeres are thinking about opening the order Júlio received.

Saturday, 7/24 (Chapter 6)
Elza and Prazeres decide to open Júlio's suitcase. Domênico tells Eric that he will be transferred to a safe house. Antônia reveals to Luiza that Eric was also involved in corruption. Antonia asks Julio for help in finding Bebeth.
Julio manages to prevent his aunts from opening the suitcase. Antônia meets Júlio's aunts, Prazeres and Elza, who strive to arrange a meeting between the two.
Eric tells Maria Pia that he loves Luiza. Antonia manages to stop the bus that Bebeth was on. Malagueta suggests that Agnaldo use Wanderley to build his alibi. Pedrinho refuses to leave the hotel. Malagueta looks for Maria Pia.
---
Pega Pega chapters are provided by Globo and are subject to change without notice
---
Subscribe to the channel TV news on YouTube and watch videos with revelations of what will happen in Pega Pega and other soap operas.
.