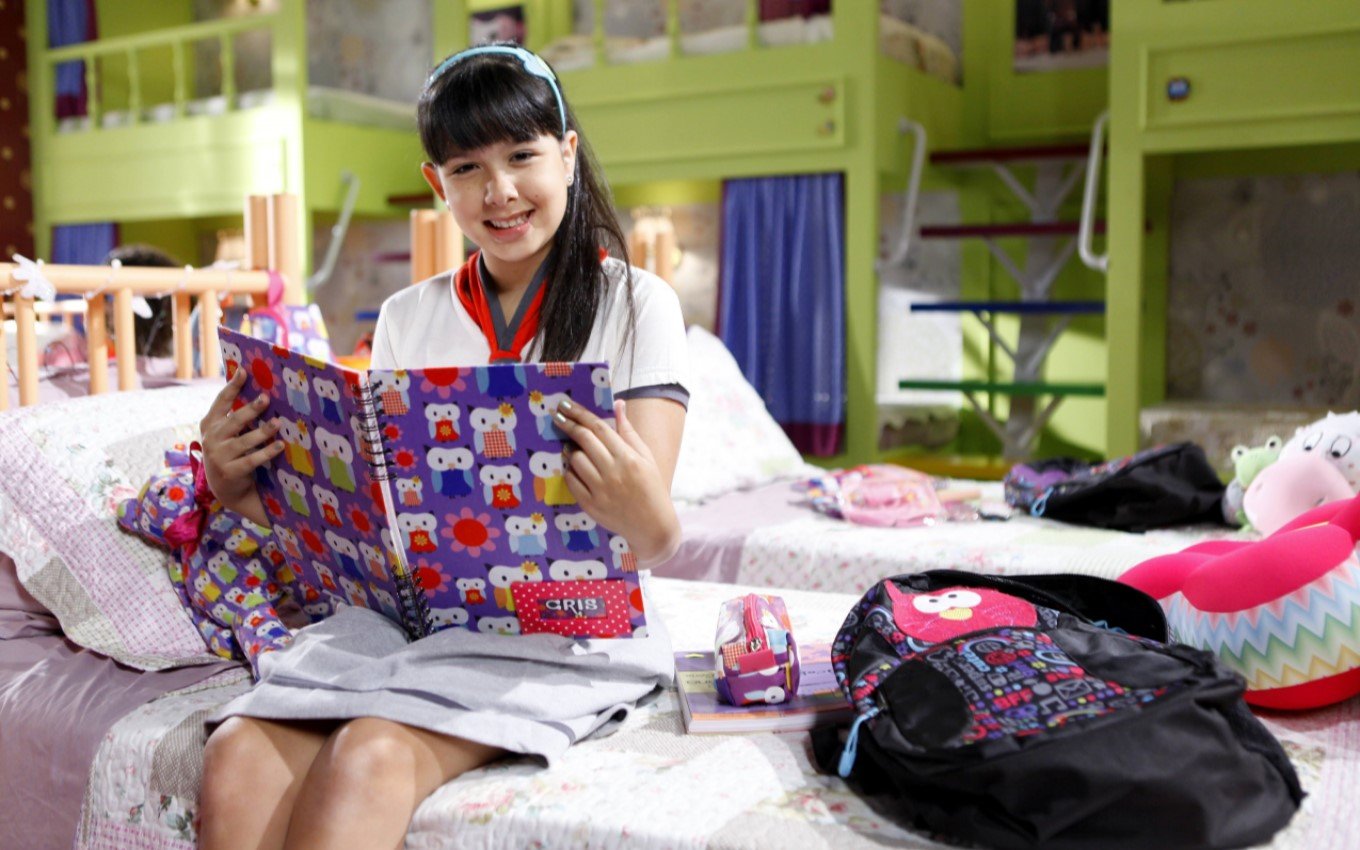 Check out the summary of the next chapter of the rerun of Chiquititas, which goes on this Thursday (22), on SBT:
Duda asks her mother to apologize to Pata. Mariana says that his relationship with Pata will not work. Pata puts away all the clothes she has been given and is determined to return them all. Mosca shows Pata the tips he earned in his new job.
Oscar goes to Shirley's house to pick up Eduarda for the two of them to go to the family dinner at Maria Cecília's house. Cris tells Vivi that Samuca told her that she likes him. Vivi asks for a secret, says she likes Samuca, but can't keep him. Cris gets upset and tells Samuca that Vivi told him she doesn't want anything to do with him because he's a "nerd".
Oscar and Eduarda arrive for dinner at Maria Cecília and Tobias' house. Andreia goes to Carol's house and pretends to need her help. She says that she has little time to live and that she made a big mistake with her out of jealousy, but asks Carol's understanding because she has a child with Junior. Andreia goes to Carol's bathroom and touches her perfumes.
Junior goes to Carol's house and is surprised to see Andreia there. Junior says she can't go there and upset Carol. Andreia cries and screams that she only wants the best for her son. Then she pretends to be sick, says that her life is ending and that she has no more joy.
At Maria Cecília's house, her and Tobias' family gather for dinner together. Andreia and Junior return to the mansion and tell Diego that they will travel, just the three of them. Maria Cecília has nausea due to pregnancy. The family dinner turns into an argument.
Grazielle steals the money Mosca received as a tip. At school, Samuca tells Rafa that he will try to forget about Vivi. Janu tells everyone at the school that there will be a talent contest and that participants will be judged by three members of the guild. Chiquititas are excited by the novelty.
Pata delivers the bags she got as a gift from Mariana to Duda. The teenager apologizes for his mother's behavior. Carol goes to the Café Boutique and tells Clarita about everything that happened. The little ones don't stop playing in the orphanage's new video game.
Carmen says the electronic was a gift from Cintia to the Chiquititas. Marian tells Mili that she will participate in a talent contest at the school. Neco tells Rafa that he's waiting for Helena to come out of the orphanage gate to visit Lucia and asks for her help. The boy pretends to stumble in the backyard and, while Helena helps Rafa, Neco takes the opportunity to leave without being seen.
Bel appears, and Rafa says he's fine, which makes Helena suspicious. Mariana goes to Pata's house, apologizes for having exaggerated what she said, but emphasizes that she really said something and that they are from different social standards. Cris and Tati explain to the other Chiquititas that Cintia must be wanting to buy them again and, therefore, no one else will play.
Thiago and Binho accept, although they want to play video games. Mariana returns home, tells her son that Pata was rude and that this relationship will not work. Neco talks to Lucia. Helena runs into the house, and Neco runs out the window. Helena says that from now on all windows and doors will be locked to protect her granddaughter.
Bia sees Paçoca selling pirated DVDs on the street. The chiquitita finds out that the boy works for his uncle and, therefore, Juca got into trouble. Paçoca refuses to say who the DVD supplier is. Andreia, Junior and Diego arrive at the hotel. Junior is annoyed to note that she has only reserved one room for them.
Meanwhile, Carol tells Clarita that Beto likes her. Clarita says she knew she should have chosen Beto over Francis. Gabriela hears Mili sing and says the girl sings very well. Mosca discovers that part of his money is missing from his backpack. Mosca and Pata accuse their aunt, who denies it. The three argue.
Oscar is in Sambao. Tabata and Tamiris go to the place. Tamiris, who is interested in Oscar, asks him to teach her how to samba. Eduarda and Shirley arrive at Sambão. Eduarda is irritated to see her ex dancing with Tobias' sister.
During dinner at the Almeida Campos mansion, Marian says she will participate in the talent contest. Gabriela says that Mili also sings well and insists that she sign up. Cris sees on the internet a photo of Vivi with Cintia in a restaurant. Vivi arrives, and the Chiquititas ask for an explanation.
Click here to see the summaries of the next chapters of Chiquititas.
---
Chiquititas chapters are provided by SBT and are subject to change without notice
.