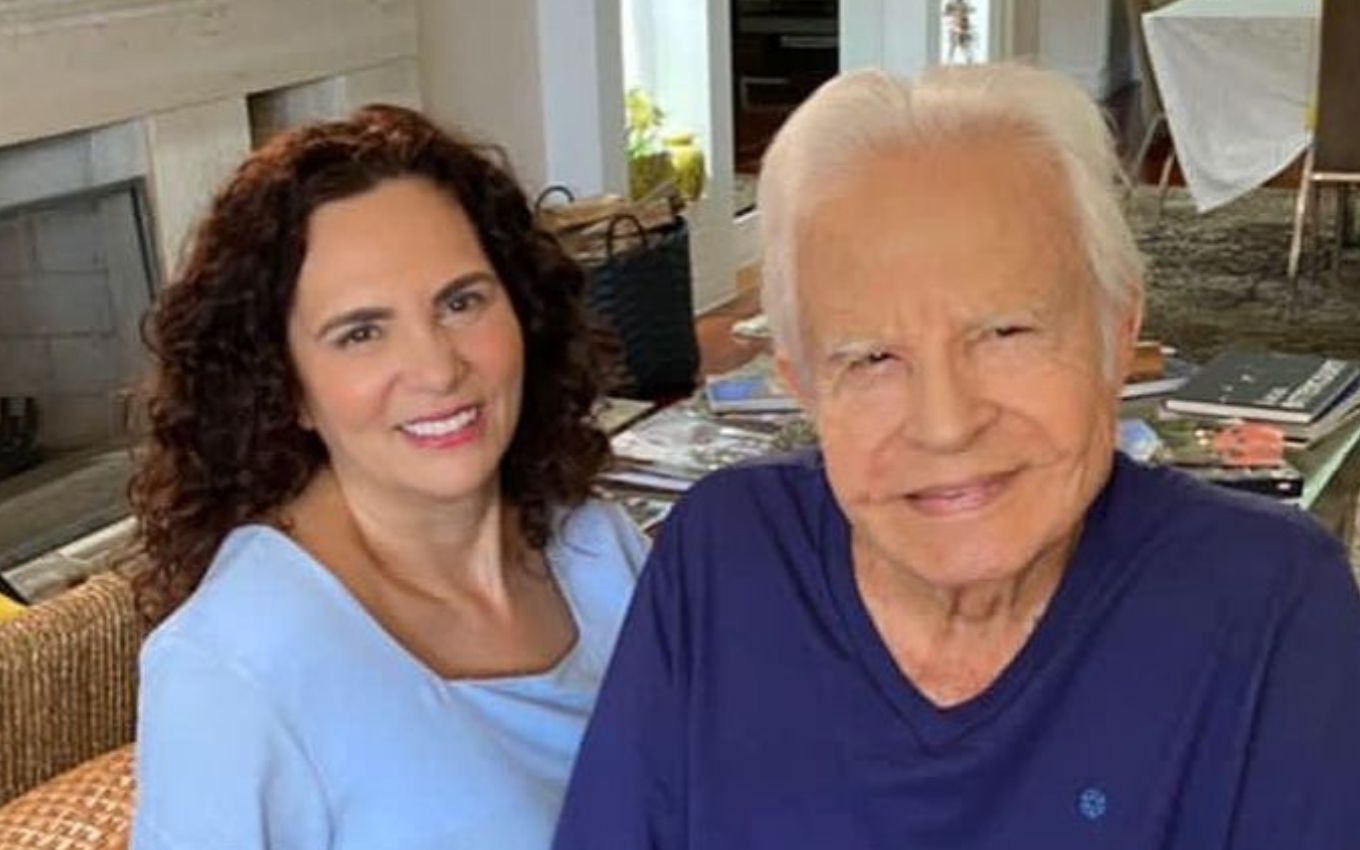 Cid Moreira's wife, Fátima Sampaio countered the journalist's adopted son, Roger Moreira, who accused the former presenter of disinheriting him. "He was adopted as an adult, he was not an abandoned baby," she declared on her husband's social media profile this Wednesday morning (14).
In a video with more than 13 minutes published on Instagram, Fátima gave her version of the facts after her stepson exposed the family's situation to Fabíola Reipert on Tuesday (13th). "He can't talk about his son's situation, because his son put him in court to receive compensation. For reasons of secrecy, secrecy, he can't comment on the case," she began.
In the painting A Hora da Poisnosa, in the General Balance Sheet, the former heir even showed a message from Cid Moreira in which the journalist claimed to have taken him out of his will.
In an interview with the program, Roger also claimed that Fatima calls him "a crow who only wants his father's money" and said he had put Cid in court to pursue his rights.
The message allegedly sent by the former news anchor of Jornal Nacional says: "I made a document and disinherited you. I wrote it in my own hand and signed it. I gathered opinions from health professionals to prove that I am not senile. It was a mistake to adopt you. to know that you are being able to support yourself".
The young man also claimed that the former presenter took the apartment and the studio he had given him and that the act of reversing the adoption has caused him suffering and the need for medication to deal with the problem.
play/record
Roger Moreira exposed a supposed message from Cid
Fatima confirms disagreement
On the vent, Fátima declared that Cid Moreira has spent his nights with more difficulty because he has been going to the bathroom more often, due to an enlarged prostate and his age, and explained that he will not comment for reasons of secrecy.
"His son put him in court to receive compensation. For reasons of secrecy, judicial secrecy, he cannot comment on the case. And he is also tired, almost 94 years old, works a lot, is very dedicated. He is there quietly. , he doesn't even know that I got his Instagram here to talk to you, but as he feels so dear to you, he thinks you deserve him to say something," introduced the journalist.
"I'm going to speak for myself, I'm not going to speak for him, because he has the capacity to speak, he just can't because of Justice. So, I'm going to tell my version of the story. I arrived in Cid's life in 2000. In fact, this boy was with him and was not yet adopted, he was already a young adult when he went. A short time later, I went to Rio [de Janeiro] live with the Cid," he continued.
At the time he began to have a relationship with the communicator, he was married to Ulhiana Naumtchyk Moreira, the sister of Roger's biological mother and with whom Cid adopted him.
"He was already separating from this boy's aunt. Before I officially married the Cid, they both adopted Roger. It's not a matter for me to judge, but he was already an adult when he was adopted," he warned.
"Cid met him when the boy was 14, as Cid told me. He has a mother and father, they came from the South to visit his sister at the time married to Cid, and then Cid met him. [Roger] plus his two brothers. Cid helped Roger's father and mother settle here, they even stayed at the apartment in Jacarepaguá, and Cid helped these parents set up a record store in Leblon," he recalled.
Then the journalist's wife said that Roger visited his father during his vacation, but pointed out that he spent time at Cid's house, but also at the house of a maid. As he grew up, the adoptee started working with his adoptive father, doing sound mixing and said that in fact a studio was set up for him, but the place was sold later.
I got into Cid's life and met Roger like that, with him recording in the studio at Cid's house. After I got married, Roger lived with us for two and a half years. So, I know him a little bit. By the time he left work with Cid, who set up a studio for him to have an income, but he went to work with his aunt in the salon. He went to acquire another profession, he was the manager of her aunt's hairdressing salon. She even did mega hair for celebrities, and we know that this is a high salary and for us everything was fine there.
"We stopped talking to him when he left his aunt's salon, she sent him away. And then he went to the press to say that he was going to put the Cid in court, since the Cid no longer had any partnership with his ex-wife , I didn't have any professional relationship with him, we were even abroad when we heard the news, because it came out in the press and it was embarrassing. So, they stopped having relationships," he revealed.
So with the Cid that's it, he [Roger] stopped talking to him, we didn't see each other anymore, we exchanged a few e-mails, Cid even showed me that he wanted his son to follow his path. He [Roger] was adopted adult adopted, not an abandoned baby. He had father and mother, he left these father and mother to be adopted by Cid and aunt [Ulhiana].
To conclude, Fátima also remembered the biological son of Cid Moreira, who sued his father for a million reais to repay his love, but the judge denied the request.
Check out Fátima Sampaio's outburst:
.