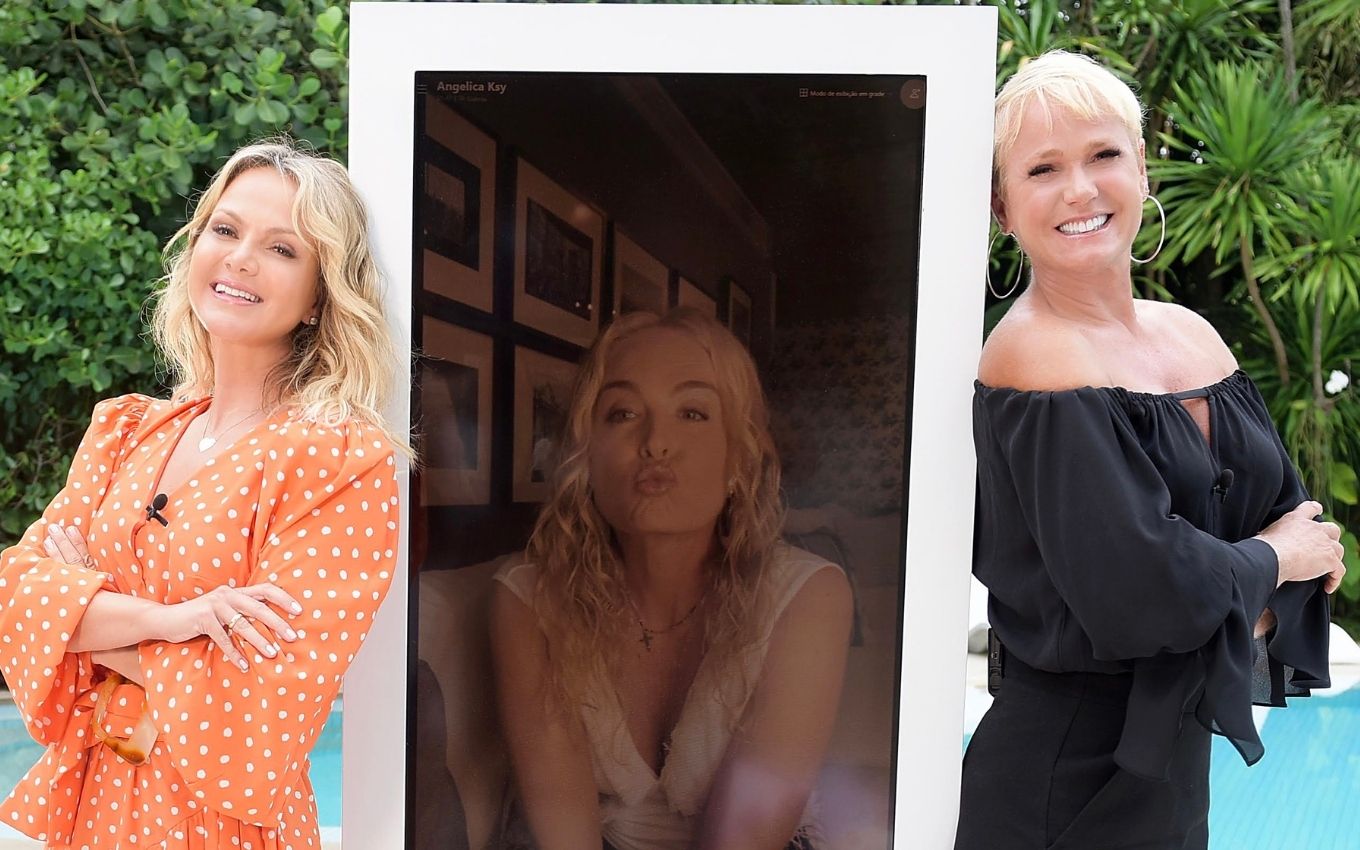 This Sunday afternoon (7) will be busy in the battle for an audience between the three main broadcasters in the country. With football on Globo shown at 6 pm, Domingão do Faustão, Eliana and Hora do Faro will have a direct dispute for the public in the 4 pm range. In an attempt to annoy Fausto Silva and open an advantage against Rodrigo Faro, the SBT presenter chose Xuxa Meneghel and Angélica as attractions.
This will be the first time that the three presenters, who competed for the audience of children in the 1990s and 2000s, meet on a TV program. The recording took place at Xuxa's mansion in Rio de Janeiro, and Angélica's participation was made by video call on a big screen.
"This meeting is a pretext for us to publicly seal what already exists. I have always admired your trajectory and I admire it today. You have become such inspiring women. I have a great pride, greater affection to be in this group", said Eliana about the friendship between the three during the recording.
In a conversation with friends, they talked about the group they are in together on WhatsApp. They addressed the raising of children, confessed who is the most saidinha, who records long audio, chats about pregnancy, social networks, haters and other subjects.
On the air from 3 pm to 7 pm, Eliana will still receive Maiara and Maraisa on the stage of the attraction. See below the presenter's posts about this Sunday's program (7):
Direct rival of Eliana in the fight for the vice-leadership in Ibope, Rodrigo Faro will also visit the home of a famous presenter: Sabrina Sato. The Sunday commander interviewed Record's colleague on the roof where she lives, in São Paulo.
Another coincidence is that Faro will also have a country duo on its stage. Bruno and Marrone will receive a tribute for their 35 years of career. The program will air from 3:15 pm to 7:45 pm.
An "intruder" in this dispute in the range of 16h will be Fausto Silva. Normally aired between 18h and 20h, Domingão receives with a high football audience and remains an audience leader with an advantage against the Record and SBT auditorium programs.
In this Sunday's edition, Globo's attraction will air from 4 pm to 5:40 pm and will start after The Voice +, on a track with less televisions on. To remain in the first place isolated, Faustão will have Juliana Paes and Jonathan Azevedo, highlights of A Força do Querer, at Ding Dong.
By decision of the CBF (Brazilian Football Confederation), football was at 6 pm this week. Palmeiras and Grêmio play the game back in the final of the Brazil Cup. The match will be shown by Globo for the whole country.
Feedback Policy
This space aims to expand the debate on the subject addressed in the news, democratically and respectfully. Anonymous comments are not accepted nor do they violate ethical and moral laws and principles or promote illegal or criminal activities. Thus, slanderous, defamatory, prejudiced, offensive, aggressive comments that use bad words, incite violence, express hate speech or contain links are summarily deleted.
.