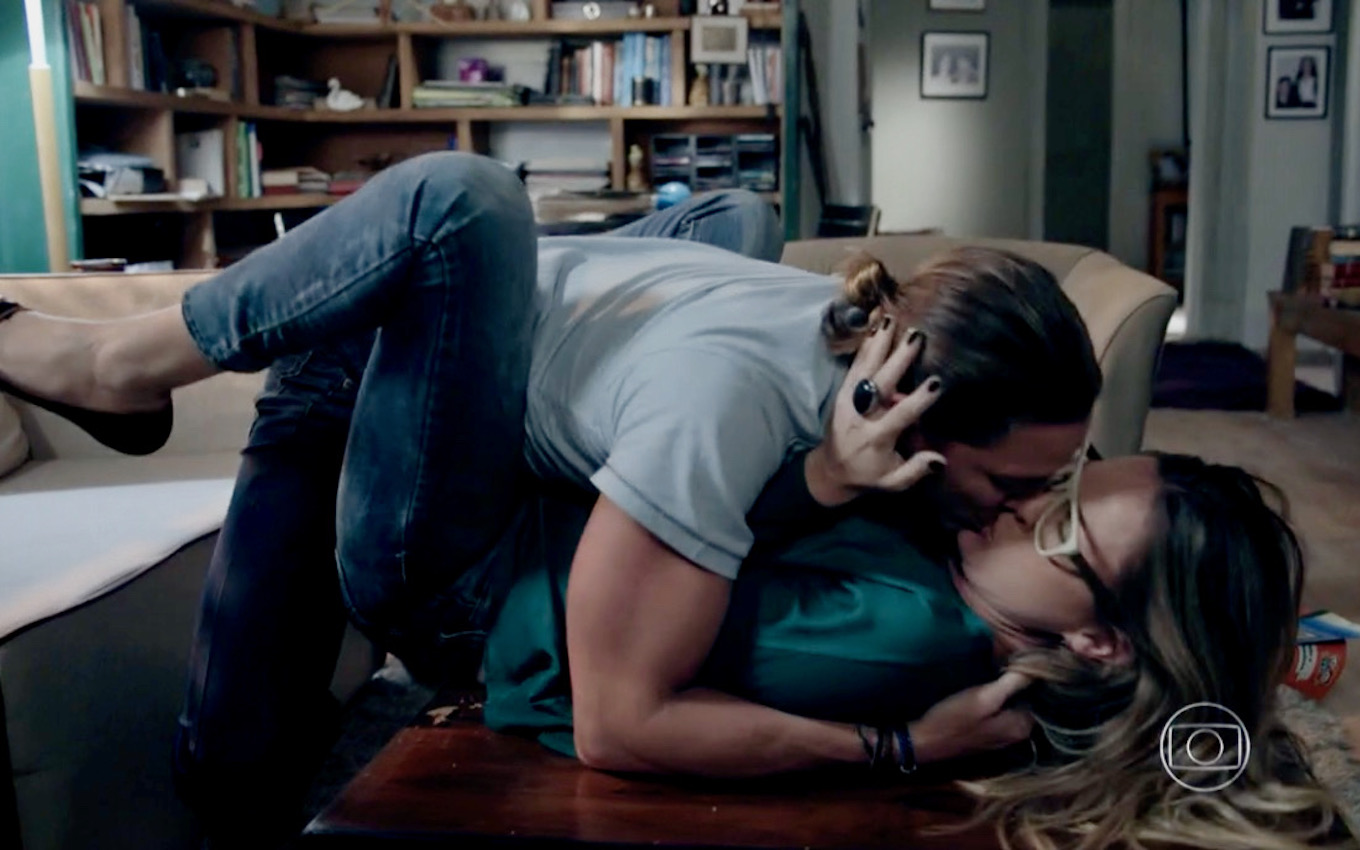 Robertão (Romulo Arantes Neto) will be on duty at the door of Téo Pereira (Paulo Betti) in Império. Horny, the boy will wait for the journalist to leave home to date Erika (Leticia Birkheuer). She won't play hard to get and will grapple with her "magic boy" right away. They are going to have sex on top of the blogger's table in Globo's nine o'clock soap opera.
The scenes are scheduled to air next Tuesday (27). The public will have seen the gossip go "into serious journalism" and publish a denunciation against the commander. He will get with Maurílio (Carmo Dalla Vecchia) a dossier with the millionaire's rotten. The first report will be about the smuggler past of José Alfredo (Alexandre Nero).
Téo will leave the house to talk to his source at the Vicente restaurant, an establishment that now bears the name of the chef interpreted by Rafael Cardoso. "Afterwards, he has a skin attack and I'll still have it for me. This story won't end well", complains the photographer when she sees the boss come out complaining about Maurílio censoring his text for the acidic tone.
Seconds after he leaves, the apartment doorbell will ring. Erika will think the boss has returned. "I was in the stairwell waiting for you, but since he left…", Maria Isis' brother (Marina Ruy Barbosa) will say. "Oh, he'll take a long time to get back," the blonde will respond.
"So, we can start our work right here", countered the brunette, who took his girlfriend in his arms and threw her on Téo's dinner table. The two will laugh at the "naughtiness" in the girl's boss' house. Afterwards, they'll show up talking half-naked and departing for their second sex on the "poison's couch".
Império (2014) won a "special edition" to fill the hole left after the end of Amor de Mãe on Globo's prime time. The unprecedented Um Lugar ao Sol, the next new soap opera at 9 pm, was postponed to premiere in the second half of this year.
In addition to spoilers, the TV news It publishes daily the summary of the nine soap operas that the network repeats due to the Covid-19 pandemic.
---
Learn all about the upcoming chapters of soap operas with the Noveleiros podcast
Listen to "#66 – Ana has a crisis and changes everything in A Vida da Gente!" on Spreaker.
---
Subscribe to the channel TV news on YouTube and watch videos with revelations of what will happen in Império and other soap operas.
.