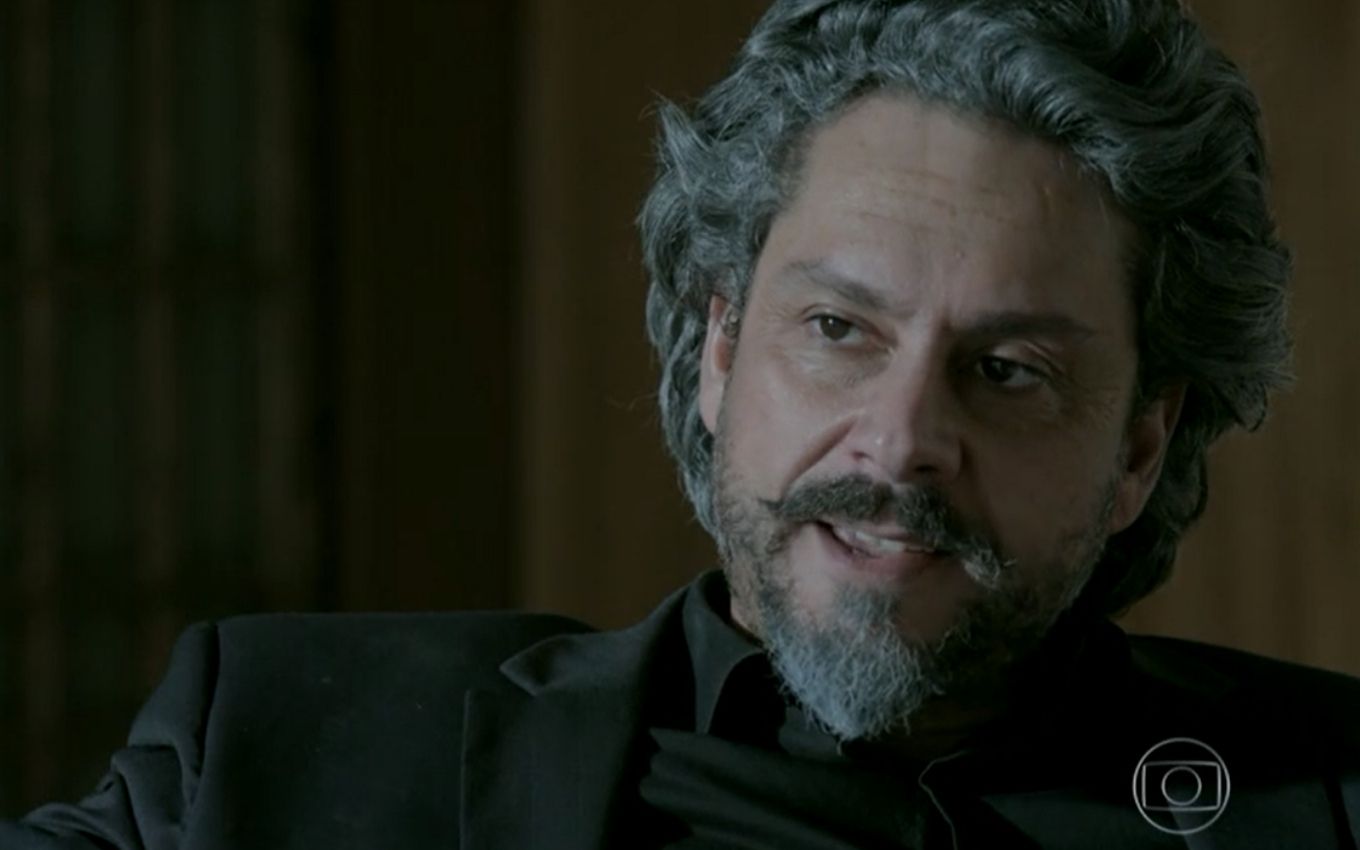 José Alfredo (Alexandre Nero) will discover the hairy secret of Maria Marta's (Lilia Cabral) past in Império. The commander will demand explanations about the marriage of madame to Silviano (Othon Bastos) in Globo's nine o'clock soap opera. When pressed, she will open the game to the "man in black", who will not forgive.
It will all start when Cora (Marjorie Estiano) alerts the almighty that the "Empress" is deceiving him. The "snake" will reveal who her first husband was, but first, Cristina's father (Leandra Leal) will make fun of the gossip. However, he will tell the story to Maria Isis (Marina Ruy Barbosa), who will confirm having heard the same version.
Angry, José Alfredo will surprise his wife: "Why didn't you ever tell me that you were married to Silviano?" She will talk about the scenes planned to air from next Friday's chapter (8).
The manager will not give up and will pressure her once more: "When did you have the brilliant idea of ​​putting your ex-husband here in the house?" Some time later, the madame will confess:
He was in misery and sought me out. And you, each year richer, he asked me for help. And I, perhaps because I wanted to get revenge for the humiliations he put me through one day, I had the idea and proposed to him that he become my employee.
"This is already starting to make more sense, because you're just the kind of woman who would make a proposal like that to a needy ex-husband," the rich man will snipe, who will still call Silviano a fake. Martha, however, will intercede.
"I didn't expect so much from him, because he was the best of all our servants, that you can't deny. The most competent, the dearest," the lady will say. The Commander will rebut: "The most liar?".
Marta confesses marriage to Silviano
Chapter summary
Second, 4/10 (Chapter 151)
Cristina stops Cora from talking to José Alfredo. Joshua hears Merival declare herself to Maria Marta. Maria Marta cries when she sees Maria Isis with José Alfredo. Noely introduces herself to Magnolia as a fan and gets a job with her. Carmen distrusts Orville. José Alfredo believes that Merival could be one of his enemies. Maurílio installs a camera in José Alfredo's room.
Silviano refuses to sit at the table with Maria Marta's family and everyone finds it strange. Leonardo hears Felipe threaten Enrico and tells Claudio. José Alfredo takes Maria Isis to his room in the mansion. Erika and Robertão are frightened by Noely. Cora questions Cristina about the party in honor of the Commander. Claudio is wounded by Felipe in place of Enrico. José Alfredo talks with Merival.
Tuesday, 10/5 (Chapter 152)
Maurílio watches the discussion between Merival and José Alfredo. Felipe runs away and Xana takes care of Claudio. Josué tries to convince José Alfredo that Maria Marta may be involved with Merival. Maria Isis faces Maria Marta. Enrico tells Beatriz about the attack and Leonardo tries to reassure her. José Alfredo humiliates Maria Marta. Leonardo takes Enrico to the hospital. Maria Clara sees Maria Marta and Silviano dancing together.
Orville confesses to Jonas that he no longer wants to explore Salvador. Claudio is operated on and Leonardo comforts Beatriz. Maria Clara and João Lucas discover that Silviano was already married. Marilda goes to Xana's house looking for Luciano. Carmen denounces Salvador. Beatriz summons Enrico to donate blood to Claudio. José Alfredo finds Maurílio sitting in his living room at the Império jewelry store.
Wednesday, 10/6 (Chapter 153)
José Alfredo argues with Maurílio and Danielle is intrigued. Enrico escapes from the hospital and Vicente tries to talk to him. Magnolia instructs Noely and Severus watches the girl. Pietro tells Téo about the attack on Claudio. Jonas and Carmen team up against Orville. Cora offers to talk about José Alfredo's past and Téo is excited.
Maria Clara finds Enrico and tells Beatriz. Cora asks Téo to help her meet José Alfredo. Tuane asks to parade the samba school. Beatriz gives Enrico an ultimatum. José Alfredo fires José Pedro.
Thursday, 10/7 (Chapter 154)
Maria Marta does not accept José Pedro's resignation. Beatriz demands an answer from Enrico again. Amanda talks to José Pedro. José Pedro faces José Alfredo. Maria Clara and Cristina argue. Enrico talks to Beatriz about Claudio and she gets emotional. Maria Clara talks to Amanda about Silviano. Talk to Teo. Antônio goes to Xana's salon.
Xana and Luciano meet. Cora and Téo go to the Império jewelry store. Helena and Orville talk about Salvador. Antônio declares himself to Naná. Silviano tells Maria Marta that José Pedro has left home. Danielle makes fun of José Pedro. Maria Clara says she's going to sleep at Xana's house. Cora reveals about Maria Marta to José Alfredo.
Friday, 10/8 (Chapter 155)
José Alfredo finds it hard to believe what Cora told him. José Pedro and Amanda talk on the phone. Danielle questions Maurilio and he calls his mysterious partner. Vicente serves dinner at Xana's house. Cristina consoles Xana. José Alfredo thinks about what Cora said and talks to Josué. Magnolia visits Maria Isis. Marta shows Silviano photos from the album. José Alfredo and Maria Ísis go to Magnolia's house.
Otoniel talks to Ismael and Manoel at the bar. Ishmael asks Lorraine to tear up the check he received from Erika. Amanda visits José Pedro at the hotel. Elivaldo tells the family that he's going to take the entrance exam. Magnólia talks with José Alfredo and Érika. Xana tells Naná why she is sad. Helena threatens Jonas. Leonardo and Amanda choose a vehicle for their business. Beatriz declares herself to Claudio. Juliana and Xênia are surprised. José Alfredo faces Maria Marta.
Saturday, 10/9 (Chapter 156)
José Alfredo demands explanations from Maria Marta about his marriage to Silviano. Du talks with João Lucas. Antoninho invites José Alfredo to parade at the União de Santa Tereza school. Silviano cries looking at his wedding photo with Maria Marta. Josué and José Alfredo are looking for an album that Maurílio gave to Maria Marta.
Magnolia decides to buy a box for the carnival. Érika congratulates Téo for the success of the blood donation campaign for Claudio. Xenia plans to boycott Juju's costume. Xana and Naná take Luciano to the shelter.
Maria Marta tells Maria Clara that José Alfredo discovered her secret with Silviano. Naná tells Xana that she wants to marry Antônio to adopt Luciano and Xana is disappointed. Maria Isis, Antônio and Vicente visit Claudio in the hospital. Maria Clara sees José Pedro talking to Merival. Téo Pereira receives flowers.
---
Empire chapters are provided by Globo and are subject to change without notice
.