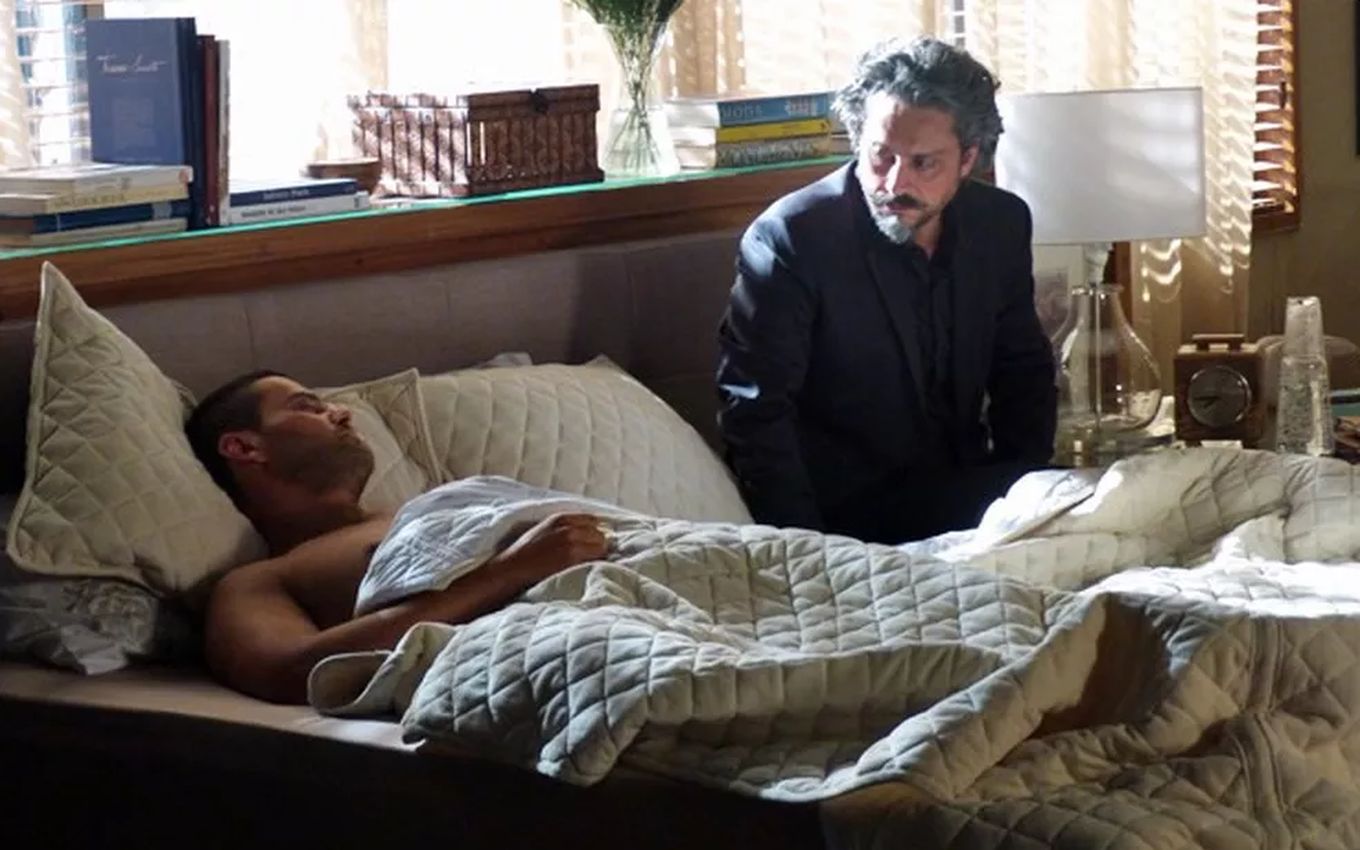 The romantic evening with Maria Marta (Lilia Cabral) will end surprising for Maurílio (Carmo Dalla Vecchia) in Império. Upon waking up the next morning, the dondoca's lover will come face to face with José Alfredo (Alexandre Nero) beside him in bed. The commander will surprise him in an attempt to settle accounts with his rival in the 9:00 pm soap opera on Globo.
In the scene that will air this Saturday (17), the vengeful will jump with the image he will see as soon as he opens his eyes in the morning.
"I bet you've never had an awakening as pleasant as this one…", the protagonist will laugh. "Where's Marta? Marta!" will scream the handsome one. "She went to give orders to the servants. As she is demanding, it should take enough time for the two of us to talk again with all the calm in the world", will reply the commander.
Maria Marta will listen to the entire conversation with her ear glued to the door, but she won't dare interrupt her husband's onslaught. José Alfredo wants to prevent Sebastião's son (Reginaldo Faria) from insisting on recovering his father's fortune.
"You might even want to argue, but I'm not willing to listen. Because everything you have to tell me won't change my objective at all. We, Commander, have already talked about everything we had to talk about", Maurílio will dodge .
José Alfredo will try, in vain, to convince his wife's lover that he didn't kill Sebastião. "I don't have the slightest doubt. A boy from the Northeast, to have got where he is… He must have done everything," the handsome man will retort.
"If you think that, aren't you afraid of me killing you right here or hiring someone to send you to another band?", the protagonist will threaten. Maurílio, then, will give proof that he is more dangerous than his rival imagined:
I'm a forewarned man, Commander, I've thought about it and taken precautions. I had a dossier made, which is going around, in which our story is told in every detail and properly documented. And attached is a letter signed by me that says that if anything bad happens to me, you will be responsible.
Império (2014) won a "special edition" to fill the hole left after the final stretch of Amor de Mãe on Globo's prime time. Um Lugar ao Sol, the next new soap opera at 9 pm, was postponed to premiere in the second half of this year.
In addition to spoilers, the TV news It publishes daily the summary of the nine soap operas that the network repeats due to the Covid-19 pandemic.
---
Learn all about the upcoming chapters of soap operas with the Noveleiros podcast
Hear "#65 – All About the End of Save Yourself Who Can!" on Spreaker.
---
Subscribe to the channel TV news on YouTube and watch videos with revelations of what will happen in Império and other soap operas.
.