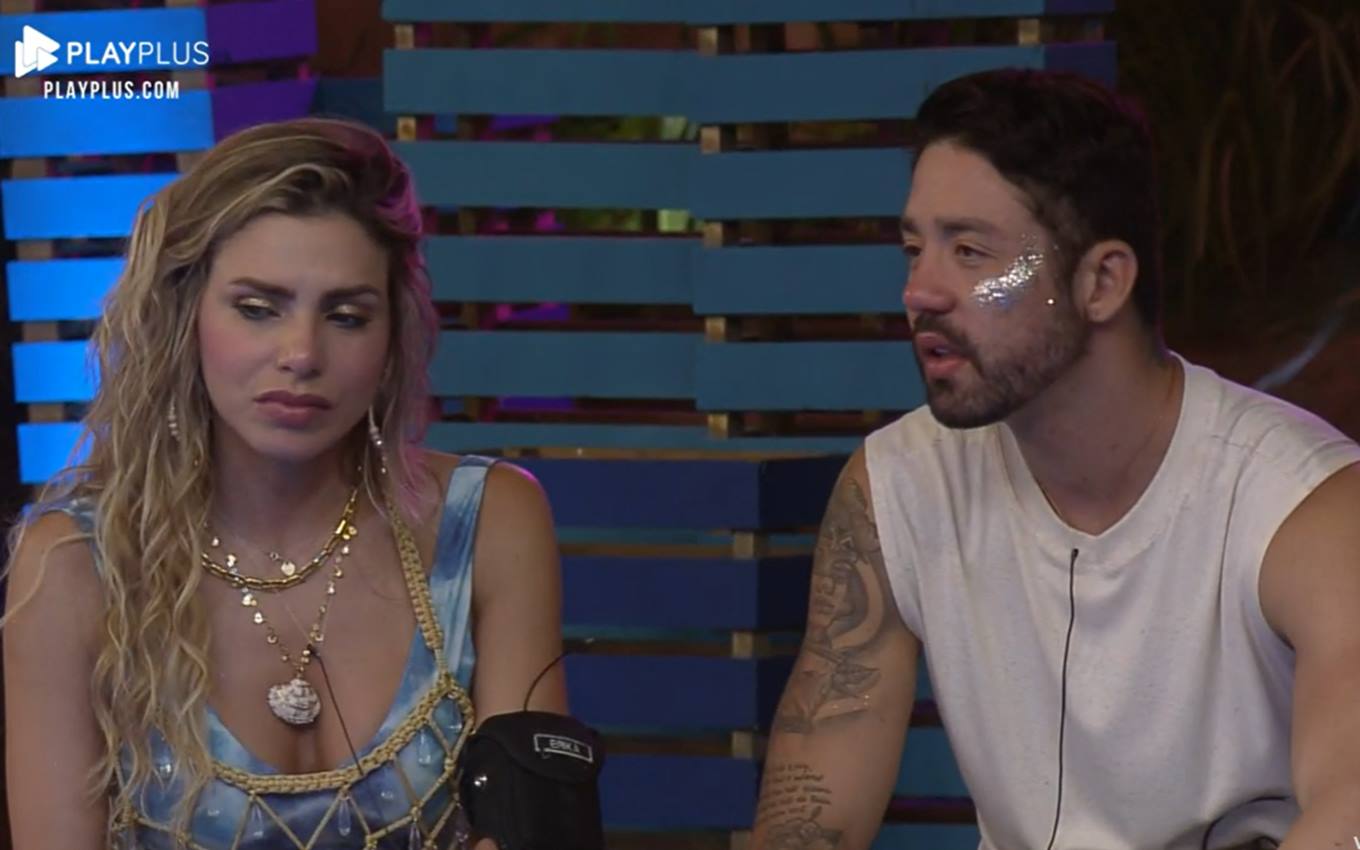 Erika Schneider vented about comments that some participants of The Farm 2021 are making about her. After nominating Mussunzinho to the farm, the dancer began to receive a lot of criticism, as her colleagues in confinement expected her to nominate Arcrebiano de Araújo. "I'm psychologically shaken," she lamented at dawn this Saturday (2).
While other pedestrians and peoas enjoyed the party, the blonde sat isolated next to Rico Melquiades and showed to be quite shaken.
"I'm really bad. I don't know what's happening to me, I'm not like that, no," she said. The former dancer of Faustão also explained that she had only called Mussunzinho a "sexist" because in fact she had felt disrespected by the actor during her tenure as a farmer.
"I said that because I felt bad. I felt sad, I felt several things, nobody gave me any morals, nobody listened to me. I'm psychologically shaken. I'm starting to think I'm going crazy," she continued.
Erika also vented on the way she has been treated by Tati Quebra Barraco and spoke about a situation she had witnessed earlier in the house: "She started laughing in my face and went into the room. I don't know what to think anymore. ".
Rico, for his part, said he also became a target of the house, especially after purposely causing a punishment at headquarters. "I'm the same way. Many people spoke to me again today. The day I gave the punishment. No one spoke to me, nor did you speak properly," he commented, referring to Erika, Aline Mineiro and Dayane Mello, his allies in the game.
.@erikaschneider tell the @RicoMelquiades which was very bad when she was a farmer. For the peoa, she was not respected or listened to by the reality shows. #The farm

follow the #FestaAFazenda fur @SigaPlayPlus. Subscribe to https://t.co/UpWImxSIbX and get access to the broadcast! pic.twitter.com/cUSU1VP7fS

— PlayPlus (@SigaPlayPlus) October 2, 2021
Where to watch The Farm 13?
The only service that relies on the 24-hour broadcast of rural reality, PlayPlus has the price of BRL 15.90 a month. Contrary to what happened in previous seasons, Record's platform now offers more than one camera for subscribers to follow what happens at the reality show's headquarters.
The platform offers 14 days of free use for those who have never subscribed to the service. After this period, the user starts to pay the monthly fees. In addition to the nine cameras and full episodes of A Fazenda 13, Record's streaming offers soap operas, series, newscasts and programs shown on the station.
---
Learn all about reality shows with the podcast O Brasil Tá Vendo
---
Subscribe to the channel TV news on YouTube to check out our daily newsletters, interviews and live videos
.