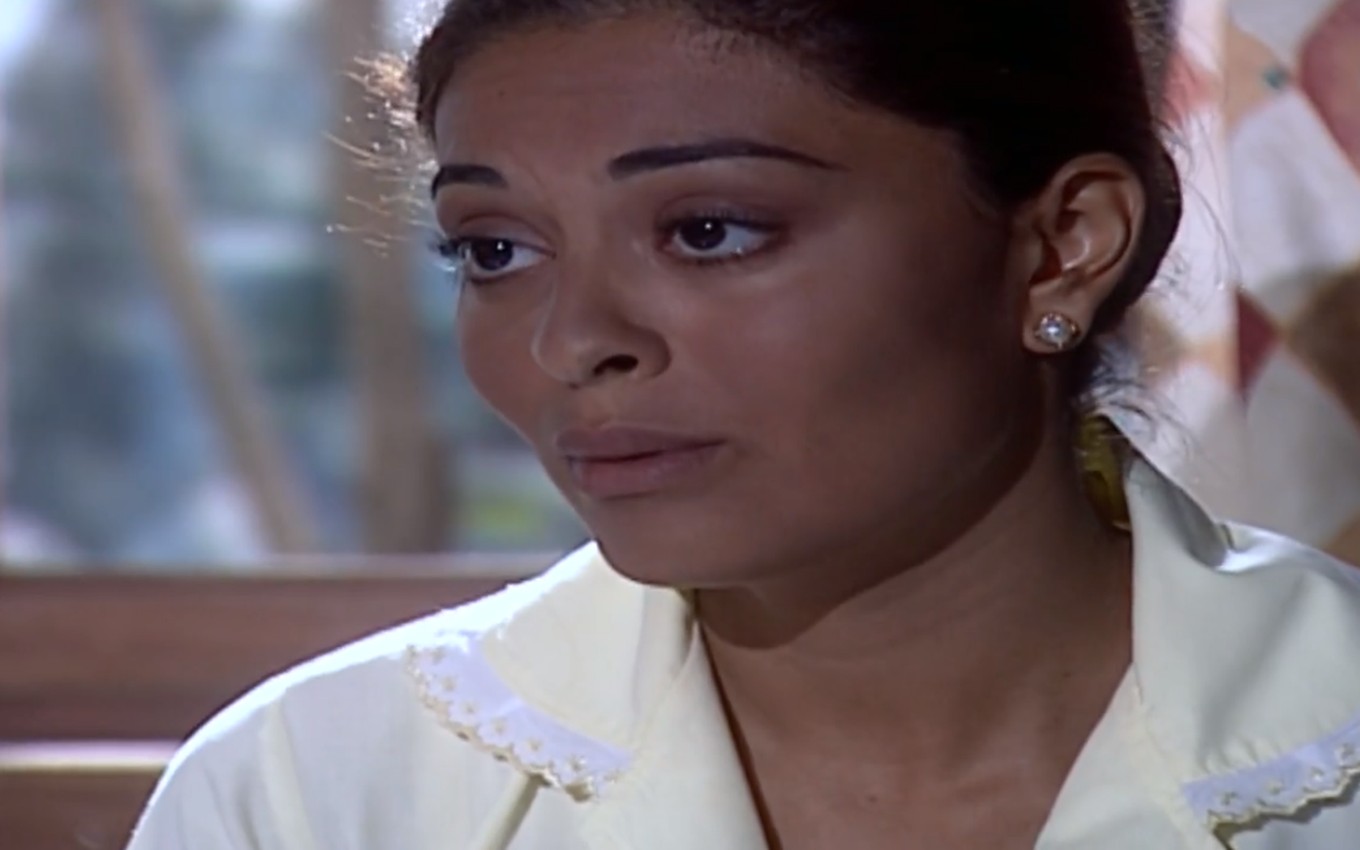 Rita (Juliana Paes) will be sick more than once at work, which will attract the attention of her employer in Laços de Família. Pressed by Alma (Marieta Severo), the maid will surprise her when she confesses that she is pregnant, but the young woman will not reveal that the child's father is Danilo (Alexandre Borges) in the soap opera shown in Vale a Pena Ver de Novo.
Alma will search for Rita and find her in her room lying on the bed in the middle of the day. "What are you trying to hide from me? If you hide anything from me and I find out, I won't forgive you. I'm going to fire you right away, no matter how much it hurts me. Think hard and quickly", will warn the owner mansion.
The employee will be in shock at the words of the boss and, afraid of being put in the eye of the street, she will decide to speak. "I'm pregnant, Dona Alma", she will confess. "Are you pregnant? Oh my God! But how did you let that happen?", Complains Alma.
The maid will say that she made a mistake, but Edu's aunt (Reynaldo Gianecchini) will say that it is not a question of making mistakes. "It is a matter of intelligence. There are so many ways to avoid pregnancy, it is not possible that you do not know any," the owner of the stud will observe.
Alma will ask why the maid hid the pregnancy, and the maid will say that she was afraid, because she did not know what Madame's reaction would be.
"Do you think I was going to fire you because you are pregnant? What kind of employer do you think I am?" "It's just that we hear so many stories. I have friends who lost their jobs when their bosses learned they were pregnant. There are a lot of people like that," explains Juliana Paes's persongem.
Marieta Severo in Family Ties scene
Who is the father?
After the maid's explanation, Alma will address an important point in this story. "I'm going to ask you a question, but I don't want you to be offended. You know who the father of that child is, don't you?", Will question the antagonist of Manoel Carlos's booklet.
"Of course, Dona Alma. I am a straight girl," will answer the maid. "Of course, Rita. Don't take my question wrong. It's that youth of today. But it's great. Great that you know. And who is your child's father?", Asks the character of Marieta Severo.
Without being able to reveal the truth, since her son's father is Danilo, Rita will not know what to say. In the face of the girl's silence, Alma will ask if she is a house employee without distrusting her husband.
"No, Dona Alma. No way. He's a guy I met in the forró. We met, he fell in love with me, promised worlds and funds, then, I fell for him. So, we stayed together, then we went to the beach, it was a beautiful night. Then it happened ", the young woman will comment, revealing part of the night of betrayal when she had sex with her mistress's husband.
Danilo's wife will question whether Rita has already told the boy that she is pregnant, and she will say yes. But the young woman will say that when the man heard about the pregnancy, he didn't even want to know. "These men, really. It is absurd the behavior of these boys who do not take responsibility for what they do," says Alma.
---
Find out everything that will happen in the soap operas with the Noveleiros podcast:
Listen to "# 45 – All about Juliano and Natália's wedding at Flor do Caribe!" in the Spreaker.
---
Subscribe to the channel TV News on YouTube and watch videos with revelations of what will happen in your favorite soap operas!
.