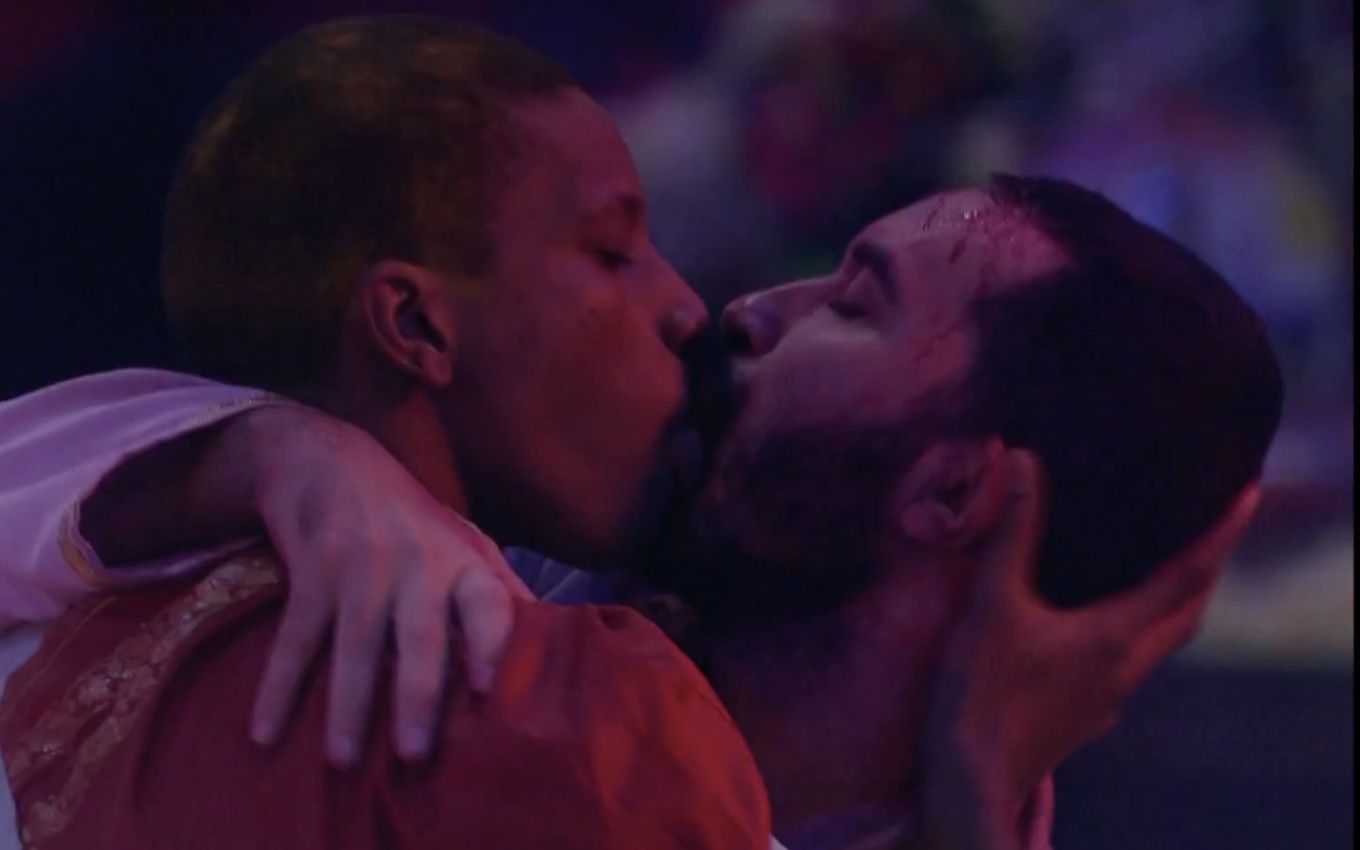 The first tongue kiss between men in the history of Big Brother Brazil – in 21 years of the reality show's existence – became a show of biphobia after Lumena Aleluia, Karol Conká, Pocah and Nego Di accused Lucas Penteado of using Gilberto Nogueira as part strategy to gain prominence within BBB21. The quartet invalidated the actor's bisexuality.
During the Holi Festival party, the former Malhação and the economist carried out a hot kiss in the middle of the track, shocking everyone present with the exchange of affection. Unlike the joy that Fiuk and Thaís Braz caused when they stayed quickly, the reaction of several participants was to question Lucas' "real" intentions.
"I hope it doesn't end here," declared Penteado after the kiss on Nogueira, who was euphoric. Arcrebiano Araújo and Pocah were left without reaction, and the model still received a praise from the actor. "You thought it was a joke, you're a hot one!", Joked the interpreter of Fio in the soap opera Malhação – Viva a Diferença (2017).
Lucas came out bisexual andm conversation with Juliette Freire, and Lumena made fun of him, despite being an outspoken lesbian. Disgusted with the scene, the psychologist went to talk to João Luiz Pedrosa in the kitchen, looking for validation.
"He's using it. He's talkative and talkative is sick! He's a speaker. João, am I wrong?", Asked the DJ. Without knowing what it was about, the teacher asked what she was talking about. "Lucas using Gil," she added.
"I don't think it's up to us to judge his sexuality," said João. "I'm not judging his sexuality, but his game and game strategy", justified Lumena. "But if he uses that for game strategy there, it might be a problem," agreed the professor. Then, the Bahian assessed that Lucas would be using the LGBTQ + movement on stage.
Judgment and withdrawal
Shortly afterwards, the artist threatened to leave BBB21 and began to be attacked by fellow confinement. Karol and Pocah kept shouting that they were also bisexual. "There are several ways to come out", wanted to teach the funkeira.
"You are not special, there are a lot of LGBT people here. You fell into your own trap, you did not catch the vision. There is no point in managing the agenda here, there are other people like you, you are managing the agenda, serious guidelines", shouted Lumena .
"You are organizing a collective agenda in favor of a BO that is yours, individual, an individual run, you are organizing a historic, collective struggle, in favor of an egoic demand, of your egoic demand. I mean it!" militant, accusing him of appropriating the LGBTQ + cause.
"You will think that I am playing with something that is me, because I do not know how to be someone else. And I will not live with other people who do not accept who I am", replied Penteado.
After the youngster gave up, Nego Di told Gilberto that his brother was being used by his rival, in addition to giving his opinion on the matter. "Lucas never said anything about being bisexual to anyone, I thought it was low for him to do that," decreed the comedian, as if a bisexual should be born out of the blue.
Bisexuality is a sexual orientation in which the individual defines himself as attracted to both genders, both men and women, either physically, emotionally or both at the same time.
What could be a reason for the LGBTQ + public to see the homosexual couple formed within a Big Brother Brazil turned into a horror show with Lumena's selective militancy in invalidating and questioning Lucas's bisexuality, being that sexual orientation is a completely personal aspect, in which no judgment of others can fit.
Lumena, being a lesbian and black, should know that it is not her place to speak pointing fingers at the sexuality of others, even more of a black man who is coming out for the first time. Nego Di, a heterosexual black man too. As well as the self-declared bisexual and black Pocah and Karol Conká.
See the moment of the kiss between Lucas and Gilberto and the repercussion inside BBB21:
lumena said lucas was using gilberto pic.twitter.com/STHSpFcgRX

– cris dias (@crisayonara) February 7, 2021
pocah and lucas talked pic.twitter.com/7vN39zNOVc

– cris dias (@crisayonara) February 7, 2021
lucas told juliette that he was bisexual pic.twitter.com/fGZhijWtWf

– cris dias (@crisayonara) February 7, 2021
joão told lucas that he was not his enemy pic.twitter.com/IaDrHbdpIO

– cris dias (@crisayonara) February 7, 2021
lucas told gilberto that he saw him as an incredible person and that if he didn't believe it, look for him out here pic.twitter.com/239YDNsG3P
– cris dias (@crisayonara) February 7, 2021
lumena told lucas that he was organizing a collective historic struggle for an egoic demand pic.twitter.com/bek1fZnUm9

– cris dias (@crisayonara) February 7, 2021
rodolffo said there were people who wanted to leave and wanted to know if he was going to go and LUCAS DE FATO GIVEN OFF the program pic.twitter.com/TuHXnmbjj5

– cris dias (@crisayonara) February 7, 2021
Check out some reactions on Twitter:
Biphobia, lack of empathy, distortion.

Everything Lumena said here is for him, but not for Lucas.

Unfortunately he left, not her

– Leví Kaique Ferreira (@LeviKaique) February 7, 2021
Lumena thinks Lucas's sexuality is a setup, but he fails to realize that Fiuk's deconstruction is pure theater.

— Ashley Malia (@ashleymlia) February 7, 2021
Do you know that moment when Lucas tries to explain that it's bi and Lumena comes out laughing?

This happened ALREADY ALREADY with me and because of that I hid my sexuality from people for another year and a half

– Leví Kaique Ferreira (@LeviKaique) February 7, 2021
There is so much wrong, violent and humiliating about this exit from the @koka_lucas which is indescribable in a few characters. Go by @boninho to Nego Di, from Karol to Lumena, passing through Projota and so on. Everyone must be held accountable. All!

– Ronilso Pacheco (@ronilso_pacheco) February 7, 2021
Gil was happy kissing, Lucas seemed to have lifted a weight from his back, we were very excited about the new ride and Lumena immediately put a stone on top of it without us even asking, just because she just wanted to.

– sheath (@badgalmafe) February 7, 2021
Lucas left

It came out because of the weight of biphobia

He was coming out and the show that Lumena did weighed him

It weighed because it made him feel bad and he wondered how bad people were thinking about him in that vulnerable moment

He didn't want that

– Leví Kaique Ferreira (@LeviKaique) February 7, 2021
Imagine if there is a doctor as a participant in the BBB and another player is sick and this doctor besides ignoring it still gives a poison … Would you lose the CRM?
Because if Lumena is a psychologist and saw the emotional stress to which Lucas was being subjected and still put 🔥- Can you remain a psychologist?

– Tico Santa Cruz Vaccine For Everyone! (@Ticostacruz) February 7, 2021
I admire Lumena, a lesbian black woman who claims to be an activist and has certainly gone through situations of invisibility of her sexuality, to question Lucas's purely and simply because he did what she hasn't been able to do so far: have fun

– Alexandre (@Iexandre) February 7, 2021
That's why – and many other things – Lucas left. The name of this is VIOLENCE !. Lumena, Pocah and Karol should be held responsible.

They all put themselves in the place of QUESTING Lucas' sexual orientation. WHAT ABSURD !!!!!! https: //t.co/lCDa6Y9hTp

– Ana Flor (@Tdetravesti) February 7, 2021
.