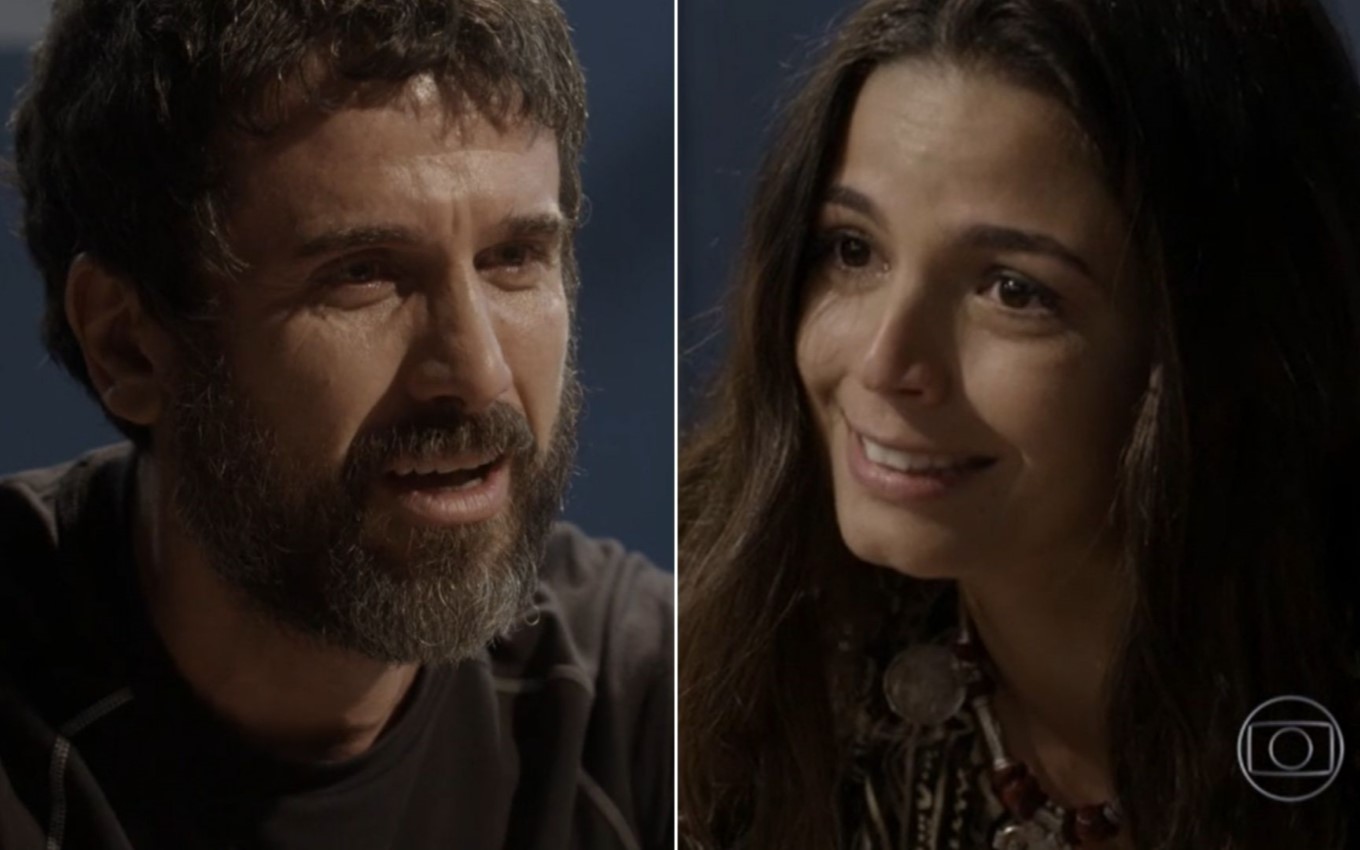 SUMMARY: Gael (Eriberto Leão) will be arrested after fighting with Lobão (Marcelo Faria) in the street. Bianca's father (Bruna Hamú) will receive a bombshell from Dandara (Emanuelle Araújo), who will visit him in jail. Ribalta's teacher will ask him to become more mature and will reveal that she is pregnant. The couple will be moved by the news that will change their lives
Second, 9/13 (Chapter 165)
Nat manages to warn Duca in time and tries to hide it from Lobão, who pressures her. Karina claims the coat is hers. Jade suggests that Pedro annoy Karina to get the girl's attention. Karina tells Nat that she doesn't want to see her stay with Duca. Pedro decides to compose a song about his first time with Karina and publish it on vlog of Jade. Delma listens when Marcelo tells Lincoln that he spoke to Roberta.
Mari and Jeff celebrate permission to open the kiosk at Aquazen. Pedro's video is successful on the internet. Edgard reveals to Lucrecia about Jade's promise for her mother to heal. Nat tells Duca that he will be able to unmask Lobão and Heideguer during the championship Warriors. Cobra alerts Duca about Nat and Lobão. Karina sees Pedro's video.
Tuesday, 9/14 (Chapter 166)
Karina is furious with Pedro, but Lobão demands that the girl finish training before looking for him. Cobra is jealous of Jade with Henrique. Tomtom distracts Delma so that Pedro waits for Karina. Everyone in the band waits for Karina with Pedro. Karina arrives and is moved by the tribute, but soon turns against Pedro.
Delma interrupts the fight between Karina and Pedro and tells her son that he is grounded. Delma warns Gael to keep Karina away from Pedro. Gael tries to talk to Karina, but Cobra takes her on his motorcycle to Nat's house. Gael decides to go back to the gym and encourages Bianca to resume her post at Ribalta. Dandara is sick, and Mari implies that the teacher is pregnant.
Wednesday, 9/15 (Chapter 167)
Dandara confides in Mari that he believes she is pregnant with Gael. Gael discovers that Wallace and Karina are entered into the Warriors Championship without his approval. Bianca decides to resume her role as Juliet in the Ribalta show and Henrique celebrates. Gael confronts Lobão and Karina says she is prepared to dispute the championship. Wallace prepares to ask Gael's permission to fight.
Lobão provokes Gael, who attacks his rival and ends up being detained by the police. Gael realizes that Lobão set him up for harm. Karina tells Cobra about her situation with Lobão and Gael. Duca alerts Wallace to Gael's reaction to his entry into the championship. Gael assumes his mistakes by attacking Lobão. Dandara reveals to Gael that she is pregnant.
Thursday, 9/16 (Chapter 168)
Gael celebrates Dandara's pregnancy. Karina visits Gael's apartment and Beth hears when the girl confesses that she misses her father. Students at Gael's academy are hostile to Wallace. Lucrezia tells Edgard and Jade that her surgery has been scheduled.
João discovers that Dandara is pregnant and has a crisis. Lobão confesses to Nat that he set up a fight with Gael. Nat claims he likes Duca. Karina misses her home. Jade and Henrique approach and Cobra watches them both. Lobão manipulates Karina so that the girl calls him father in front of Gael.
Friday, 9/17 (Chapter 169)
Bianca argues with Karina. Heideguer reveals that Lobão forced Karina to call him father so that Gael could be released. Bianca celebrates the news of Dandara's pregnancy. Pedro sets up another plan to get closer to Karina and asks Jade for help. Henrique dines with Jade and Lucrecia. Jade tells Cobra that she is interested in Henrique and the fighter doubts it.
Tomtom invents for Karina that Pedro is sick. After an analysis session with Olga, Nando gives up being a monk. Gael talks to Wallace, who decides to leave the master's academy. Duca warns Wallace about Heideguer's character. Wallace thinks about training at the Khan Academy. Karina visits Pedro because of his supposed illness.
---
The chapters of Malhação Sonhos are provided by Globo and are subject to change without notice
.