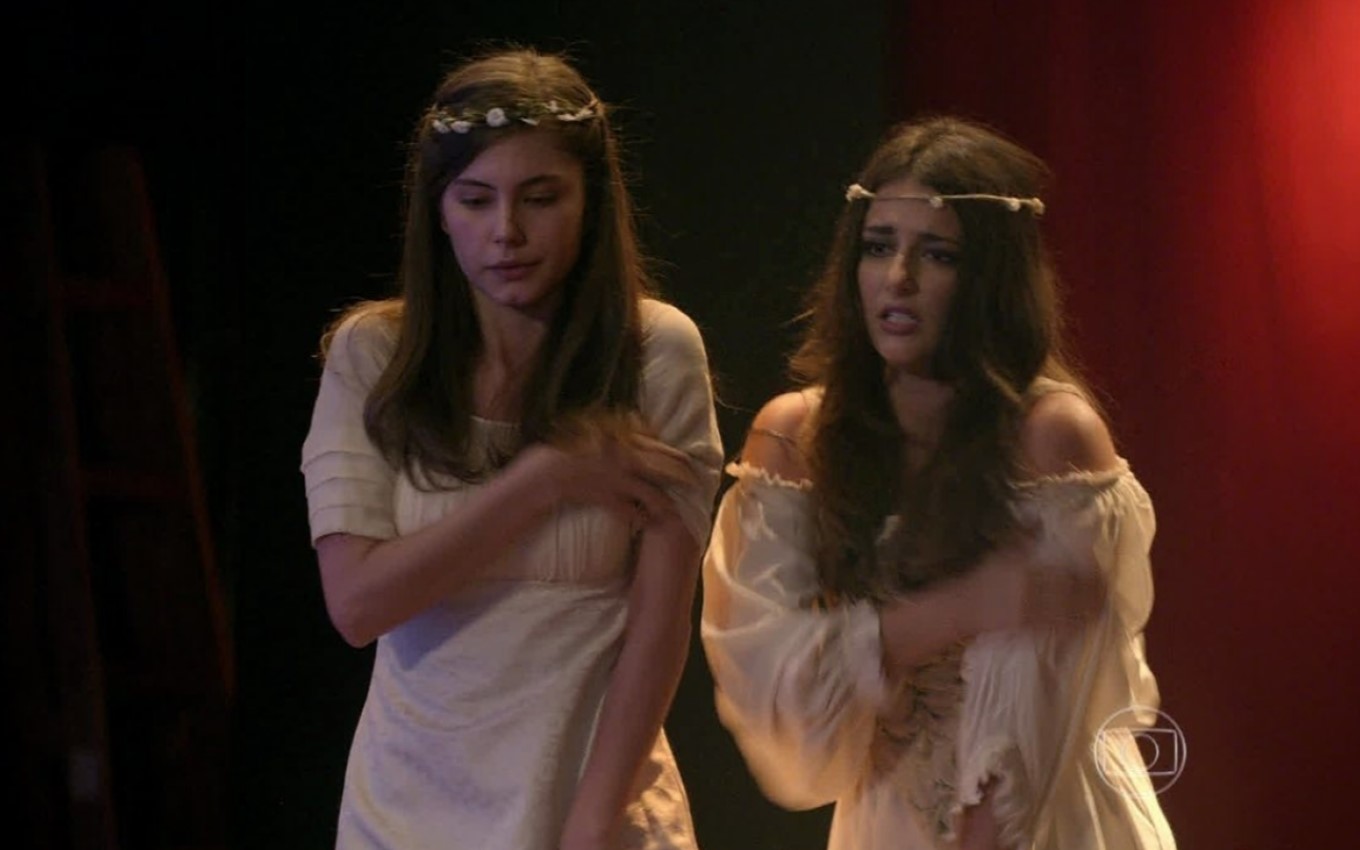 SUMMARY: Bianca (Bruna Hamú) and Jade (Anaju Dorigon) will play the role of Julieta. Cobra (Felipe Simas) will come up with the idea of ​​his girlfriend sabotaging her rival with monkey powder, but Gael's (Eriberto Leão) daughter will find the product in the villain's purse. The plan will go down the drain. The girls will fall into each other's trap and will not be able to pass the test to do the play
Second, 7/19 (Chapter 125)
João suggests that Dandara stay with René. Jeff asks Jade about Lucrecia's health. Bianca says that João must conquer Vicky. Jade is delighted with where Cobra wants to take her.
Duca and Bianca make up. Joaquina throws Alan's glove in the square with the pen drive containing the dossier on Khan. Duca and Karina train at the gym. Jeff visits Lucrecia, and Jade is furious. Duca tells Karina what Bianca did with João.
Tuesday, 7/20 (Chapter 126)
Lucrezia decides to tell her students that she is sick. Tomtom finds Alan's glove in the square and hands it to Pedro. Simplicio asks Ruth to help him get closer to Beth. King urges Simplicio to find a place to store his goods. Bianca compares Karina with Duca.
Nat overhears Lobao talking to the fighters about Warriors. Jeff asks Sol to cut his hair. Nat tries to record a confession by Heideguer, but is surprised by the lawyer. Pedro gives the glove to Karina.
Wednesday, 7/21 (Chapter 127)
Heideguer threatens Nat. Jade doesn't agree with Lucrecia telling the truth to her students. Beth agrees to talk to Simplicio. Jeff and the other students pay tribute to Lucrecia. Simplicio tells his cronies that he will be able to return home. Jeff finds Mari's behavior strange. Dandara invites René to dinner. Duca sees the glove Karina got from Pedro.
Thursday, 7/22 (Chapter 128)
René kisses Dandara. Vicki sees Pedro and Tomtom hiding and is furious. João tells Vicki that Pedro received money to stay with Karina. Dandara and René console their son. Tomtom advises Pedro to tell Karina the truth.
René suggests that João apply for the role of Romeo in the editing of Ribalta. Dandara and Nando sing together. Karina complains about Gael allowing Bianca and Duca to date. João gets even closer to René. René sees Dandara and Gael kissing.
Friday, 7/23 (Chapter 129)
Dandara goes after René, and Gael is surprised. Bete invites Simplicio for coffee, and Lincoln criticizes her. Simplicio agrees with King the details of his plan. Everyone is amazed when John signs up for the role of Romeo. Bianca and Jade discuss Juliet's role.
Gilda asks Jeff to help her cheer up Mari. Cobra suggests that Jade sabotage Bianca's audition. Bianca realizes Jade's intention and takes revenge on her rival. Bete criticizes Gael's charge with Karina and Pedro. Jade and Bianca can't do their tests, and Lucrecia scolds them.
---
The chapters of Malhação Sonhos are provided by Globo and are subject to change without notice
.