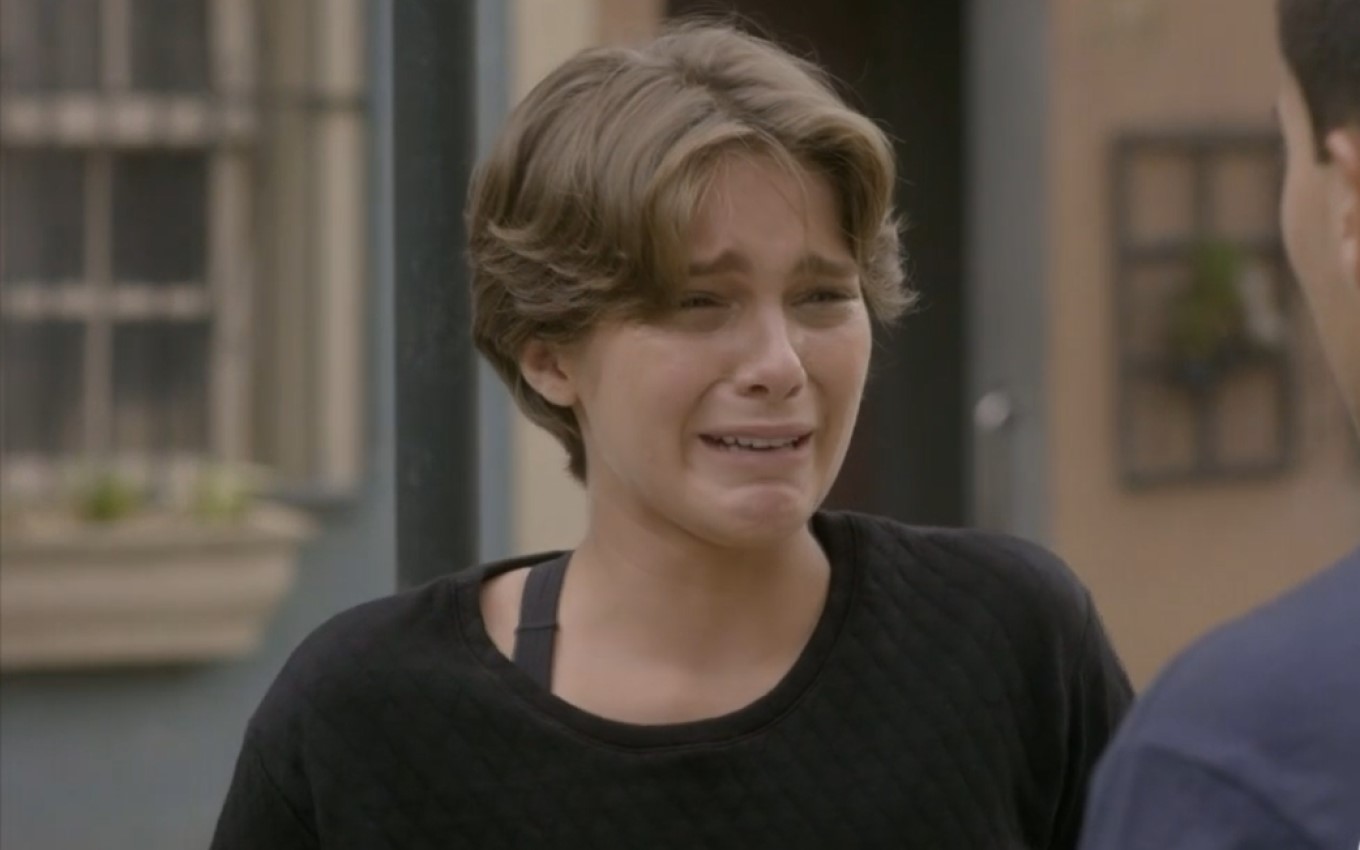 SUMMARY: Bianca (Bruna Hamú) will be kidnapped before her debut as Julieta in the play da Ribalta, but Duca (Arthur Aguiar) will save her. In the theater, the girl will accuse Jade (Anaju Dorigon) of having been the mastermind of the crime, but will listen to what she doesn't want. The antagonist will claim that she never did anything serious like paying off her sister's boyfriend. Karina (Isabella Santoni) will be in the audience and will cause a scandal. The fighter will finish with Pedro (Rafael Vitti) at the same time
Second, 8/23 (Chapter 150)
Wallace, Sol and Jeff try to help Mari, who feels strong contractions. Duca asks Henrique to stay away from academic affairs. Mari gives birth. Carlos arrives to take Mari and the baby to the hospital. Pedro assures Karina that he'll be able to trick Gael into spending his birthday with his girlfriend. Heideguer convinces Wallace to sign up for the championship even without Gael's approval.
Sol announces the birth of Mari and Jeff's baby to friends. Pedro has an idea to deceive Gael. Jade insinuates to Bianca that he has a secret against her. Cobra announces to Jade that he's going to do something with Bianca on the day the play opens. Duca questions Nat about the scheme between Heideguer and Lobão.
Tuesday, 8/24 (Chapter 151)
Nat reveals to Duca the illegal scheme of Heideguer and Lobão to profit from the fighters. Jade fears Cobra's plan against Bianca. Duca is suspicious when Wallace comments that Heideguer approached him about the championship. Bianca questions Jade about her innuendo, but the girl doesn't talk. Gilda visits Mari and Joaquim.
Pedro's birthday arrives and João gives him the factory key for his friend to celebrate. Cobra asks Luiz to help him with the plan against Bianca. Mari reveals to Gilda that Jeff is not Joaquim's biological father. Nat asks to participate in Lobão and Heideguer's scheme. Bianca encourages Karina to lie to Gael.
Wednesday, 8/25 (Chapter 152)
Lobão tells Luiz that he discovered a secret of Gael with his daughter Karina. Nat celebrates his entry into Lobão's scheme to dispute the championship and announces Duca. Pedro and Karina prepare to camp at the factory. Gael and Dandara dine together.
Jade worries about Bianca's safety. Nat and Duca are together. Heideguer refuses to help Lobão with Gael's secret. Jeff and Gilda talk about the family's future. Barbara and Bianca see Duca kissing Nat. João consoles Bianca. Pedro and Karina declare themselves to each other.
Thursday, 8/26 (Chapter 153)
Karina says she loves Pedro. Bianca gets along with João. Gilda returns to Joaçaba. Pedro and Karina end up destroying the setting for Edgard's play. Gael discovers Pedro and Karina's setup. Duca talks to Bianca about Nat. Lobão stalks Gael and Karina and gathers information about their relationship. Karina vents to Gael and claims that her father treats her differently.
Delma scolds Pedro for lying to Gael. Ribalta's gang prepares for the premiere of the play. Bete remembers Ana with Bianca. Delma and Pedro arrive to speak with Gael. Luiz and Diego follow Cobra's request regarding Bianca, and Duca goes to help the girl.
Friday, 8/27 (Chapter 154)
Cobra watches as Duca follows Luiz and Diego, who are with Bianca. Pressured by Delma, Pedro apologizes for having lied to Gael. At the rehearsal, everyone finds Bianca's absence strange, and Lirio distrusts Jade. Luiz and Diego realize they are being followed. Lucrezia asks Jade to prepare to replace Bianca. Duca manages to rescue Bianca.
Lobão arrives with Cobra in Ribalta. Bianca and Duca are suspicious of Jade and Cobra's setup. Lobão provokes Gael by questioning his paternity in front of Karina. Marcelo tries to get closer to Delma. Bianca manages to reach Ribalta in time to star in the show. Bianca argues with Jade.
---
The chapters of Malhação Sonhos are provided by Globo and are subject to change without notice
.