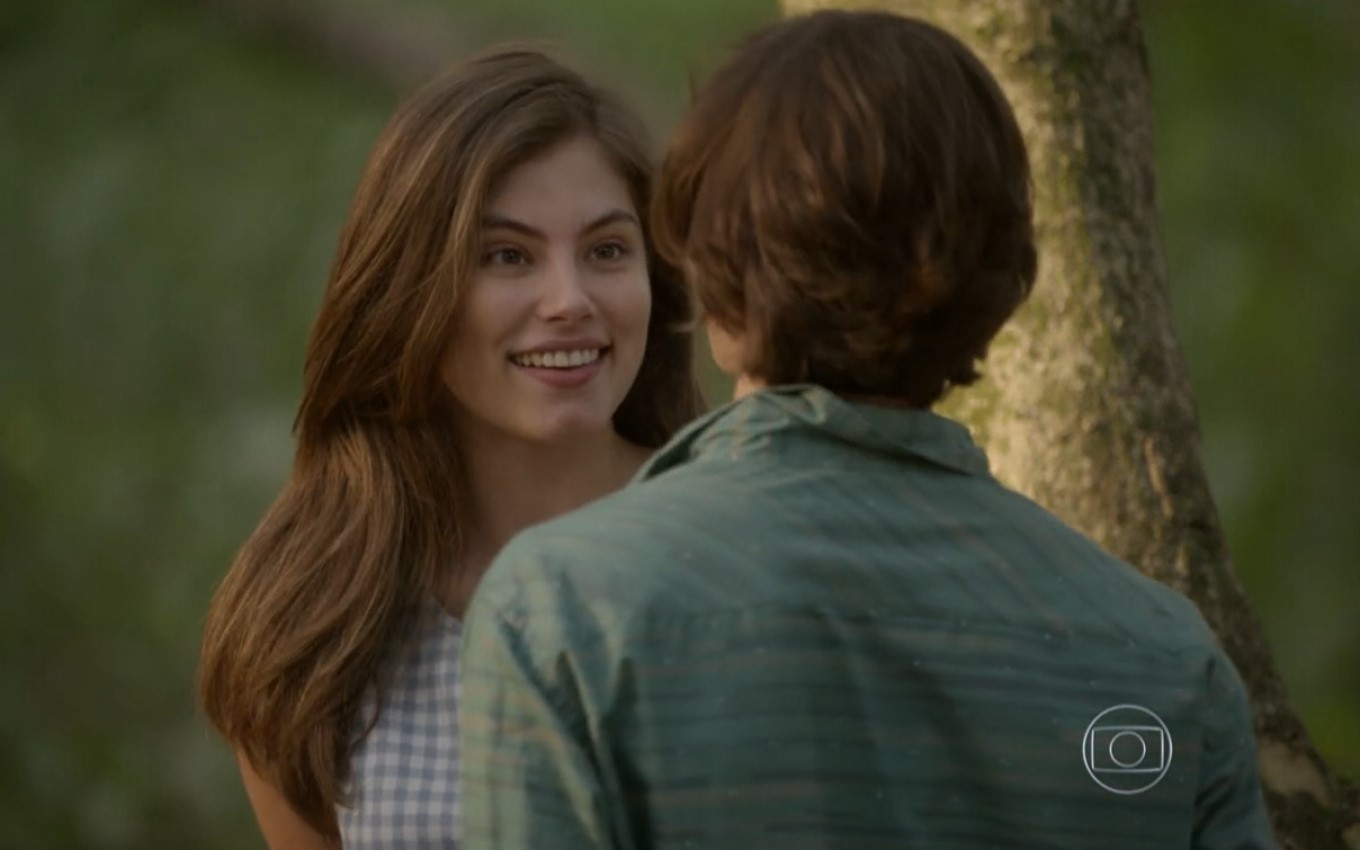 SUMMARY: Bianca (Bruna Hamú) has a crush on Henrique (Michel Joelsas), but she doesn't suspect that the boy is the son of Heideguer (Odilon Wagner). The two will camp with the students of Dandara (Emanuelle Araújo) and Gael (Eriberto Leão) and the mysterious boy will have a strange encounter with Duca (Arthur Aguiar). When they return, the villain will be interested to know that the heir is close to the girl and will invite him to live with him
Second, 7/5 (Chapter 116)
Lincoln leaves Ruth's house, but Jeff decides not to move back in with his mother. Bianca faints after leaving the stage. Lincoln asks Marcelo to let him spend the night in his car.
Duca meets Bianca. BB asks Lirio to be replaced, and Edgar puts Duca in his place. Unintentionally, Gael ends up entering the stage and acting with Dandara.
Delma suggests that Pedro go after Karina. Henrique and Duca argue during the scene over Bianca. Rominho, Luiz Cláudio and Paula go with Pedro to look for Karina. Pedro and Ribalta's gang get lost in the forest.
Tuesday, 6/7 (Chapter 117)
Karina dreams of Pedro. Dandara invites his choir to sing, and Pedro manages to follow the sound to the camp. Joaquina insists on getting closer to René. Paty is jealous of Duca. Henrique asks João to leave his tent to be alone with Bianca, and the boy tells Gael.
Bianca suggests that Karina consider Pedro's advances. Pedro asks to be alone with Karina. Gael notices the youngest daughter's distraction during training. Pedro is intimidated in front of Karina.
Wednesday, 7/7 (Chapter 118)
Karina is frustrated with Pedro, who tries to explain himself to his girlfriend. Duca says goodbye to Alan. Nat asks to join Lobão and Heideguer's scheme. Joaquina finds the glove with Alan's pen drive in the forest. Henrique and Duca take pictures with Bianca.
Sol tells Beth that Dalva protected her and threw Simplicio out of her house. Bianca says goodbye to Henrique. Cobra asks Jade to take over her relationship with Lucrecia. Marcelo talks to Gael about his intention to move Delma with her state.
Karina tells Bianca what happened to Pedro, and the girl encourages her sister to talk to her boyfriend. Delma advises Lincoln to apologize to Jeff. Jeff mistreats Lincoln.
Thursday, 8/7 (Chapter 119)
Pedro consults with Nando. Cobra consoles Karina. Henrique waits for his father at the law firm. Heideguer suggests to Lobão to indicate the name of Wallace to fight in Warriors. Pedro looks for Karina. Heideguer asks Henrique to live with him when he learns of his involvement with Bianca.
Lincoln and Jeff make up. Marcelo gets dumped by Delma, and Roberta tries to help him. Jeff worries about Mari. Simplicio shows up at Lincoln's party and Beth becomes enraged. Duca and Nat kiss.
Friday, 9/7 (Chapter 120)
Duca throws Nat out of her house. Wallace and Lincoln prevent Simplicio from talking to Beth. Cobra tries to help Nat. Dalva notices Duca's sadness. Wallace protects Sol de Simplicio. Joaquina asks to train at Gael's gym.
Zé and Marcão ask to promote a party in Ribalta. Marcelo arrives to work at Perfeitão and discusses with Delma. Dandara takes Delma shopping. Delma changes her look and makes Marcelo jealous.
---
The chapters of Malhação Sonhos are provided by Globo and are subject to change without notice
.