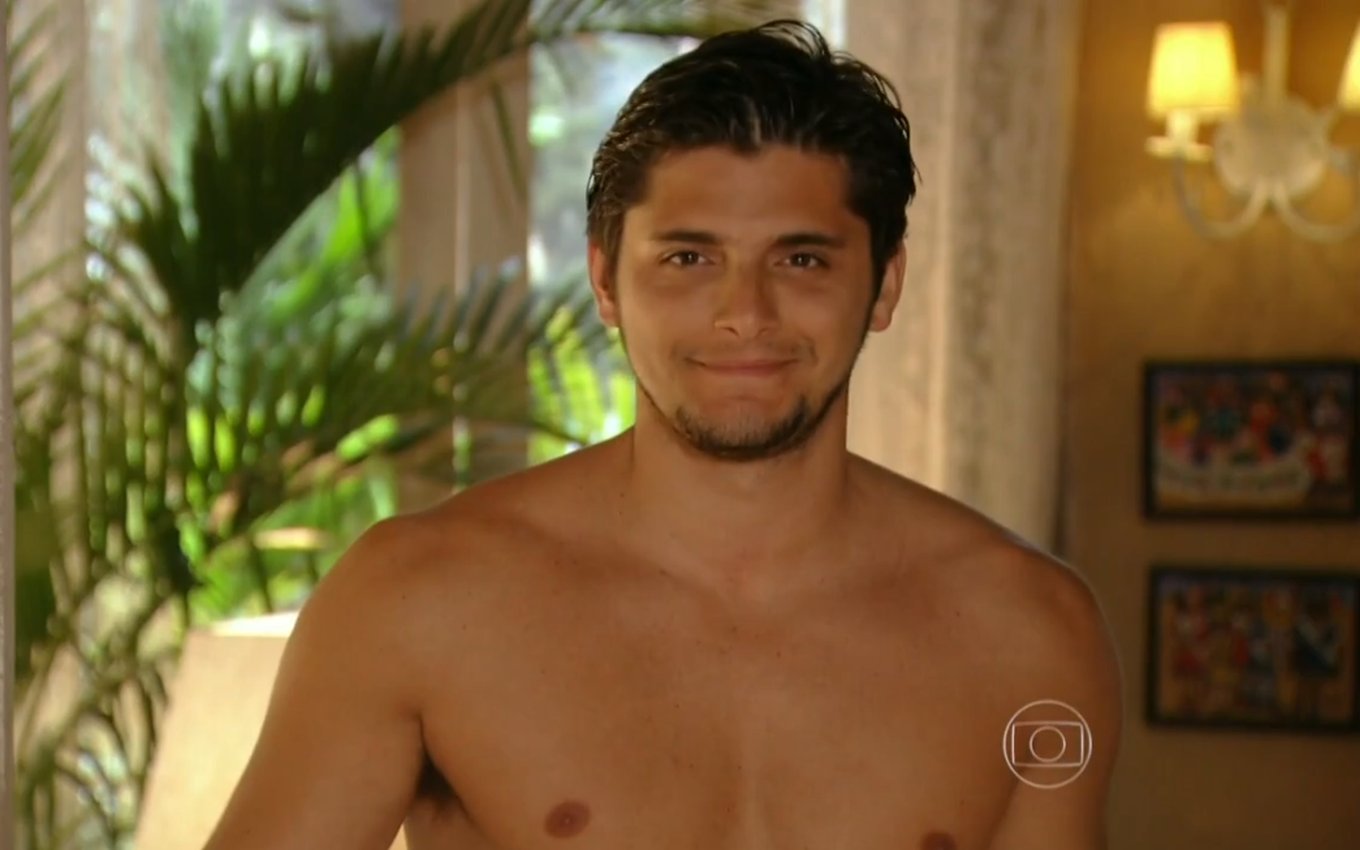 Juliano (Bruno Gissoni) will show his healed body, covered only by a towel, in Flor do Caribe. The fisherman's nakedness will make a new character feel sick. Jeff (Leandro Hassum) will arrive in Vila dos Ventos to organize a fashion show, but will end up shaming when he collapses in front of Natália's husband (Daniela Escobar) in Globo's six o'clock soap opera.
Juliano will be in the shower when he hears someone knocking insistently to open the door to his new home. The boy will wrap himself in a towel and run to answer. "Hi, I'm sorry to answer that, I was in the shower", the boy will explain to the visitor.
The man at the door will go limp and pass out in front of Juliano, who will try to hold him down so he doesn't fall to the floor. Natália's husband will try to wake the guy, but he won't be able to and will appeal for help. He will call Carol (Maria Joana) and Mila (Tainá Müller).
Once recovered, Jeff will explain what happened. "What a shame, Carol! What a shame! Sorry, today is really crazy. I got lost, I went around and around walking around this village. When I finally found your house, I came across this neoclassical sculpture, just in a towel, naked back, I really couldn't resist, I fainted ", he will admit amused.
After telling everything that happened since her arrival in Vila dos Ventos, Carol will introduce her friend to Lino (José Henrique Ligabue). "Nice to meet you, I'm the bi that will organize your fashion show. In fact, we could start by organizing the stylist here. Because this baroque style, a bit rough, and I think it's done," suggests the fashion producer.
Leandro Hassum in Flor do Caribe
Carol will cut her friend and say that Lino looks after her. "Okay, well, I trust you. Well, I can see that I'm not needed here, I'm going to retire. Will we meet at the resort?", Asks Jeff, who will hope to find the right path.
"If my driver doesn't get lost again, right? Also get lost, find another God with the towel!", Will play the new character
Flor do Caribe will be replaced by the replay of A Vida da Gente (2011) from March 1st. With the "special edition" of the Lícia Manzo booklet, Globo postponed the premiere of the unprecedented Nos Tempos do Imperador for the second half of this year. In addition to the spoilers, the TV News publishes a daily summary of the six o'clock soap that the broadcaster reprises due to the Covid-19 pandemic.
---
Find out everything that will happen in the soap operas with the Noveleiros podcast:
Listen to "# 45 – All about Juliano and Natália's wedding at Flor do Caribe!" in the Spreaker.
---
Subscribe to the channel TV News on YouTube and watch videos with revelations of what will happen in Flor do Caribe and other novels.
Feedback Policy
This space aims to expand the debate on the subject addressed in the news, democratically and respectfully. Anonymous comments are not accepted nor do they violate ethical and moral laws and principles or promote illegal or criminal activities. Thus, slanderous, defamatory, prejudiced, offensive, aggressive comments that use bad words, incite violence, express hate speech or contain links are summarily deleted.
.