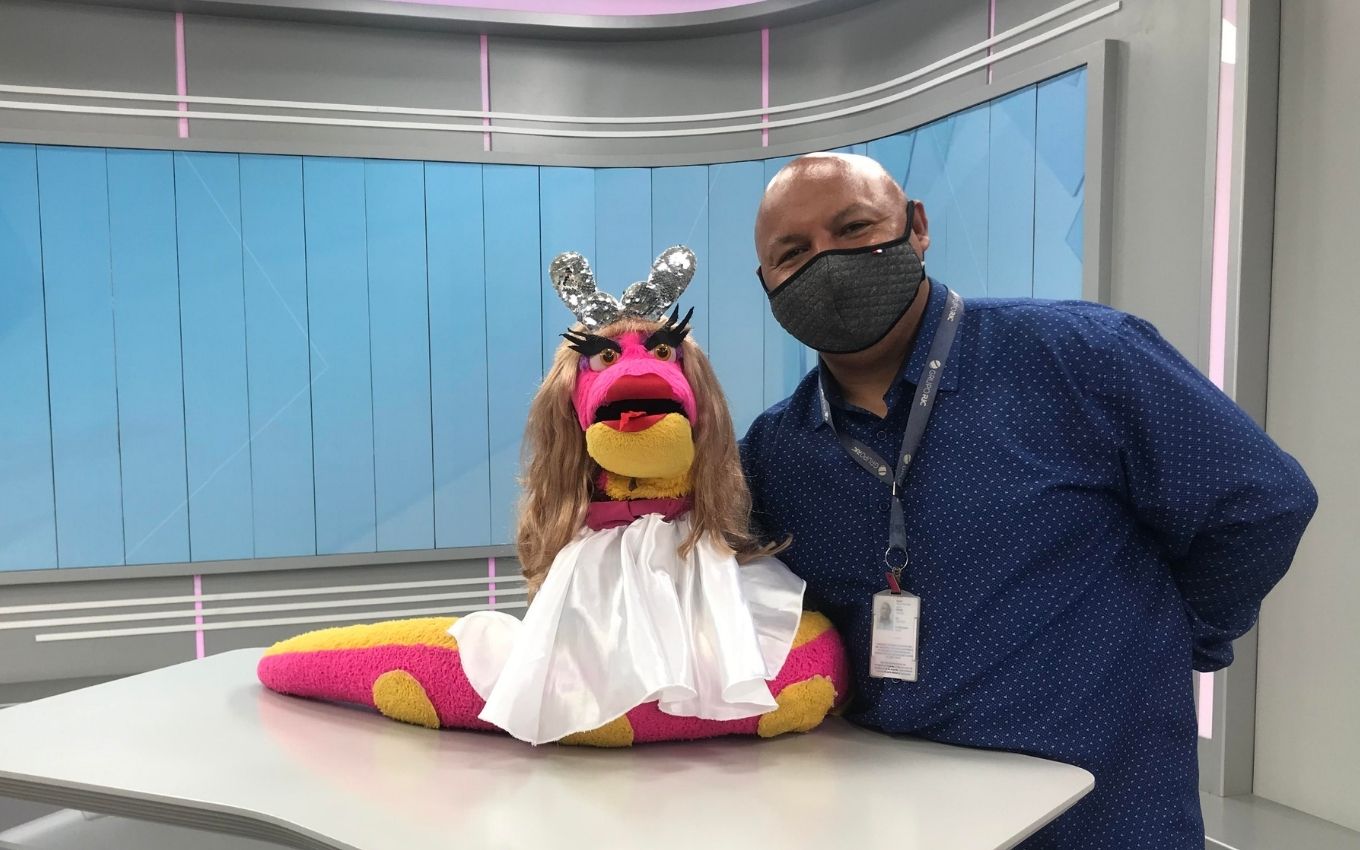 A puppet maker for 36 years, Gilson Sodré is no longer remembered for having been Carlos Massa's first Syrup, Ratinho. Despite being passed through the life of the SBT presenter, he became a phenomenon three years ago on RIC TV, an affiliate of Record do Paraná, as the gossip snake Judite. The mascot is used in various squares during Poison Time.
In the late 1980s, the broadcaster created, still on radio frequencies, the sketch of what would become the mustached character that accompanies Ratinho. "I made Dudu Xaropinho, who was a boy who used to do radio with him. Afterwards, Ratinho went to TV, a friend of ours conceived the scenario and designed Xaropinho as it is today, with a little mustache, everything", recalls the manipulator of 53 year old puppets.
Upon joining TV, Ratinho became a successful communicator, as did the mascot Xaropinho, whom Gilson never played again — but which he remembers with some resentment. "When you create something that someone takes you, is successful with it and doesn't recognize you… I think this is the biggest trouble you can go through", he vents. "That's what takes away your motivation sometimes: you create something cool that you can't use", adds the Curitibano.
In addition to Ratinho, Gilson worked with Orival Pessini, o Fofão (1944-2016), and Marília Gabriela. He was also director of Wagner Montes (1987-2019) in Rio de Janeiro. "I think that everything I could do on radio and television, I've already done", points out the communicator.
gossip snake
When he was thinking of retiring three years ago, Gilson learned that RIC had opened tests for an interpreter of the mascot Judite. That's how the local version of the character was born and fell in the taste of the people from Paraná – and of the affiliate itself. The owner of Venenosa in Curitiba, Cecília Comel, argues that this is the best doll maker in Brazil.
Behind the scenes, the puppet steals the scene wherever he goes and talks as if he were a real person with the employees, a phenomenon that Tom Veiga (1973-2020) helped to popularize with Louro José on Mais Você. "Today, almost retiring, to my joy and surprise Judite came. I think that way I can complete my professional cycle."
Judith, more than a stuffed snake, is a valve of relaxation for the presenters and the audience. "She talks the nonsense that people wanted to talk, but they don't have the courage", defends the character's father.
She is a presenter, not just a puppet standing there. She's like Louro used to do with Ana Maria [Braga]: Ana's arm. At the Time of Poison, I'm Cecília's arm and Jason's arm [Goulart], huh? And that's what's cool, because you get to be a presenter too.
So that the lines come out with spontaneity, Gilson does not memorize the text. But the improvisation is accompanied by a pre-production that takes about four hours. During this time, the entire group writes a script, selects the videos with the gossip and already anticipates with the guidelines to release the tongue live.
"It's such an instinctive thing that when you embody the character it's like theater. You're in character and you don't leave. At Judite's time, I think like Judite. I think that's why it works," he explains.
Even though a local character from Paraná lives, Gilson is known in other states. He often receives affectionate messages on social media and is stopped on the street as if he were a celebrity.
"I've had other characters, but I think Judite is a paradigm, she broke a barrier. People compare my Judite a lot with other places and send messages saying: 'Your Judite is the greatest in Brazil.' is priceless", celebrates the artist.
See here a match with Judite's answers:
.