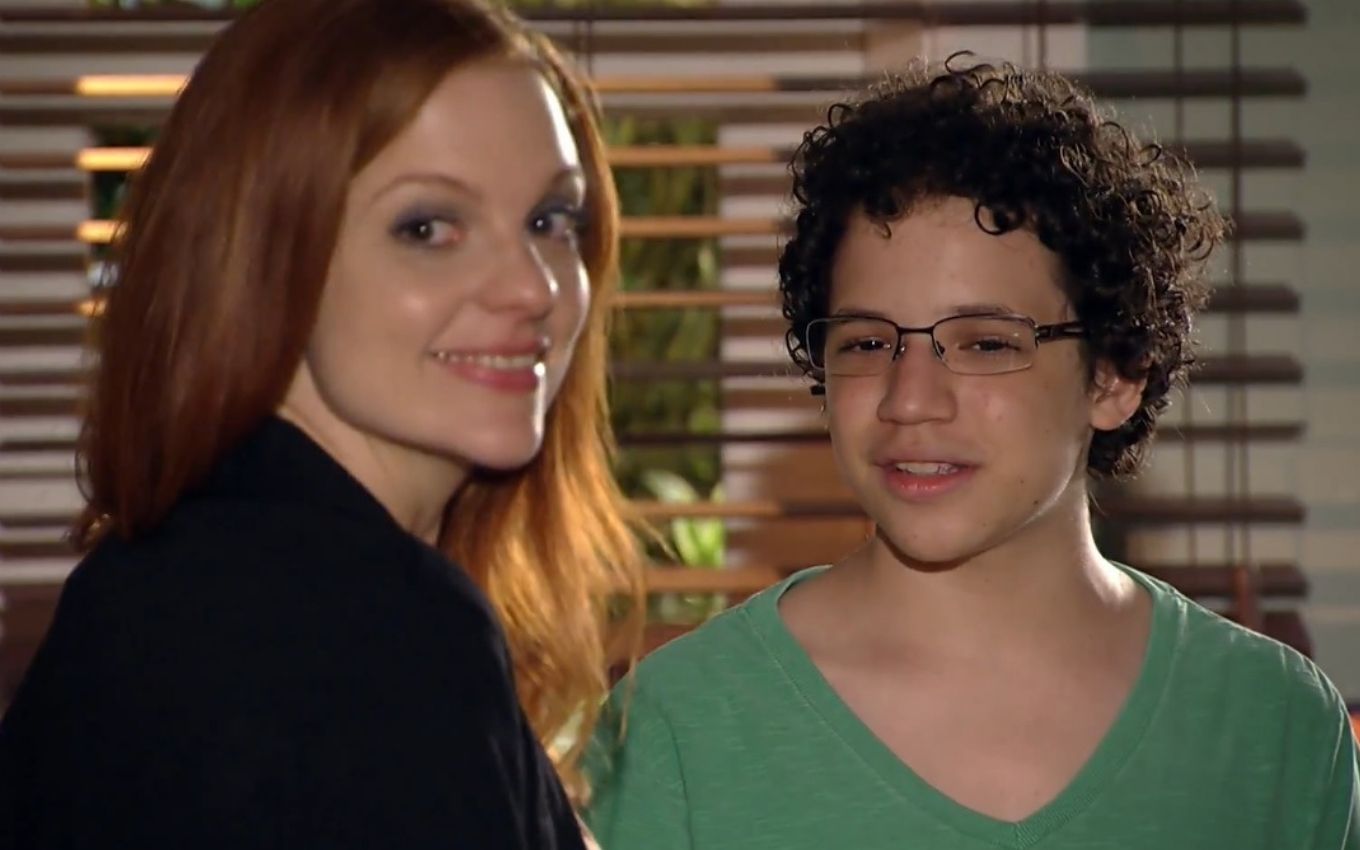 After much friction, Nanda (Maria Eduarda de Carvalho) and Francisco (Victor Navega Motta) managed to get along in A Vida da Gente. Lui's son (Marat Descartes) will still play Cupid and find a way to find a suitor so that the redhead has her happy ending in the last chapter of the Globo telenovela.
In the scenes set to air on August 6, Rodrigo's sister (Rafael Cardoso) will arrive home and find the teenager in the company of a neighbor, who will play the piano that is for sale. "There's a party going on at my house and no one invited me, is that right?", the young woman will question.
"If there's a party going on, I don't know, but there's good music, modesty aside. And, by all indications, good food too… From the smell that's coming from the kitchen," the man will joke. "I invited Eli [nome do ator não divulgado] to have dinner with us. Then he asked if he could play a little", the student will explain.
"It's okay, it's just that no one told me anything. But I think it's cool to have music in this house again," stated Nanda. "Eli plays the piano, I prepare the food. All that's left is for you to serve the drinks", the teenager will say.
Júlia's aunt (Jesuela Moro) will claim that there is only water at home, but Francisco will remember the wines kept by his father. The redhead will then ask her stepson to show her where the bottles are.
Pianist Eli will be introduced to Nanda
partnership and friendship
Maria Eduarda de Carvalho's character will take the opportunity to drag the boy away and ask what's going on. "Nothing much, I just invited him to dinner. He plays well, don't you think?", the "cupid boy" will provoke.
"I know you. I mean, now I'm thinking I don't know you anymore. Do you want to drive me crazy? First you freak out, get out of the house because you don't want any men in here. Now you get dinner without even consulting me. yours, do you think I'm silly?", the young woman will notice.
"It's just that I thought you needed a company", the teenager will justify. "And what are you, creature?", Jonas's daughter (Paulo Betti) will retort. "Company of someone your age, not someone like me in eighth grade," the student will release.
Nanda will say that she will arrange her own company and will joke that the chances of her stepson wronging her taste in men are immense.
"Okay, I'm not inviting anyone else. But hold on because I can't send the guy away. Good night, I need to study. The sauce is ready, you just need to cook the pasta", will advise the character of Victor Navega Motta . He will leave the room, leaving his stepmother alone with the neighbor.
Globo premieres the unprecedented song Nos Tempos do Imperador on the next day 9 in place of A Vida da Gente. In addition to the spoilers, the TV news publishes daily the summary of the six telenovelas that the network reruns due to the Covid-19 pandemic.
---
Learn all about the upcoming chapters of soap operas with the Noveleiros podcast
Listen to "#67 – Cora, is that you? The Empire Villain's Radical Change" on Spreaker.
---
Subscribe to the channel TV news on YouTube and watch videos with revelations of what will happen in A Vida da Gente and other soap operas.
.