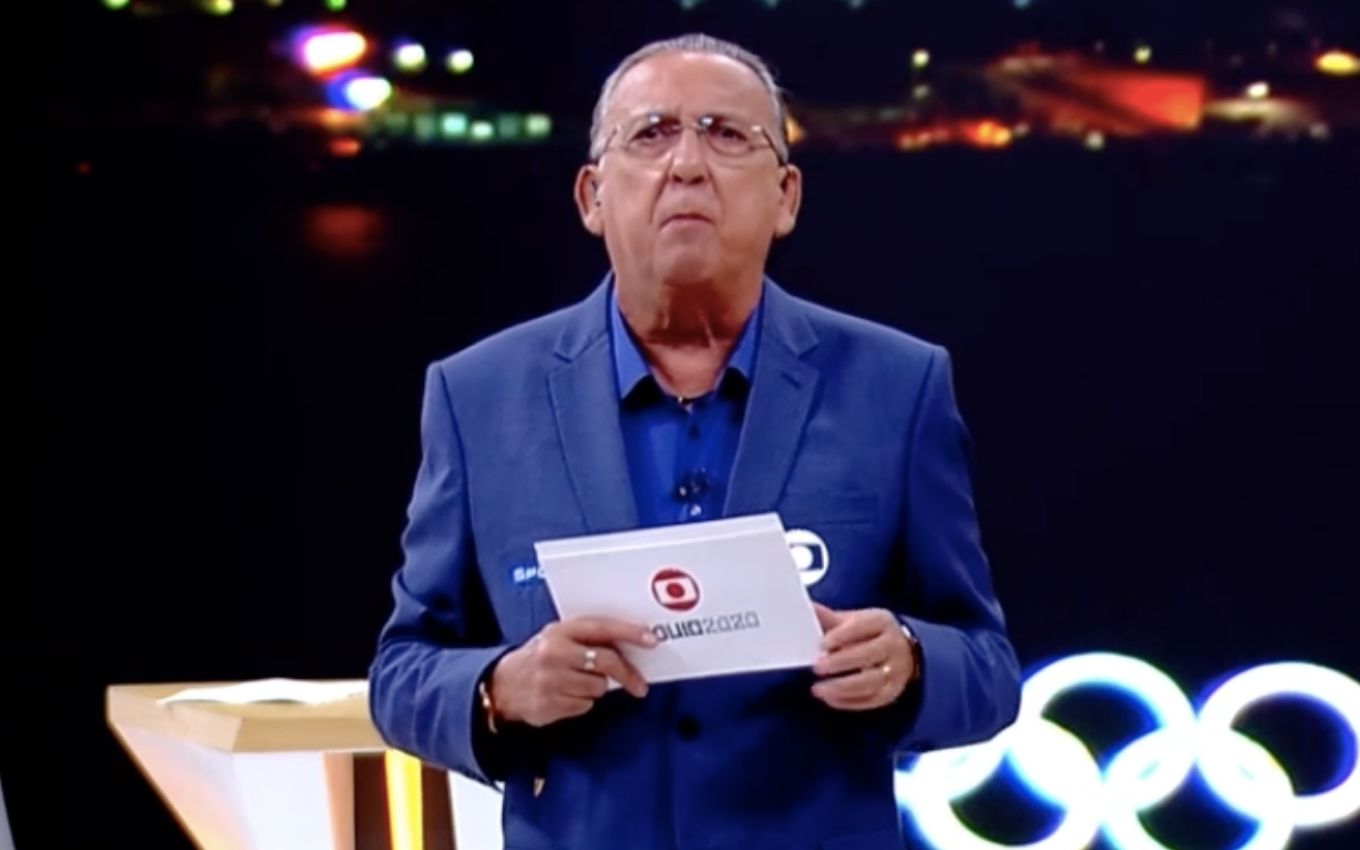 Galvão Bueno was criticized on social media this Friday (23) when he narrated the official opening of the Tokyo Olympics on Globo. The veteran displeased viewers, who did not like the journalist's interruptions and his simultaneous translation of events and the Japanese language.
From Rio de Janeiro, Galvão presented the opening in a special studio of the station to cover the event. The narrator gave a speech about the competition. "These games take place at an unprecedented time in 125 years of Olympic history. For the first time, an edition has been postponed, and maybe it wasn't even the right time for them to happen," Bueno acknowledged.
"The difference in disease scenarios around the world still generates fear and apprehension. There is a rejection by the Japanese for the games, as the number of Covid-19 cases has been increasing and vaccination has not advanced in the country. Even in the face of so much discussion and of adversity, in a few moments, the games will start with almost all the arenas in Tokyo empty," he said.
"Athletes will not only compete, but countries will reconnect, again through them, and each one of us will recognize ourselves in the athletes," added the announcer.
During the broadcast of the first hour of opening, the veteran did not please Globo viewers. "I started watching the opening of the Tokyo Olympics on Globo, but I have no structure for Galvão Bueno so soon. I went to SporTV", wrote André Henriques on Twitter.
"The opening ceremony on SporTV is like a podcast and on Globo I can only send one: 'shut up, Galvão'", criticized Priscila Coellen. "It's unbelievable that neither Globo nor SporTV has anyone to translate the Olympic Games. Seeing Galvão translate is awesome," said Robert Nesio.
Check out some reactions on Twitter:
I started to see the opening of the Tokyo Olympics on Globo, but I don't have the structure for Galvão Bueno anytime soon. I went to @SporTV

– Sou Gita Gogoia🚩 (@andhenriques) July 23, 2021
Man, Galvão is very annoying the second time I see him cutting the guy

– 𝑯𝒆𝒍𝒐 🦋🍿 (@ sfchs7) July 23, 2021
WATCHING GLOBO GAMES IS HARMFUL GALVÃO DOESN'T CLOSE YOUR MOUTH

— Sad, incompetent and poor (@milena_exhausted) July 23, 2021
galvao don't shut the fuck up mlk q fuck, I'm going to sportv

– RaFa 🏐 (@naegelerafaela) July 23, 2021
The Opening Ceremony at SPORTV is like a poadcast and at GLOBO I can only send one: CALA BOCA GALVÃO #TOKYO2020#CerimoniadeAbertura

🇧🇷Brazil

— Priscila Coellen (@priscilacoellen) July 23, 2021
How many times has Galvão said that tradition and technology – and variants – come together in Japan??????? I'm watching it on SportTV

– Mirage ™ (@tailsdocerrado) July 23, 2021
IT IS UNBELIEVABLE THAT NOR THE #Globe NO O #SporTV THERE IS SOMEONE TO TRANSLATE THE OLYMPIC GAMES, SEE GALVAO BOENO TRANSLATE AND OTHERS

– ROBERT NESIO (@robertnesioreal) July 23, 2021
people from sportv talk a lot but i prefer to have q listen to galvão bueno talking, boring man

— vee. | 11 years (@stylescurve) July 23, 2021
I'm seeing people complaining about Galvão Bueno kkkkkk I'm glad I have cable TV and watch it on SporTV

– Van ⁷ ᵖᵉʳᵐⁱˢˢⁱᵒⁿ ᵗᵒ ᵈᵃⁿᶜᵉ🧈 🇪🇪 (@GirlpowerdoRM) July 23, 2021
.