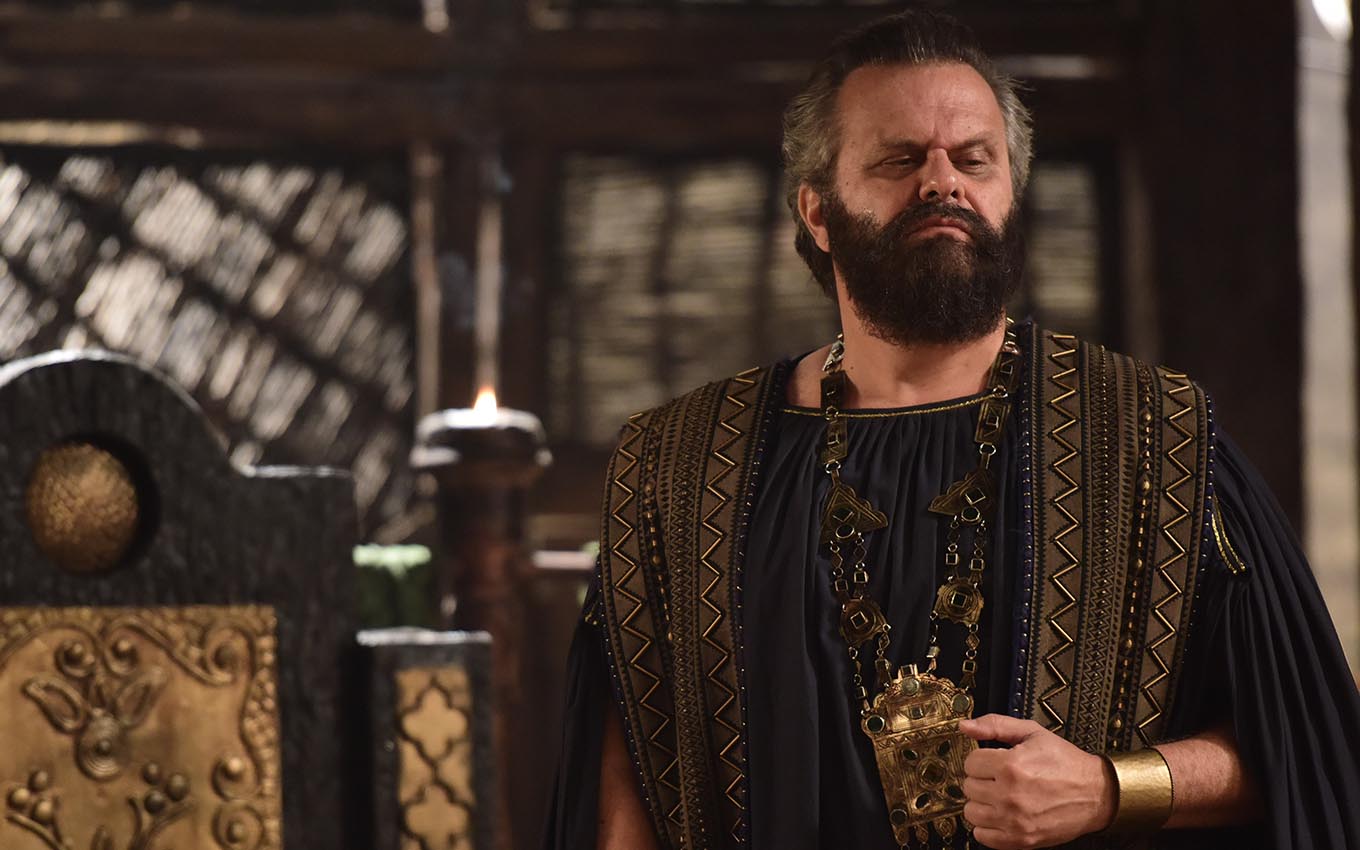 Abimeleque (Leonardo Franco) will pay dearly for taking Sara (Adriana Garambone) from the arms of Abraão (Zécarlos Machado). In addition to sending a plague that will close the womb of all women in the harem, God will also torment the monarch's sleep with terrible nightmares. "No more children will be born in your palace. The king of Gerar will die," says the almighty in one of the dreams in Record's biblical novel.
The nobleman will be obsessed with Adália's sister (Carla Marins) when he hears her sing in Camilo Pellegrini, Stephanie Ribeiro and Raphaela Castro's booklet. He will not think twice before sending Ficol (Joelson Medeiros) and his soldiers to drag the outsider by force to his palace.
Najla (Virginia Cavendish) will prepare Sara for the first night with the sovereign, but he will not be able to touch a single finger on her. In love with Leora (Clara Galinari), Omar (Vitor Figueiredo) will fight with his father, invade the royal apartments and insist that he return the poor woman to his family.
Abimelech will not listen to his son and, therefore, will know the divine fury in the scenes that will be shown from the next Monday (31). After drinking a glass of wine, he will fall asleep still sitting on his throne and will even dream of the character of Adriana Garambone.
"My sweet Sara", the polygamist will say, without realizing that it is a daydream. He will go into despair as soon as he hears God's voice through the descendant of Terá (Julio Braga), who will warn him:
You have taken a woman who has a husband, and for that reason you are going to die. It will be your end, Abimelech. The decline of your kingdom. No more children will be born in your palace. The king of Gerar will die. Everyone in your house. Women, children and servants.
Abimelech hears Sarah sing in Genesis
I am intranquile
The Philistine will be astonished at the revelation, as Abraham will have presented himself only as Sarah's brother. The patriarch will repeat the mistake he made in Egypt, when he hid that they were married for fear of being thrown to the crocodiles by Amenemhat 3rd (André Ramiro) – thanks to Pharaoh's strange habit of murdering the husbands of the women he coveted.
Sara will disappear as if by magic, and Abimelech will be blinded by a strong light when talking directly with God. "But I did not lie with her. I never touched her. Is it fair to end Gerar because of that? Even when I was the one who was deceived by this woman and Abraham? I am innocent," pleaded the sovereign.
"I know that, so I didn't allow you to touch her. Now, send the woman back to her husband. Because he is a prophet and he will ask you to stay alive. If you don't, you and all your people will be condemned. to death ", will explain the most high.
"Sorry, I didn't know that. Please spare my life. I will do what I say. I promise," the Leonardo Franco character will mourn.
Genesis is a free adaptation of the first book of the Bible. The booklet is divided into seven phases and, currently, Record shows the fifth – Journey of Abraham. In addition to the spoilers, the TV News publishes the summary of the biblical novel.
---
Find out all about the next chapters of the soap operas with the Noveleiros podcast
Listen "# 60 – Kyra falls into Alan's arms in Save Yourself!" in the Spreaker.
---
Subscribe to the channel TV News on YouTube and watch videos with revelations of what will happen in Genesis and other novels.
.