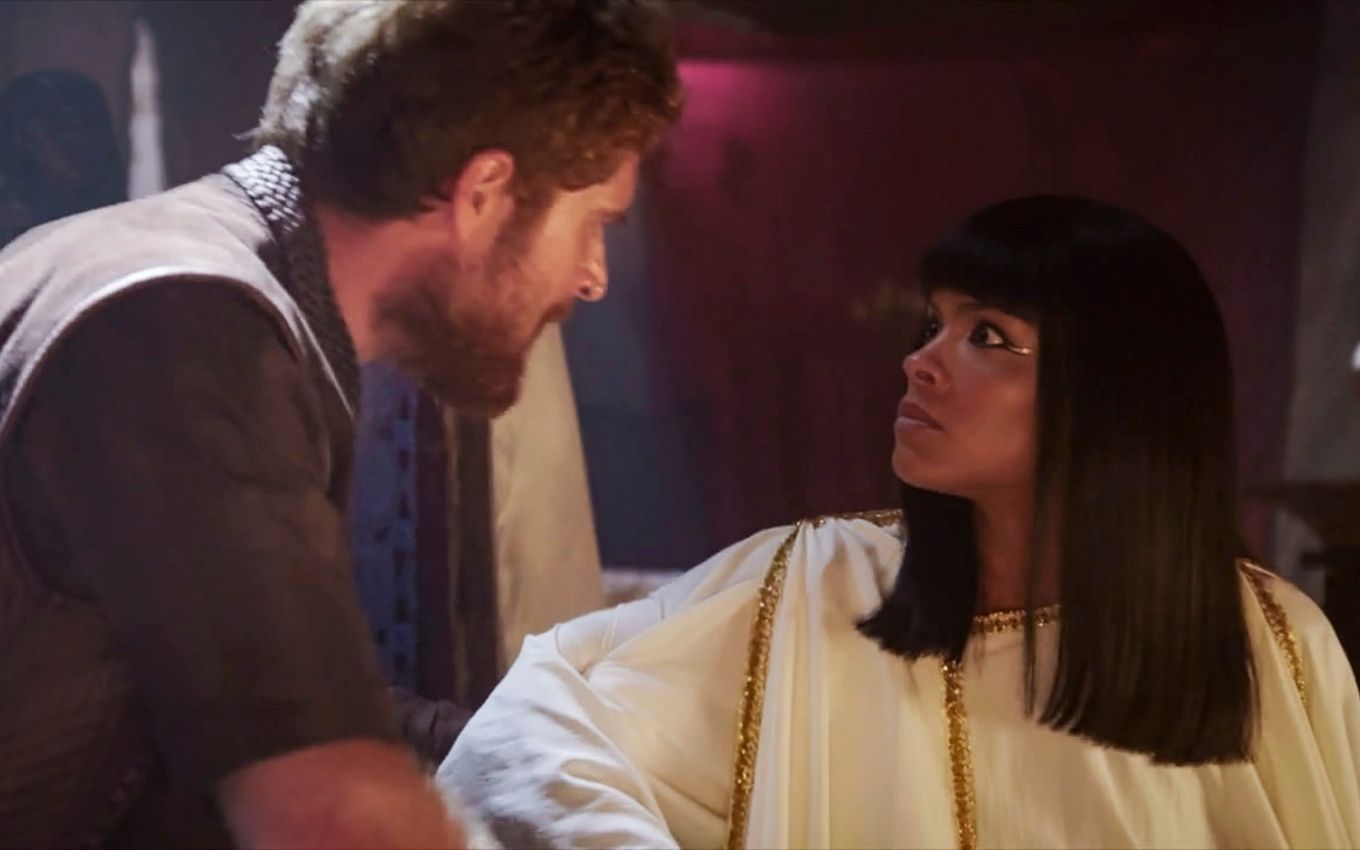 Esau (Cirillo Luna) will beat Malaate (Lidi Lisboa) for revenge in Genesis. Isaac's son (Henri Pagnoncelli) will discover that the woman had Eliphaz (Thales Miranda) murdered and will appear in his tent in a frenzy. He will threaten her with death if the firstborn is the victim of another ambush.
Jacob's brother (Miguel Coelho) will be violent in this fifth chapter (29). At this point in the plot, the redhead will have seen a servant of Ismael's heiress (Anselmo Vasconcellos) try to assassinate Basemate's heir (Paula Jube). The warrior will have questioned the criminal with an arrow in his heart.
Next, Abraham's grandson (Zécarlos Machado) will appear in Malaate's tent to take revenge. The woman will be with Reuel (Enzo Bastos). "The little game is over, Maalate! Get out, Reuel!" the madman will shout.
"Don't talk like that to our son! Stay, Reuel!", will retort Akia's lover (Augusto Zachi). The boy will run away in fear, and Esau will approach the Egyptian with malice: "Now it's just the two of us, you viper!"
The scripts, obtained by TV news, indicate that the scene will have a discontinuous cut, and the audience will not see the woman's face. Thus, it will be understood that the character has beaten his partner as punishment. The villain planned Eliphaz's death to ensure that Reuel was Esau's firstborn.
"If you try anything more against Eliphaz, you'll pay with your own life, understand?", the redhead will threaten, breathing heavily. Agar's granddaughter (Hylka Maria) will be huddled in the corner of the tent in tears. Soon after, Reuel will return to help his mother.
Genesis is a free adaptation of the first book of the Bible. The serial is divided into seven phases, and, currently, Record exhibits the sixth –Jacó. In addition to the spoilers, the TV news publishes the summary of the biblical novel.
---
Learn all about the upcoming chapters of soap operas with the Noveleiros podcast
Listen to "#67 – Cora, is that you? The Empire Villain's Radical Change" on Spreaker.
---
Subscribe to the channel TV news on YouTube and watch videos with revelations of what will happen in Genesis and other soap operas.
.