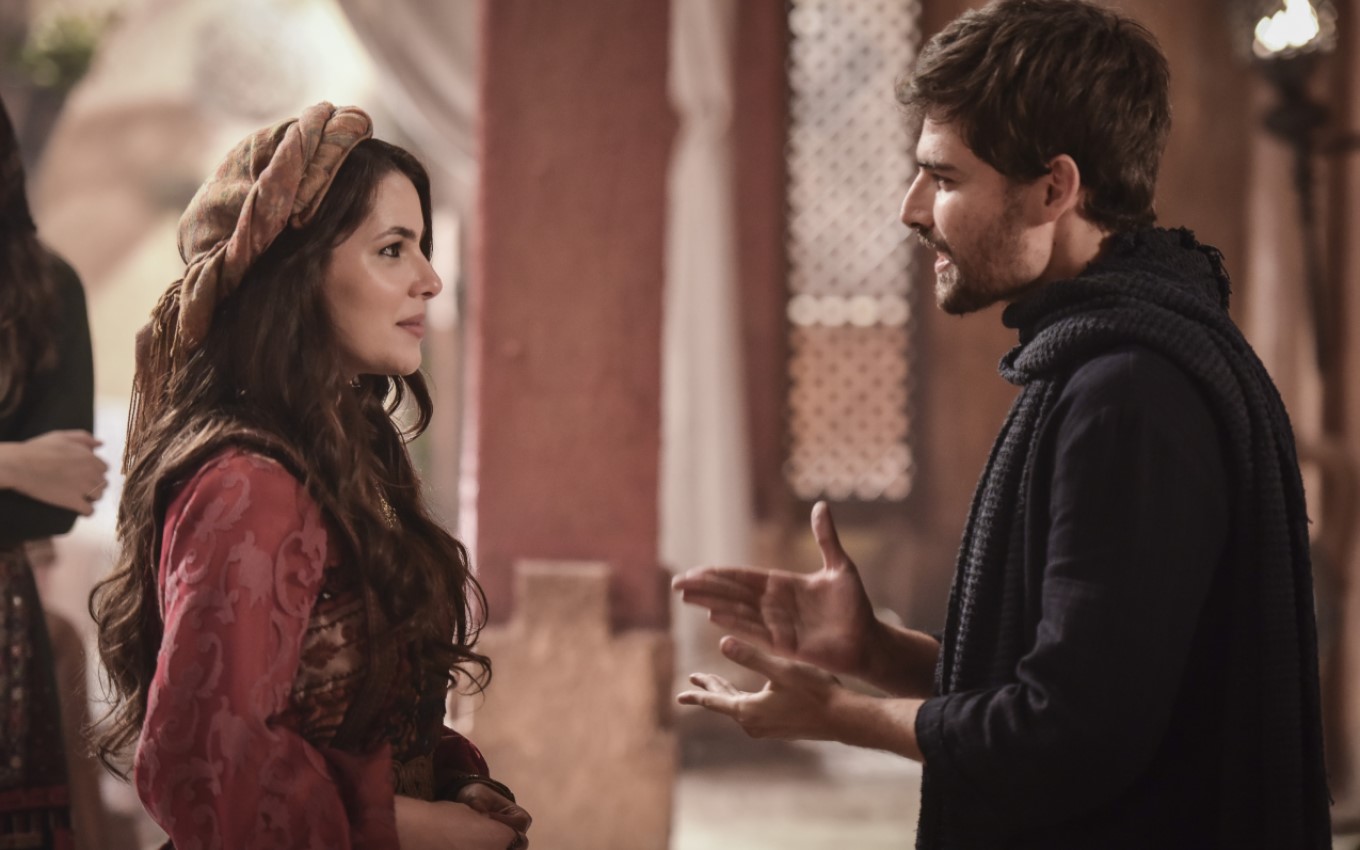 SUMMARY: Jacó (Miguel Coelho) will fall in love with Raquel (Thaís Melchior). Afraid of losing her, he will decide to make a proposal to Laban (Heitor Martinez). Isaac's successor (Henri Pagnoncelli) will offer seven years of free labor as a dowry to the girl's father, who will agree to enslave his relative in the biblical novel
Second, 7/19 (Chapter 130)
Laban meets Jacob. Isaac and Rebekah wait for news of their son. Judith walks mysteriously through the streets. Lia is introduced to Jacob. Eder has an accident.
Tuesday, 7/20 (Chapter 131)
Rachel lies to Jacob. On their wedding night, Maalat surprises Esau. Beeri is surprised to see Judith's condition. Esau feels remorse. Yarin is startled by Bila's bold attitude. Jacob notices the difference between Lia and Rachel. Beno unmasks Raquel.
Laban is disappointed in Rachel, but asks Salma to keep her secret. Jasper punishes Bila. Jacob says he will make a proposal to Laban. Lia discovers that Jacob is being threatened with death.
Wednesday, 7/21 (Chapter 132)
Jacob opens up with Lia. Malaki asks for information about Haran. Akia and Maalate kiss secretly. Malaki and his men arrive in Haran. Laban discovers that Liah loves Jacob. Malaki orders an attack to begin. He takes Bila.
Thursday, 7/22 (Chapter 133)
Rachel pressures Jacob to go to Canaan. Jasper despairs of the kidnapping of Bila. Maalate has a new impasse with Esau. Raquel stands in the tight skirt in front of Yarin and Jasper.
Lucifer defends Jacob. Ishmael is furious when he discovers Jacob's fate. Esau discovers that Basemate is pregnant. After seven years of work, Jacob asks Laban for Rachel's hand.

Friday, 7/23 (Chapter 134)
Isaac asks for news of Jacob. Esau offends his father. Laban tells of his plan for the marriage of Jacob and Rachel. Esau acts cruelly towards his son. Jacob and Rachel's wedding party begins. Rachel is furious at Laban's attitude. Eliphaz is in danger in the forest. Drunk, Jacob is surprised on his wedding night.

---
Genesis chapters are provided by Record and are subject to change without notice
---
Subscribe to the channel TV news on YouTube and watch videos with revelations of what will happen in Genesis and other soap operas.
.