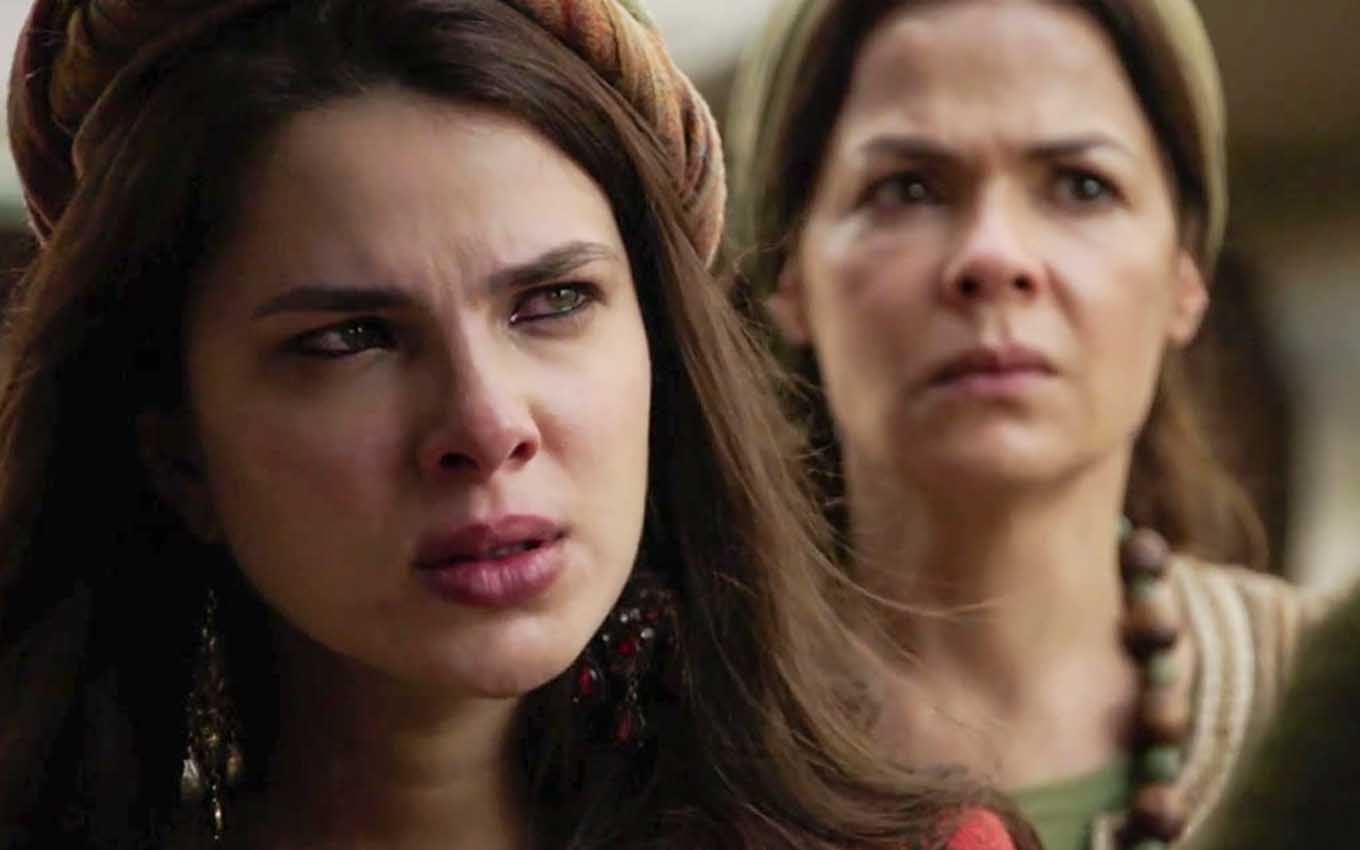 Raquel (Thaís Melchior) will lose her will to live after seeing Lia (Michelle Batista) marry Jacó (Miguel Coelho) in his place in Genesis. Laban's daughter (Hector Martinez) will raise a dagger to her own chest. She will cut herself, but she won't have the courage to go through with Record's Bible soap opera.
The merchant will join Yarin (Andrea Avancini) and other servants to teach the shrew a lesson. He will use poppy seeds to drug his nephew who, between one hallucination and another, will not notice that the bride was exchanged for his own sister on their wedding night.
Jacob will lie down with Lia while Rachel weeps copiously trapped in her room. "What did you do to me? Locked me up on my wedding night? Why?", the brunette will question, as soon as Laban appears to free her the next morning.
"Calm down, this way I won't be able to explain it to you. I'm sorry. Jaco won't be your husband anymore", will warn the character of Heitor Martinez. "It's a lie! Tell me it's a lie," the girl will whimper, who will push her father away and run to meet Esau's brother (Cirillo Luna).
She will not believe her eyes when she sees the boy asleep beside Lia, and out of her mind, she will need to be restrained by Éder (César Cardadeiro). "Fortunately, the underlings already knew everything. Mediocre, false. They fill their mouths to say that they are correct, but they are nothing but vultures, waiting to attack", will scream the antagonist played by Thaís Melchior.
Laban (Hector Martinez) in Genesis
desperate act
Out of her mind, Raquel will still tear the wedding dress in front of everyone. "I was the last to know about the betrayal, wasn't I? I imagine that all of Paddan-aram is laughing at me. Servants, neighbors and even the guests at the party. All against me. It has always been that way, always", will shout the mistaken bride.
Humiliated, the girl will hide in the tent she always shared with Lia and spend hours looking at the dresses her sister sewed for her honeymoon in Canaan.
The scripts to which the TV news had access indicate that she will take a dagger and, on an impulse, "will press upon her, piercing her garment and revealing a discreet trace of blood."
Raquel, however, will not have the courage to continue and will fall to the ground, without strength, in the scenes that will be shown from next Monday (26)in the serials by Camilo Pellegrini, Stephanie Ribeiro and Raphaela Castro.
Genesis is a free adaptation of the first book of the Bible. The serial is divided into seven phases and, currently, Record exhibits the sixth –Jacó. In addition to the spoilers, the TV news publishes the summary of the biblical novel.
---
Learn all about the upcoming chapters of soap operas with the Noveleiros podcast
Hear "#65 – All About the End of Save Yourself Who Can!" on Spreaker.
---
Subscribe to the channel TV news on YouTube and watch videos with revelations of what will happen in Genesis and other soap operas.
.