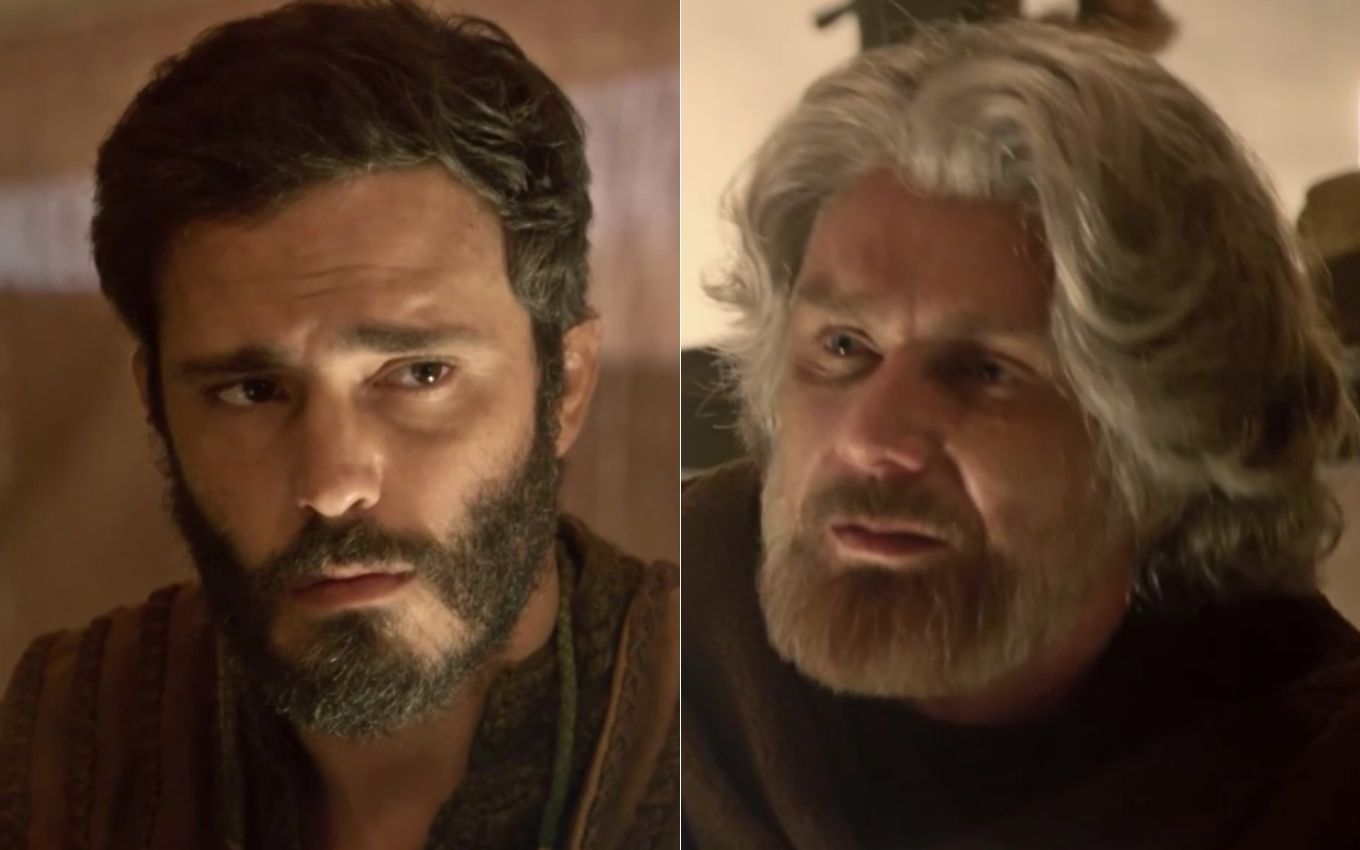 Back at the Hebrew camp, Judah (Thiago Rodrigues) will reject living again with Israel (Petronio Gontijo) in Genesis. You'll be surprised by your son's visit, but you'll be disappointed to find he's just passing through. Overcome by the guilt of having sold José (Juliano Laham), the boy will not have the courage to live with the patriarch.
Father and son will have a revealing conversation in this Tuesday's chapter (28). Judah will arrive at the scene to tell that he is married to Muriel (Rhaisa Batista) and that the couple is expecting their first child.
The character played by Petrônio Gontijo will be proud of the news. He, however, will be disappointed when he learns that the heir's visit is temporary. "My son, your place is here. Bring your wife. Let me see this one and your next children grow up", the old man will ask sadly.
"I can't, father. I started my business in Adulão. I entered into partnership with a friend. I can't do that with him and leave everything," the young man will reply, crestfallen. In fact, the character doesn't want to go back to live with his father because he knows that José is alive and became a slave because of him.
Upset, Israel will try to reverse the situation. He will tell the boy who has no positive expectations from the rest of his offspring:
You're sorely missed, Judah. ​​You're the one with the best mind. He's even married. Began to form a family while your brothers do what? They continue to live as if they were boys.
"I'm close by. I come to visit whenever I can," promises Judah, embarrassed. The patriarch still won't understand his son's desire: "If only you could make me understand why you insist on living out of here".
Lia's son (Giselle Tigres) will swallow and can barely look at his father. Israel will approach the heir and plead with a request: "Stay my son. I need you here."
Genesis is a free adaptation of the first book of the Bible. The serial is divided into seven phases, and, currently, Record exhibits the seventh: José do Império. In addition to spoilers, the TV news publishes the summary of the biblical novel.
---
Learn all about the upcoming chapters of soap operas with the Noveleiros podcast
Listen to "#76 – José Alfredo Rises from the Underworld in Império!" on Spreaker.
---
Subscribe to the channel TV news on YouTube and watch videos with revelations of what will happen in Genesis and other soap operas.
.