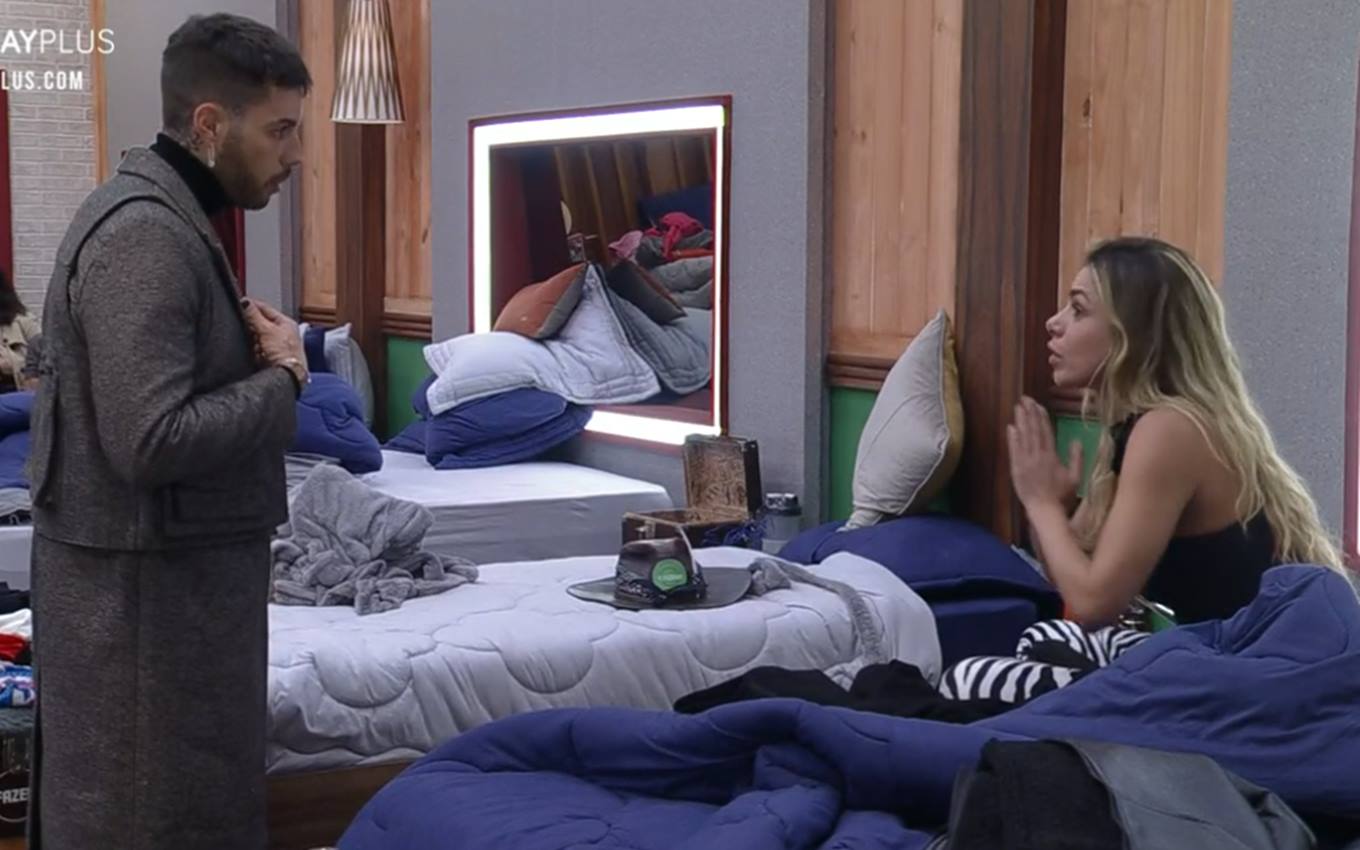 Gui Araujo told Erika Schneider to wake up for the game in A Fazenda 2021 and ended up irritating her opponent. The two participants fell out in the early hours of this Wednesday (22). "Kicked everybody," complained the former MTV.
After the dancer was nominated for the Farm of the week, the influencer tried to approach the participant to talk about the current configuration of the rural competition.
"I just wanted to be alone, please," asked the blonde. "I also just wanted to be alone. That's all I needed right now," countered Anitta's ex-boyfriend. "I was missing what? I'm in my quiet moment, and you've been wanting to argue with me," shouted the girl.
"You have your train of thought, and I have mine," continued Erika. "I think it's the best scenario for you to focus on winning the farmer's test, coming back, waking up in the game and taking a stand," warned the participant.
Nervous with the comments of her colleague in confinement, the girl got irritated and raised her voice, stating that the fact of being a calmer person does not mean that she is not getting involved in the dynamics of the game.
"I'm awake and I'm very positioned. It's not because I'm nice and smiling that I'm not positioned. The audience is watching, whatever the audience says, ok. I don't have to act the way you think, the way that Erasmus [Viana] think or the way Aline [Mineiro] think. Each one acts in its own way. I'm not worried about others. Funny, if I don't think the way you do, I'm wrong," she snapped.
"We're coming to support you, I'm not thinking about anything. I'm coming to give you a word of strength, you're being reactive. I want you to wake up for the game [jogo]", countered Gui. "I'm reactive because you're wanting me to understand that this is a game that people have to go over others and feelings," accused the confined.
Then, the ex-MTV exalted and expressed concern at the blonde's statement: "I never said that, Erika, for God's sake. It's your interpretation. It's not the first time you've misinterpreted. Be careful what you say."
"I'm very calm with my trajectory. I'm nervous, yes I don't want to leave," replied Erika. "Ten people came to support you, and you kicked everyone, old man," finished Gui.
Check out excerpts from the fight:
Erika and Bill didn't fight much. From what I'm seeing, Bill is wanting to impose on Erika a thought and a way of playing, but Erika said he's fine with her positions in the game.#The farm#RoçaAFazendapic.twitter.com/FWBZUKH6oo

– 𝒔𝒐𝒏 🏚🎭🐭 (@andesonoff) September 22, 2021
Erika fighting with the guide pic.twitter.com/PqkUuHUPnO

– мαgυı σƒıcıαł 💘 (@maguiofc) September 22, 2021
---
Learn all about reality shows with the podcast O Brasil Tá Vendo
---
Subscribe to the channel TV news on YouTube to check out our daily newsletters, interviews and live videos
.