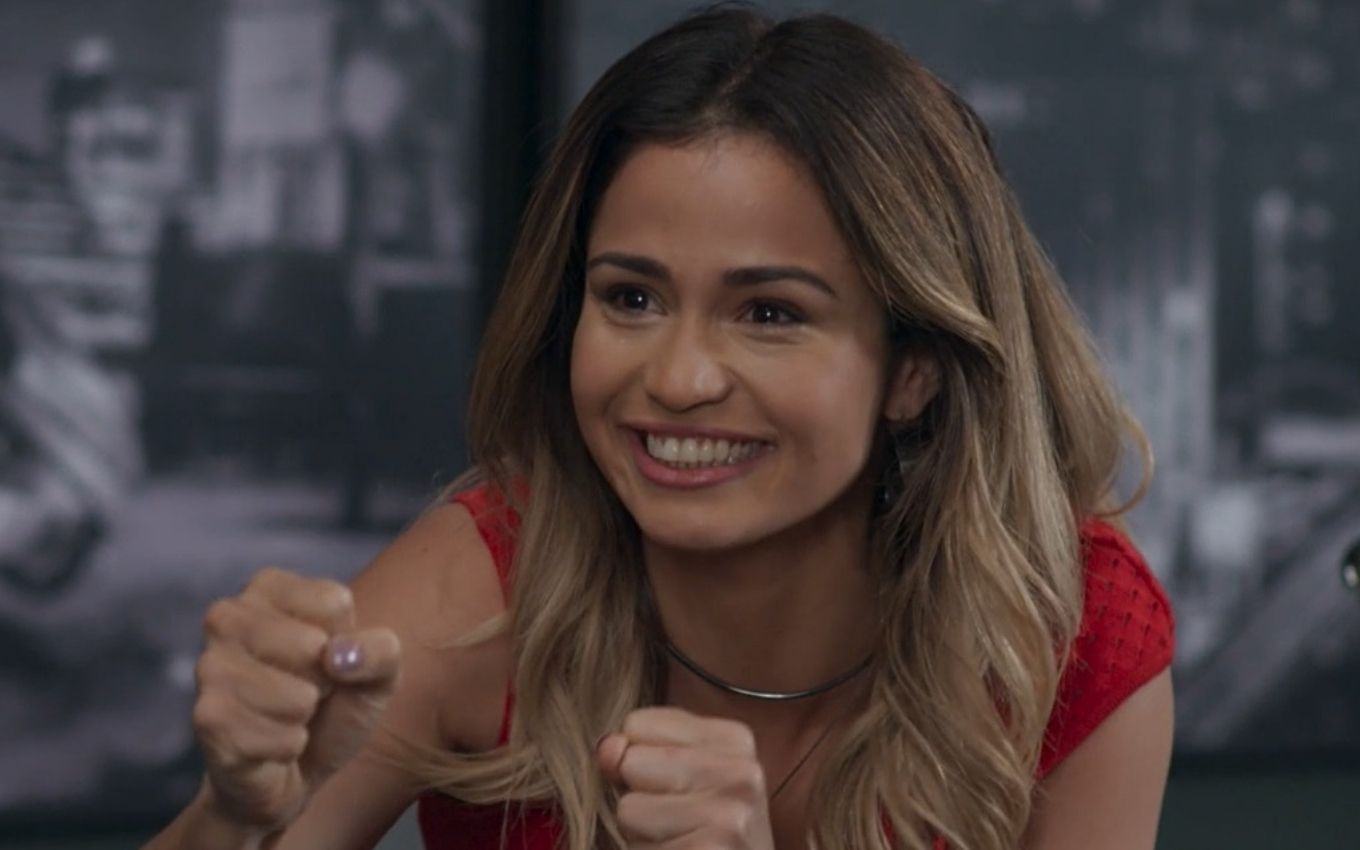 Sandra Helena (Nanda Costa) will fulfill her dream of living a life of luxury in Pega Pega. Marieta's heiress (Camila Amado) will step on the enemy's repression even after being prevented from returning to live at the Carioca Palace. The blonde will buy a mansion and move with her family on Globo's seven o'clock soap opera.
In the scenes planned to go aired on the next day 4 in Claudia Souto's serial, the former chambermaid will discover that Sabine's (Irene Ravache) house is for sale. Sérgio (Sérgio Menezes) will take Agnaldo's ex-girlfriend (João Baldasserini) to visit the place.
"This is just a luxury! My house in the village fits the entirety of this room", the young woman will be dazzled. "It's an excellent property. The rooms are spacious, here you'll have a lot of tranquility," the lawyer will say.
"Tranquillity? I'm wanting to give a party here. The people won't even believe it. And it'll be much better than those dinners that boring Sabine," he will let loose, without hiding his excitement.
She will appear knowing the rooms of the house and having a good time. "Oh, what a delicious bed! Sérgio, it's decided! I'm going to buy this house. Will you take care of the paperwork for me?", the ex-convict will ask. "Of course, you're doing a great deal," Eric's defender (Mateus Solano) will recognize.
Sandra Helena proposes to Cíntia
Next, the young woman will appear telling her family about the property. "You can't imagine the size of the house we're going to live in. It has a swimming pool and everything," he said. "It's been a long time since I saw all this joy here at home. You two are getting along well, even talking about living together. Miracles happen", says Dulcina (Edvana Carvalho).
"That's good. I'm happy for you," commented Cíntia (Bruna Spínola). Sandra Helena will notice that her friend is downcast and will ask why. "You know I root for you. But I'm worried, I don't know where I'm going", will tell the tenant.
Sandra Helena will have fun in a new house
The new rich girl will say that she thought she would stay in the village. "How? I can't pay the rent for the whole house. What I have is enough to pay for just one room", will claim the chambermaid, who will also say that she prefers to stay away from Júlio (Thiago Martins).
"If the problem is the rent, you know I'd let you live here for free. But if you're looking to leave the village, you could come and live with us," the blonde will invite.
Thief changes her suitcase and gourd
Afterwards, the character of Nanda Costa will appear with the family in the new house. "Daughter, this is a soap opera's mansion. It's a dream", will release Aníbal's wife (Edmilson Barros). "This house is beautiful", the Carioca Palace employee will complete.
"She's beautiful and pretty, just like me", will celebrate the ecstacy. "What is this place? I don't think I've ever seen such a beautiful house", will be surprised Cíntia when she gets to know the residence's rooms. She will even thank her friend for having asked her to live there.
"This mansion is my face, I'm pretty rich", will have fun Sandra Helena. With the inheritance money, the former chambermaid will still pay Agnaldo's bail and hire him as a private driver.
Pega Pega (2017) won a "special edition" to fill the hole left after the final stretch of Salve-se Quem Poder. Como Mais Vida, Melhor, the next unpublished soap opera in the 7pm range, was postponed because it is being recorded with security protocols that slow down the execution process.
---
Learn all about the upcoming chapters of soap operas with the Noveleiros podcast
Listen to "#76 – José Alfredo Rises from the Underworld in Império!" on Spreaker.
---
Subscribe to the channel TV news on YouTube and watch videos with revelations of what will happen in Império and other soap operas.
.