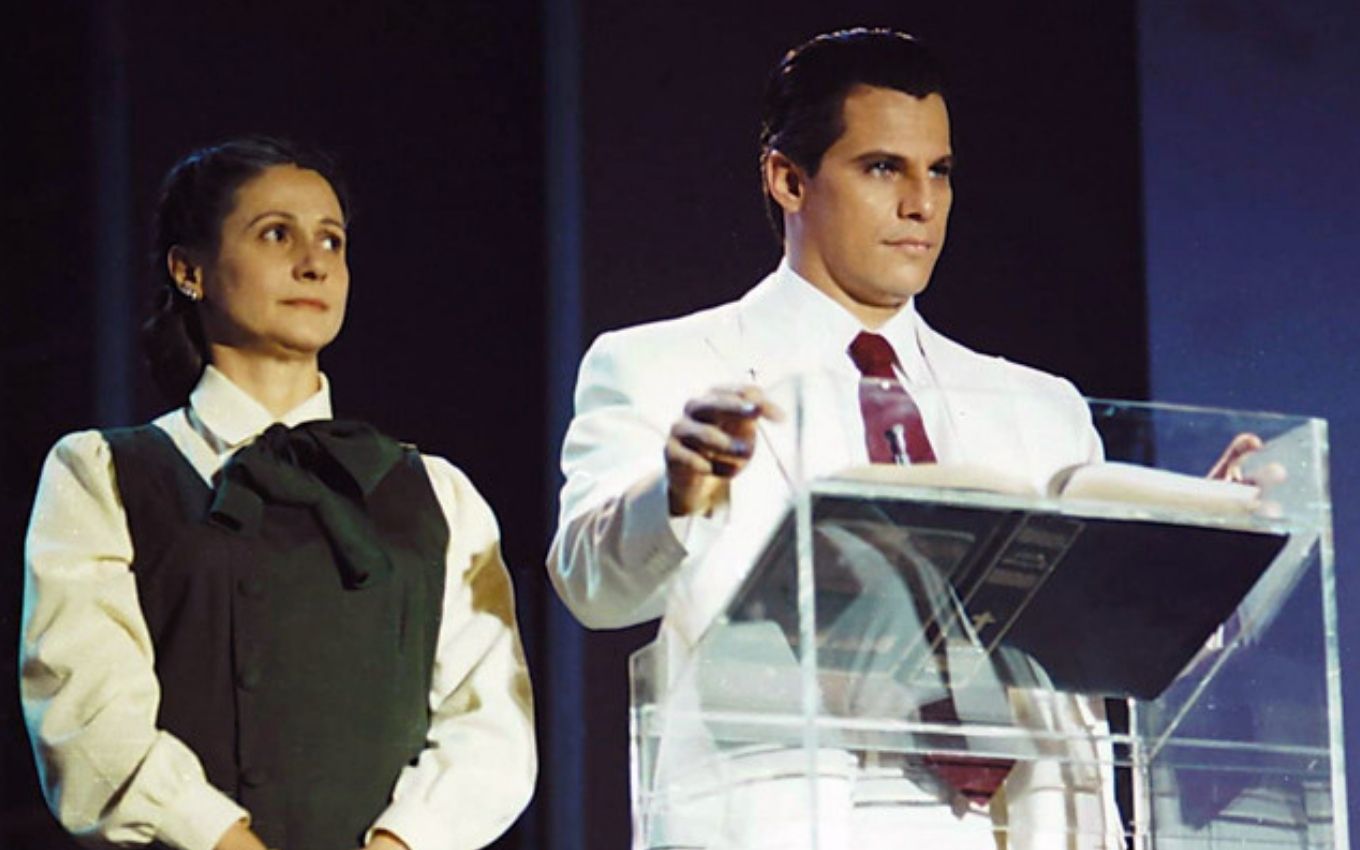 Exactly 26 years ago, Globo got into a big mess with evangelicals and, mainly, with the Universal Church of the Kingdom of God, founded by Edir Macedo, the same owner of Record, when portraying religion in Decay. Dias Gomes' miniseries (1922-1999) was shown in 12 chapters between September 5 and 22, 1995.
To live Pastor Mariel, a poor boy who becomes a millionaire after founding the Temple of the Divine Flame, Edson Celulari spent months visiting evangelical temples and watching the religious programs that have flooded the television dawns since that time.
Saying that he was chosen by God, Mariel forms his flock and acquires radio and television stations in Brazil and abroad, in addition to hiring PJ Tavares (Luiz Fernando Guimarães), a kind of PC Farias (1945-1996), to act as a lobbyist with the deputies in Brasilia.
"Pastors who have good intentions cannot be bothered with this character. He will only serve as a shell for those who act in bad faith", declared the actor to the newspaper O Globo on July 9, 1995.
The launch of the miniseries was the trigger to return to the war between Globo and Record. In August of that year, Fantastic showed critical reports about the money-gathering and exorcism being practiced in evangelical Pentecostal churches.
Also in 1995, Jornal Nacional showed a denunciation, with videos, about how Edir Macedo, leader of the IURD and owner of Record, taught his pastors to convince the faithful to give offerings and tithes in services.
The change came shortly thereafter. On September 4, 1995, the day before the debut of the global production, the debate program 25ª Hora had as its theme the discussion of the role of Organizações Globo (currently Grupo Globo) in Brazilian society.
In addition, Folha Universal, the IURD newspaper, began attacking the competing broadcaster in its headlines. "Demoralization and arbitrariness in Globo's Journalism", "Despair: the 'fantastic' Globo is in decline" and "Globo admits: Universal is the fastest growing church" were some of the highlights.
Shortly after, on October 12th, there was the famous case of the kick by Pastor Sérgio Von Helder on an image of Nossa Senhora Aparecida on the program O Despertar da Fé, also on Record. The event had great repercussions throughout Brazil.
Satire by Edir Macedo
A Veja report on September 6, 1995 highlighted that Mariel was a satire by Edir Macedo: "There are several similarities between the fictional pastor Mariel Batista and the bishop of Universal. Both wear jelly hair, own radio stations and become millionaires. cults shown in Decadence, as in Universal, there are exorcism sessions and Satan is talked about very intimately."
"Just as happened with the real Edir Macedo, the fictional Mariel also faces a time in his life when he is arrested and accused of charlatanism and faith healing. What will certainly irritate Universal's followers is that Celulari's character is a charlatan from the head to the shoes that the people's faith uses to enrich themselves", wrote Marcelo Camacho and Edna Dantas.
"I researched several evangelical leaders, it wasn't just Edir Macedo. If he feels identified with Mariel, if he wears his hat, that's his problem", provoked author Dias Gomes in the same article.
"I don't want to be inspired by this or that pastor, nor to specify a certain religion. This happens as much here as in Japan and, therefore, it won't be necessary to choose a single name", assured the actor to the newspaper O Globo on May 3, 1995 , already anticipating the confusion.
Record even thought of producing a miniseries about a story very similar to that of Roberto Marinho (1904-2003). The author would be Romero da Costa Machado, a former Globo employee, who wrote the book "Afundação Roberto Marinho".
"It will be the story of a mediocre journalist who inherits a bankrupt newspaper from his father, makes a pact with the dictatorship, founds a TV station and gets madly rich," said Romero. Eduardo Lafon (1948-2000), then programming director at Record, confirmed that the production, which never came out, was in the network's plans.
To mitigate the case, Globo took action. Central Globo de Produção and the broadcaster's vice-presidency for Operations, headed by José Bonifácio de Oliveira Sobrinho, known as Boni, decided to include in the opening of the mini-series a text that said it was "must renew their respect for all religions". Read by Celulari, the message emphasized that Decadence was not intended to criticize any particular religion, nor any of its representatives.
.