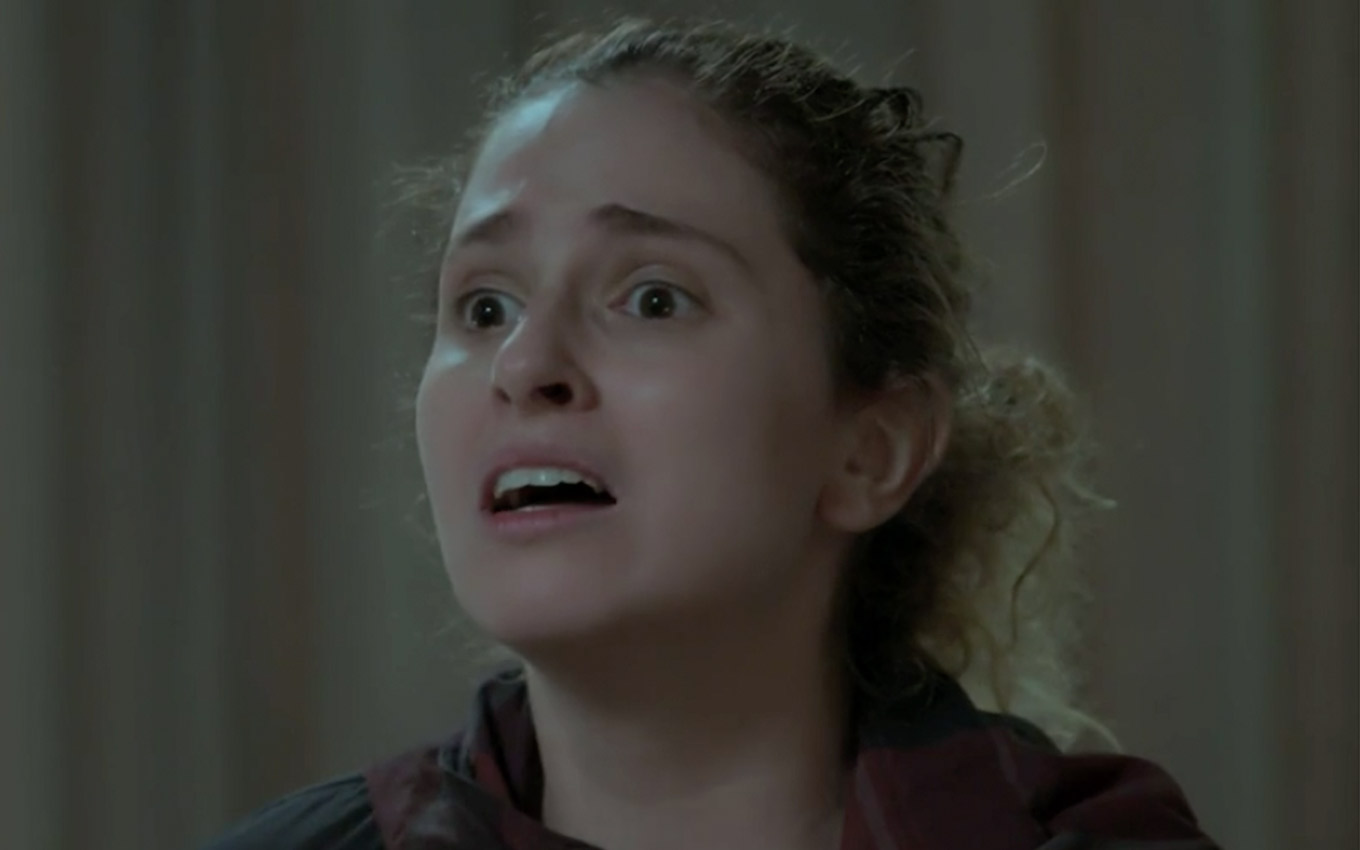 Ivana (Carol Duarte) will finally open the game with the family about her gender identity in The Power of Wanting. In the scenes scheduled to air this week in Globo's nine o'clock soap opera, the character will gather part of the Garcias and tell everyone about who she truly is. "I am a man who was born that way, in this wrong body", will say the blonde, moved.
The act of courage of Simone's cousin (Juliana Paiva) will take place next Saturday (16) in the plot of Gloria Perez: "I spent my whole life fighting with my body, not accepting it. This body is not mine. It was a mistake ", Silvana's niece (Lilia Cabral) will start, nervous.
Contrary to her daughter's ideas, Joyce (Maria Fernanda Cândida) will believe that the girl is drugged. Ruy (Fiuk) will ask someone to call a psychiatrist to take care of her sister's outbreak. The only person who will be next to the blonde will be Simone. Eurico's daughter (Humberto Martins) will ask everyone to listen to her.
"Do you think it is easy for me to say that to you?", The girl will reply, seeing the confusion set in. Prejudiced, Ruy will assume that his sister is a lesbian and will receive a reversal. "No, I am a man who was born that way in this wrong body", will cut the character of Carol Duarte.
Family prejudice
Joyce will cry with the revelation of her daughter, and Eugênio will question the heiress if the hormones she takes are not responsible for a psychotic break. To convince her parents of her transsexuality, Ivana will tear up her clothes and show that she wears a sash to cover her breasts.
"Are you crushing your breasts with that band?" Will shout the socialite in shock. Thrilled, Zu's friend (Claudia Mello) will explain that she chose to hide the feminine traits because she doesn't identify herself as a woman. "Nature has bluffed with you and bluffed with me too", will release the girl.
Irene's rival (Débora Falabella) will continue to offend her daughter and will ask a doctor to come to the apartment to sedate the heiress. Ivana will be increasingly irritated by the situation and will reinforce that she is so committed to her gender transition that she decided to take testosterone to become a man.
"Do you want to put on a beard? Like mine?", Ritinha's husband will mock. Tired of the family's lack of understanding, Carol Duarte's character will give up the decisive conversation. "I want to be who I am, and I came to ask you if you accept me. But I see that you don't. You don't accept me!", She finished, frustrated.
Joyce and Eugênio will be devastated with revelation
Week Summary
Second, 1/11 (Chapter 97)
Ritinha and Zeca kiss, but he asks her to leave his house. Jeiza tells Erica that she is abandoning her fighting career. Ruy comments to Joyce about the prophecy of the Indian. Sabiá tells Bibi that the press highlighted Rubinho's role in trafficking.
Caio prepares the police invasion of Morro do Beco, and Selma worries about Bibi. Mere arrives on a trip to support Zeca. Sabiá is shot, and Rubinho takes charge of the crime. Joyce catches Ivana pretending to shave and despairs.
Jeiza arrives in Niterói and finds out that Ritinha visited Zeca in the prison. Silvana is arrested during a police raid on a clandestine casino. Jeiza and Zeca make up. Eurico is called to the police station because of Silvana.
Tuesday 1/12 (Chapter 98)
Eurico leaves Silvana and moves to Heleninha's house. Dantas helps Silvana, who says she is not a compulsive player. Dita asks Simone for help. Rubinho and Bibi command the actions on the hill. Jeiza is suspicious of Rubinho and Bibi's involvement in Zeca's prison. Jeiza confronts Ritinha about her connection with Bibi.
Simone tries to comfort Silvana, who suffers from her separation. Ruy, Joyce and Eugênio discover the syringe in Ivana's room, and the lawyer believes her daughter is on drugs. Silvana tries to explain herself to Eurico, who says he will not resume the wedding. Aurora advises Silvana to seek professional help to get rid of the addiction. Bibi teases Jeiza.
Wednesday, 1/13 (Chapter 99)
Jeiza threatens Bibi. Joyce despairs at Ivana's behavior and asks Simone for help. Eva suggests that Ivana communicate her transition to the family. Rubinho tells Bibi that he will scare Jeiza. Simone tells Eurico that Silvana has a disease. Caio promises to help Silvana with Eurico, if she accepts treatment for her addiction.
Bibi suspects that Rubinho is cheating on her and revolts. Rubinho asks Batoré to take the blame before Bibi. Aurora ventes her concern for Bibi to Selma. Irene advises Mira to go back to the office and ease Dantas's suspicions. Jeiza talks to Alan and resumes his training. Jeiza's car is hit by a rifle.
Thursday, 1/14 (Chapter 100)
Everyone comes to Jeiza, who claims to know where the shot at his car came from. Ritinha asks Bibi not to do anything against Zeca. Simone assures Joyce that Ivana is not using drugs. Jeiza talks to Caio about Bibi and Rubinho's actions against her and Zeca. Zeca gets emotional with the help of Ritinha. Mira intercepts the evidence against her and Irene.
Ruy sees Irene with Mira, but the architect misleads him. Elvira tells Eurico that Garcia returned for the company's money. Cibele sees when Ivana buys hormones at the gym and tells Joyce. Cândida begs Aurora and Bibi not to do anything against Jeiza. Bibi scolds Rubinho for shooting Jeiza. Joyce confronts Ivana.
Friday, 1/15 (Chapter 101)
Ivana is unable to tell Joyce and Eugênio about her transition and tells Simone that she will be away from home for a while. Silvana disguises her computer game for Simone. Ivana takes shelter at Nonato's house. Bibi asks Rubinho to drop the charges against Zeca. Cibele promises Ruy that he will find out what Ivana is taking.
Ivana talks to Nonato about her love for Cláudio. Edinalva praises Abel. Jeiza is suspicious of the behavior of Zeca, who remembers Ritinha. Silvana forbids Nonato to take Eurico's belongings from his home. Zu asks Ritinha if she is cheating on Ruy with Zeca. Irene breaks into Eugênio's car.
Saturday, 1/16 (Chapter 102)
Irene steals Eugênio's car. Zeca receives a message from Ritinha and has a feeling. Abel and Nazaré worry about Zeca. Silvana tells Eurico that she will be admitted to a rehabilitation clinic, and the two kiss. Caio notices that Irene rescued the lost earrings at her home and comments with Leila.
Bibi provokes Caio with a declaration of love to Rubinho. Aurora demands that Bibi take Dedé back to her home. Caio and Eurico accompany Silvana to the clinic. Eugênio despairs when he doesn't find the spare key for his car, and Irene celebrates.
Dantas confronts Mira. Silvana steals Dantas' checkbook. Ritinha tells Joyce that she saw Eugênio take a taxi to work. Ivana announces that she needs to talk to the family. Irene returns Eugenio's car key to Joyce.
---
The chapters of A Força do Querer are provided by Globo and are subject to change without notice
---
Subscribe to the channel TV News on YouTube and watch videos with revelations of what will happen in A Força do Querer and other novels.
.