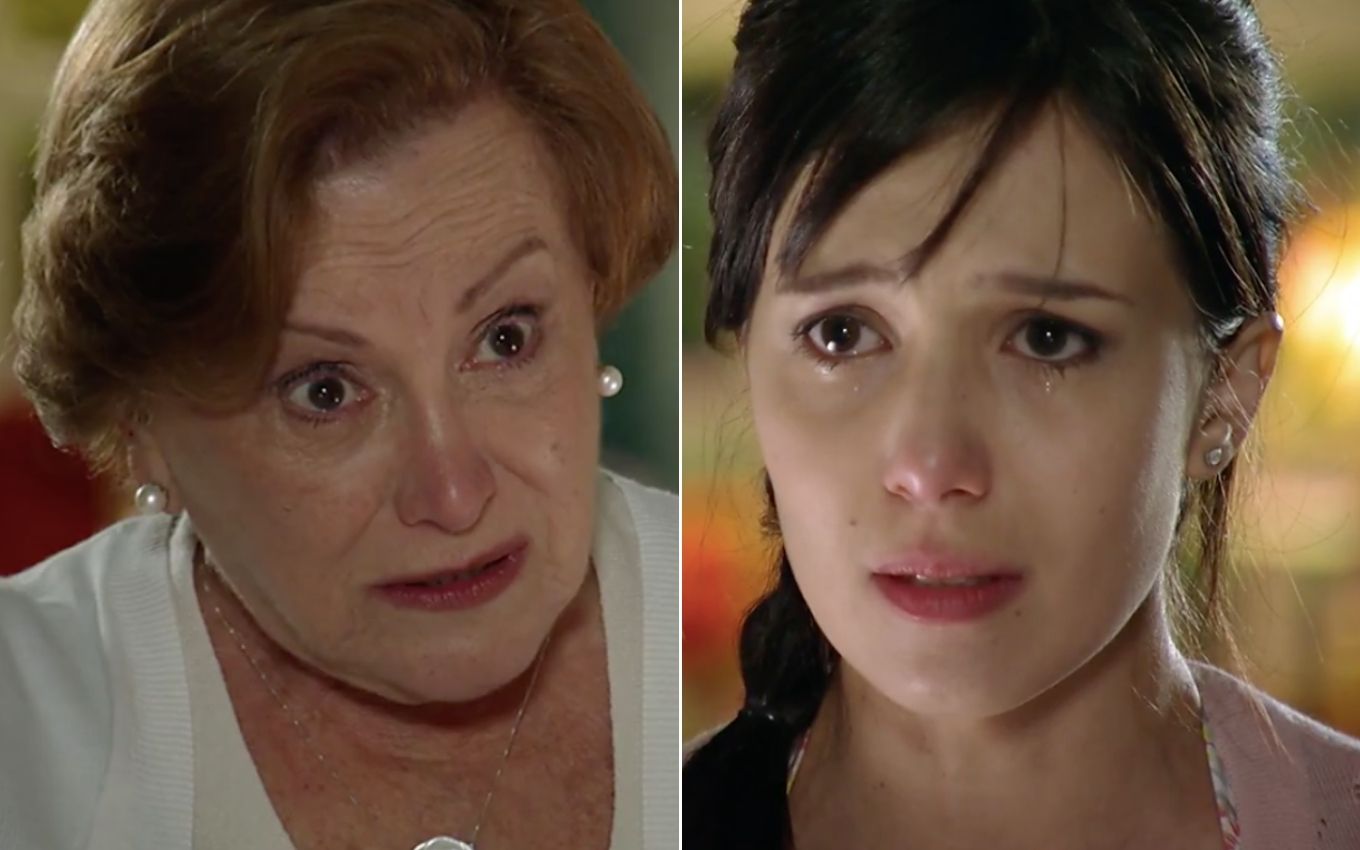 Iná (Nicette Bruno) will use the tarot cards to spy on the future this week in A Vida da Gente. She will alert Manuela (Marjorie Estiano) that fate is about to play a trick on her. The retiree will reveal that, no matter how much her granddaughter struggles with her own feelings, life will take charge of uniting her with Rodrigo (Rafael Cardoso) in Globo's six o'clock soap opera.
Eva's mother (Ana Beatriz Nogueira) has already shown that she has the gift of foreseeing events through premonitory dreams in Lícia Manzo's booklet. This time, with the help of the deck, she will notice that the young woman has a much greater affection than the friendship for Nanda's brother (Maria Eduarda de Carvalho).
The character of Marjorie Estiano will confess that she is in love with her brother-in-law and will cry because she feels that she has betrayed Ana (Fernanda Vasconcellos). She will state that the couple is not allowed to go over the tennis player still in a coma, in scenes that will be shown next Saturday (24).
"You have no right, why? It's all here, baby, and I'm not saying it. It's you. And the letters. Even life itself. Fate will unite you two. And life will weave, it will embroidering. It's here. Clear as water ", will reveal Laudelino's girlfriend (Stênio Garcia).
Manuela, however, will say that she feels guilty for almost kissing the protagonist lived by Rafael Cardoso, but that she was saved by the arrival of Lourenço (Leonardo Medeiros). The teacher will show up late at Júlia's birthday party (Jesuela Moro), but in time to interrupt the atmosphere of romance between the banker and Rodrigo.
"Listen to your grandmother, daughter. That is a certainty for someone who has lived a lot and has witnessed a lot in this life. It is the destiny of the two of you to be together. And I am sure Ana would like it to be like this", advises Iná.
Globo postponed the premiere of the unprecedented Nos Tempos do Imperador until the second half of this year. The season plot is expected to go on air in August. In addition to the spoilers, the TV News publishes daily the summary of the six o'clock soap that the broadcaster reprises due to the Covid-19 pandemic.
Iná (Nicette Bruno) and her tarot in the six o'clock soap opera
Summary of chapters
Second, 4/19 (Chapter 43)
Nanda breaks into Jonas' office and demands that he finance his stay in London. Iná and Rodrigo convince Manuela to throw a party for Júlia's birthday. Matias suggests that Cris hire Lorena to look after her future son.
Sofia complains about Marcos' house. Eva is irritated by her granddaughter's birthday party. Nanda tells her brother that she is going to travel. Laudelino insinuates that Matias is interested in Lorena. Lorena is happy when Matias asks her out. Laudelino and Iná are surprised to see Rodrigo and Manuela dressed up for the party.
Tuesday, 4/20 (Chapter 44)
Manuela publishes photos of you with Júlia and Rodrigo on the blog you made for Ana. Júlia starts walking. Rodrigo attends the faculty of architecture. Rodrigo takes his daughter to visit Ana. There is a passage of time and Júlia continues to grow up happy.
Iná realizes that Manuela feels something for Rodrigo. Rodrigo confesses to Lourenço that he is getting closer to Manuela. Rodrigo and Manuela kiss. Rodrigo asks Manuela if she wants to marry him.
Wednesday, 4/21 (Chapter 45)
Manuela tells Ana that she fell in love with Rodrigo. Manuela and Rodrigo buy a house together and begin a major renovation. Cris and Jonas do not pay attention to their son Tiago. Lourenço sends an employee of the publishing house to hand Celina an invitation to launch her book.
Eva talks to Lúcio about a treatment that can help Ana. Laudelino complains to Iná for not wanting to marry him. Eva watches Sofia's tennis game and smiles, satisfied with the girl's mistakes. Marcos meets Dora at the door of Vitória's building. Dora tells Marcos that she broke up and returned to Porto Alegre.
Thursday, 4/22 (Chapter 46)
Marcos and Dora talk and make an appointment with their daughters. Cris and Jonas get angry when Tiago wants to sleep with them, and the boy asks Lorena for help. Olivia and Sofia don't remember each other, and Marcos and Dora are disappointed.
Lourenço looks forward to waiting for Celina to launch her book. Moema goes to Iná's ball and Wilson talks to her. Ana shakes Eva's hand.
Friday, 4/23 (Chapter 47)
Eva tells Lúcio that Ana shook his hand, but the doctor believes it is an involuntary movement. Julia complains about having to go to the hospital to visit her mother. Sofia tries to get a job for Marcos. Iná decides to write an anonymous love letter to Aurélia. Lorena regrets Tiago's sadness.
Marcos and Dora take their daughters out, but are frustrated by the lack of a topic between them. Manuela manages to convince Júlia to visit Ana. Nanda returns to Brazil and Rodrigo searches for him at the airport. Lúcio reads the criticism about Lourenço's book for Celina. Iná has a new dream about Ana.
Saturday, 4/24 (Chapter 48)
Eva sees Ana crying and calls Lucius. Francisco complains about Nanda to Lui. Marcos does not accept the job that Sofia's friend's father offers him. Lucius still does not believe that Ana is recovering.
Sofia asks to go out with her friends but Vitória won't let her. Lorena warns that Tiago needs to be taken to the doctor and is frightened by the neglect of Jonas and Cris. Iná senses that Ana is recovering and tells Laudelino.
---
The chapters of A Vida da Gente are provided by Globo and are subject to change without notice
---
Subscribe to the channel TV News on YouTube and watch videos with revelations of what will happen in A Vida da Gente and other soap operas.
.