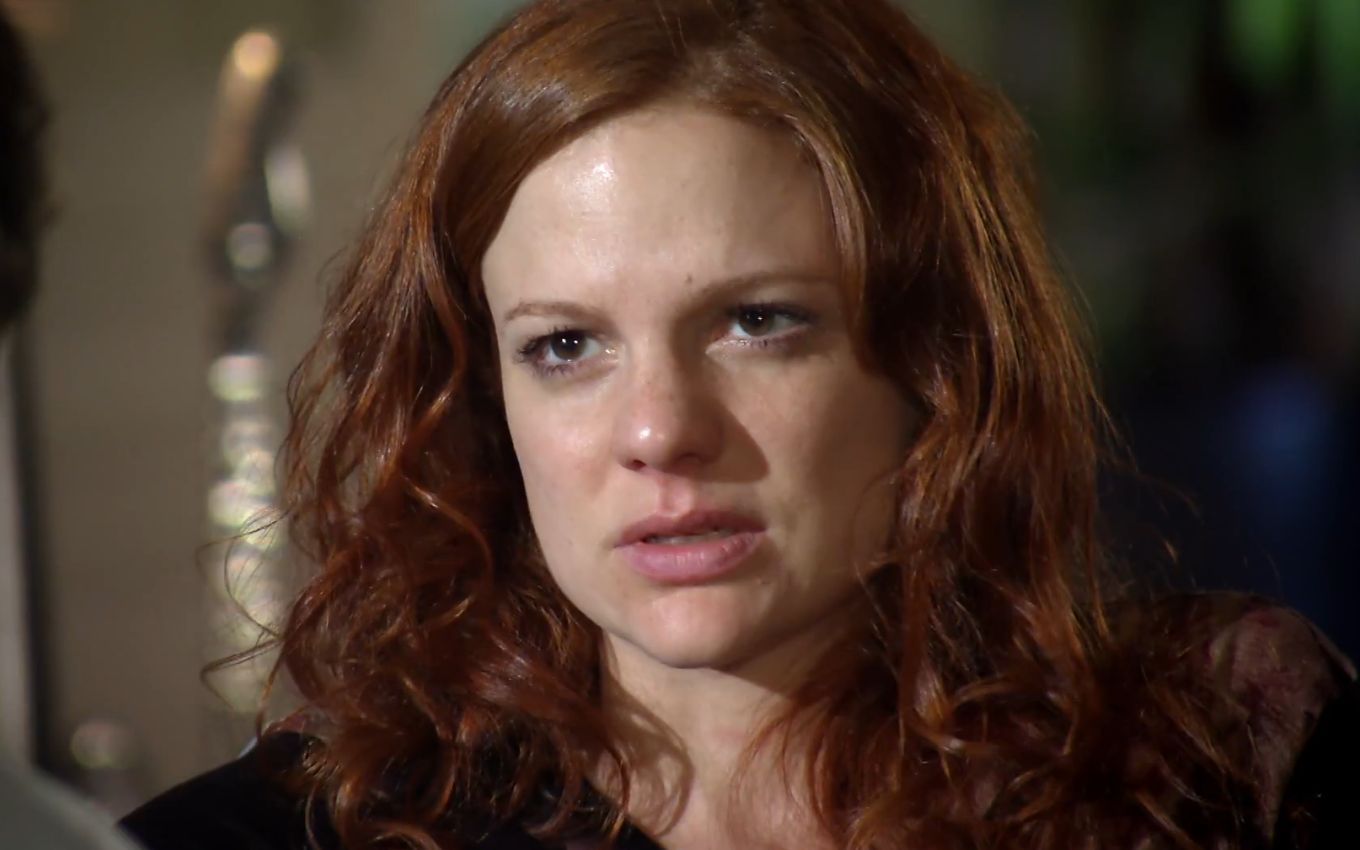 In the grave because of the death of Lui (Marat Descartes), Nanda (Maria Eduarda de Carvalho) will surprise her brother with her sincerity in A Vida da Gente. Rodrigo (Rafael Cardoso) will pressure her to take care of Francisco (Victor Navega Motta) and will hear her confess that she doesn't even know if she likes the boy, ignoring her boyfriend's posthumous request left in a letter on Globo's six o'clock soap opera.
In next Saturday's chapter (10), Nanda will find in Lui's things a score with a small annotation. "The lyrics are his, look at what he wrote: 'For Nanda and Francisco to stop fighting,'" the young woman will say, in tears, as she shows the paper to her brother.
Rodrigo will try to lift her spirits. "You can't stay like this all day, in a catatonic state, holding this," he'll say. "I know, I'd like to do something else," Jonas's daughter (Paulo Betti) will respond.
"And why don't you do it?" the boy will provoke. "It's no use coming up with the speech that you don't have a vocation for unconditional love. Or else saying you don't want to be responsible for the boy," he added.
The honest conversation with her brother will make Nanda admit that she will not be able to give love to her dead boyfriend's son. "I can't. Of course I get stirred up, because I loved Lui. This kid is a piece of him that's alive in the world, but honestly, what I'm going to say is ugly: I don't even know if I like Francisco", will argue.
"But there are only two ways for you to continue with your life. One is to stamp your foot like a child and throw a tantrum at the situation. Or else accept the challenge of growing up and trying to change. And if your choice is to continue in this comfortable place of victim of the world, it's even better to forget about Francisco for good", will pressure Rodrigo.
Chapter summary
Second, 7/5 (Chapter 109)
Sofia and Alice get emotional when they meet. Laura ends her relationship with Lúcio. Julia calls Ana her mother. Jonas praises Angela when he sees an old photo. Rodrigo tells Manuela that he will step away from managing the buffet.
Rodrigo says that Manu is a great woman and soon after gives away Ana. Ana cheers Sofia up before her first game in the tournament. Vitória requires Cecilia to play a technical game to win her matches. Sofia and Cecília win every match and proceed to the final of the tournament.
Tuesday, 6/7 (Chapter 110)
Ana tries to reassure Sofia during training, while Vitória is tough on Cecilia. Laudelino accepts to be Rodrigo's partner in another business. Dora worries when she learns that Marcos paid an expensive ad to promote the agency.
Lúcio invites Ana to go to the movies. Iná complains about Laudelino to Moema. Cris catches Jonas at the restaurant with Angela and ends up forgetting Tiago in a recreation area at the mall. Lorena tells Tiago that he's at the mall and Lourenço runs to get him.
Wednesday, 7/7 (Chapter 111)
Rodrigo is delighted to see Manuela dressed to go out. Lourenço says he'll fight for Tiago's guard. Moema convinces Iná to talk to Laudelino. Eva is irritated by Sofia's performance.
Cecilia wins the match, and Victoria smiles with satisfaction. Ana comforts Sofia. Vitória worries about Cecilia's emotional state. Lourenço tells his lawyer that he intends to do what he can to stay with Tiago.
Thursday, 8/7 (Chapter 112)
Dora complains to Celina about Marcos' attitudes towards the agency. Suzana invites Renato to work with her. Jonas thinks about increasing Lorena's salary so that she can keep a secret about what happened at the mall with Tiago.
Alice meets Barbara, who is delighted with her older sister. Laudelino goes to the therapist. Cicero is jealous when he learns that Suzana will work with Renato. Ana and Lúcio do several programs together. There is a passage of time. Lucius and Ana kiss.
Friday, 9/7 (Chapter 113)
Ana tells Alice that she got back together with Lúcio. Laudelino thinks about sharing the results of her therapy with Iná. Celina is moved by Lúcio's request to be with her in the delivery room.
Lourenço tells Rodrigo that he filed a lawsuit against Jonas. Tiago is saddened by his parents' lack of attention and asks Lorena to call Lourenço. Ana tells Julia that she started dating Lúcio again. Jonas receives notification of Lourenço's lawsuit against him.
Saturday, 7/10 (Chapter 114)
Eva suggests that Ana write her biography. Humberto breaks up the partnership with Marcos. Manuela takes Júlia to visit Gabriel's farm. Iná and Laudelino resume their relationship. Nanda finds a score by Lui dedicated to her and Francisco. Jonas is baffled by Lourenço's courage to persist with the lawsuit against him.
---
The chapters of A Vida da Gente are provided by Globo and are subject to change without notice
---
Learn all about the upcoming chapters of soap operas with the Noveleiros podcast
Listen to "#64 – Luna Goes From Heaven to Hell in Save Yourself!" on Spreaker.
---
Subscribe to the channel TV news on YouTube and watch videos with revelations of what will happen in A Vida da Gente and other soap operas.
.