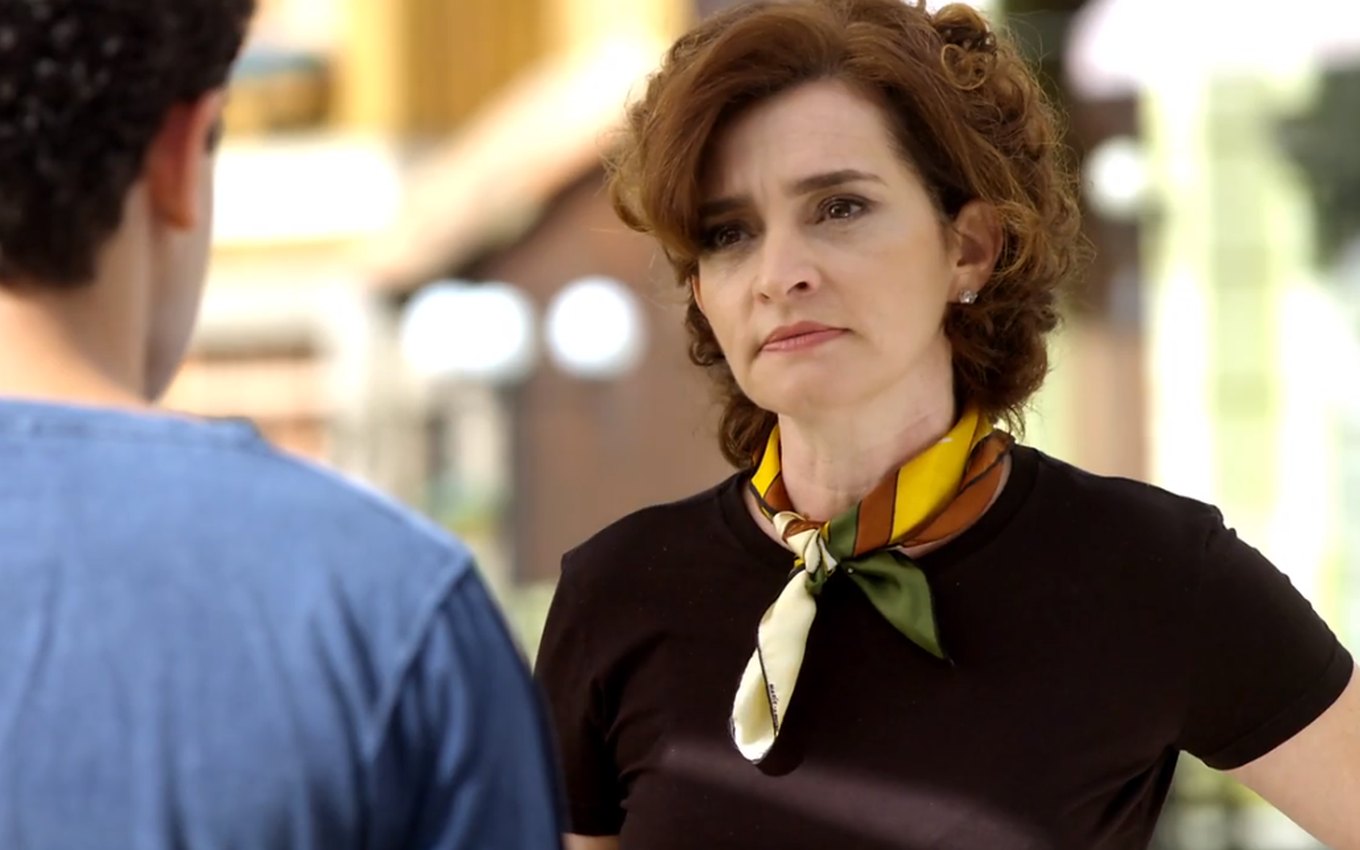 Vitória (Gisele Fróes) will take another trip through life when she witnesses a "Judas kiss" in A Vida da Gente. The coach will fume with rage when she catches her daughter full of intimacy with Miguel (Rafael Almeida), her assistant in training with Cecília (Polliana Aleixo). "Do you think I'm an idiot?", she will question, accusing the boy of passing information from his ward to Sofia (Alice Wegmann) on Globo's six o'clock soap opera.
When leaving Bárbara (Pietra Pan) at Marcos' (Ângelo Antônio) building, right after the girl leaves the car, Vitória will see Miguel approaching and talking to the doorman at the place. Curious, she will wait to see what the young man is doing there.
Soon after, Sofia will leave the building, hug and kiss her boyfriend. Not believing in the scene, the trainer will get out of the car and have a tantrum.
Damn awesome huh? You are not guaranteed! Dating a person who trains Cecília is the same thing as passing a certificate of mediocrity, of opportunism.
"What are you saying?" the young woman will ask, impressed by her mother's attack. "I'm saying that this is espionage", will accuse Vitória in scenes that will air on July 12th in Lícia Manzo's plot.
Miguel will intervene and defend himself. "What's this, Victoria? I never said anything to her about ours…", he will begin, but will be harshly interrupted by the woman. "Shut up, boy! I could sue you. Don't you have any idea what you've done?", she will ask exaggeratedly.
"Mother, that's it. He didn't do anything! You can't go around accusing a person like that", warns Ana's new pupil (Fernanda Vasconcellos). Nervous, Victoria will ask why she should trust Miguel.
"Because of your defeat? The only thing your defeat proves to me is your mediocrity. And you, you brat. You should have had the dignity to make your position available," he'll snarl.
Miguel will justify that he didn't resign because he depends on the job and will say that he never disrespected their agreement. "Do you think I'm an idiot? Don't you ever dare to set foot in that club again. Not even to take your payment. In fact, you owe me! I could charge you compensation, a fine!" she continues with her tantrum, before turning his back and walking away.
Globo postponed the premiere of the unprecedented Nos Tempos do Imperador to the second half of this year. The period plot will air on August 9th. In addition to the spoilers, the TV news publishes daily the summary of the six telenovelas that the network reruns due to the Covid-19 pandemic.
---
Learn all about the upcoming chapters of soap operas with the Noveleiros podcast
Listen to "#63 – All about Kyra and Rafael's reunion in Save Yourself!" on Spreaker.
---
Subscribe to the channel TV news on YouTube and watch videos with revelations of what will happen in A Vida da Gente and other soap operas.
.