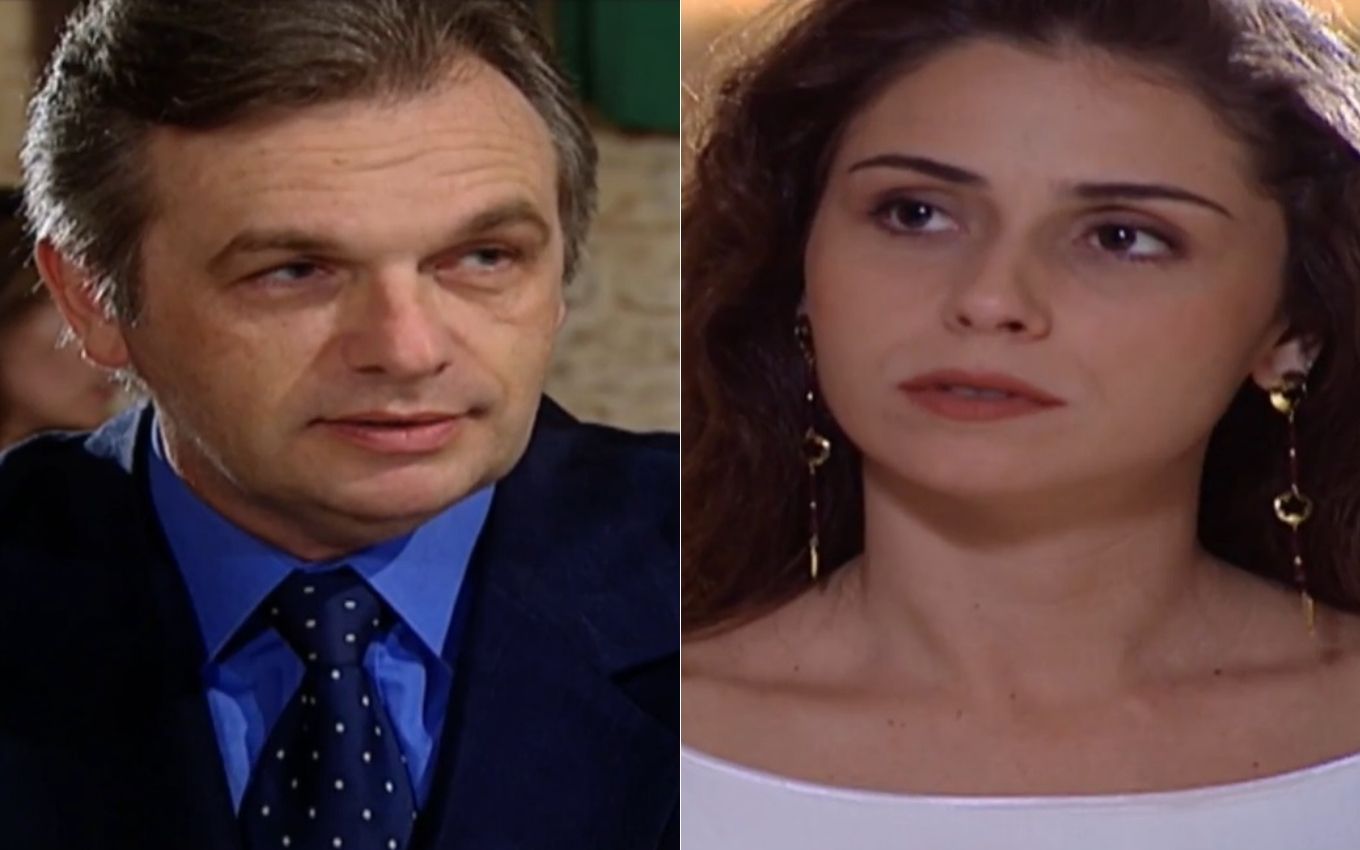 Orlando (Henri Pagnoncelli) will decide to make Capitu (Giovanna Antonelli) his wife into Family Ties once and for all. The businessman "will buy" the call girl by giving her the money requested by Maurinho (Luiz Nicolau) in the soap opera reprized in Vale a Pena Ver de Novo. The rich man will demand that the young woman be exclusively his: "Now you are a woman of respect, woman of only one man. The rotation is over".
In Manoel Carlos' booklet, Bruninho's father (Nathan and Andrey Beltrão) asked for more money for his ex-girlfriend. The rascal will still beat Fred (Luigi Baricelli) to frighten the young woman. With no way out, Camila's friend (Carolina Dieckmann) will turn to her ex-client to get the amount.
In the next chapters of the plot, Capitu will have sex with the millionaire and will ask for his help to get rid of the blackmailer boy. Then Paschoal's daughter (Leonardo Villar) will appear in a restaurant with her former attacker. "I lifted the complete file of the rascal, more dirty than chicken coops", comments the bad character.
The prostitute will question what she should do with the R $ 10,000 demanded by the ex, and the businessman will tell her to make an appointment with the crook, give the money and leave. Henri Pagnoncelli's character will still assure that he will get the rascal out of circulation. "Don't worry that he won't disturb you anymore", the client will say, running his hand over the girl's leg.
"But there is one thing: I don't want you with that guy he beaten anymore. My case is not blackmail, but jealousy. You are mine, exclusive. Forget the teenage sweetheart that you are now a respectable woman. One-man woman. The rotation is over ", he will shoot.
Orlando will then deliver a box with a ring to the call girl. "Beautiful, but I don't want to", counters Helena's neighbor (Vera Fisher). "Are you going to offend me? This is an engagement ring. I am providing an apartment for you to come and live with me", will tell the millionaire.
Capitu will state that he cannot abandon his son and his parents, since it is she who supports the family. "Your son can take you if you want, I don't care. Now, your parents are staying in the apartment they are in. I serve both of them, don't worry. There will be nothing missing for them or you", concludes the businessman.
---
Subscribe to the channel TV News on YouTube and watch videos with revelations of what will happen in your favorite soap operas!
Feedback Policy
This space aims to expand the debate on the subject addressed in the news, democratically and respectfully. Anonymous comments are not accepted nor do they violate ethical and moral laws and principles or promote illegal or criminal activities. Thus, slanderous, defamatory, prejudiced, offensive, aggressive comments that use bad words, incite violence, express hate speech or contain links are summarily deleted.
.