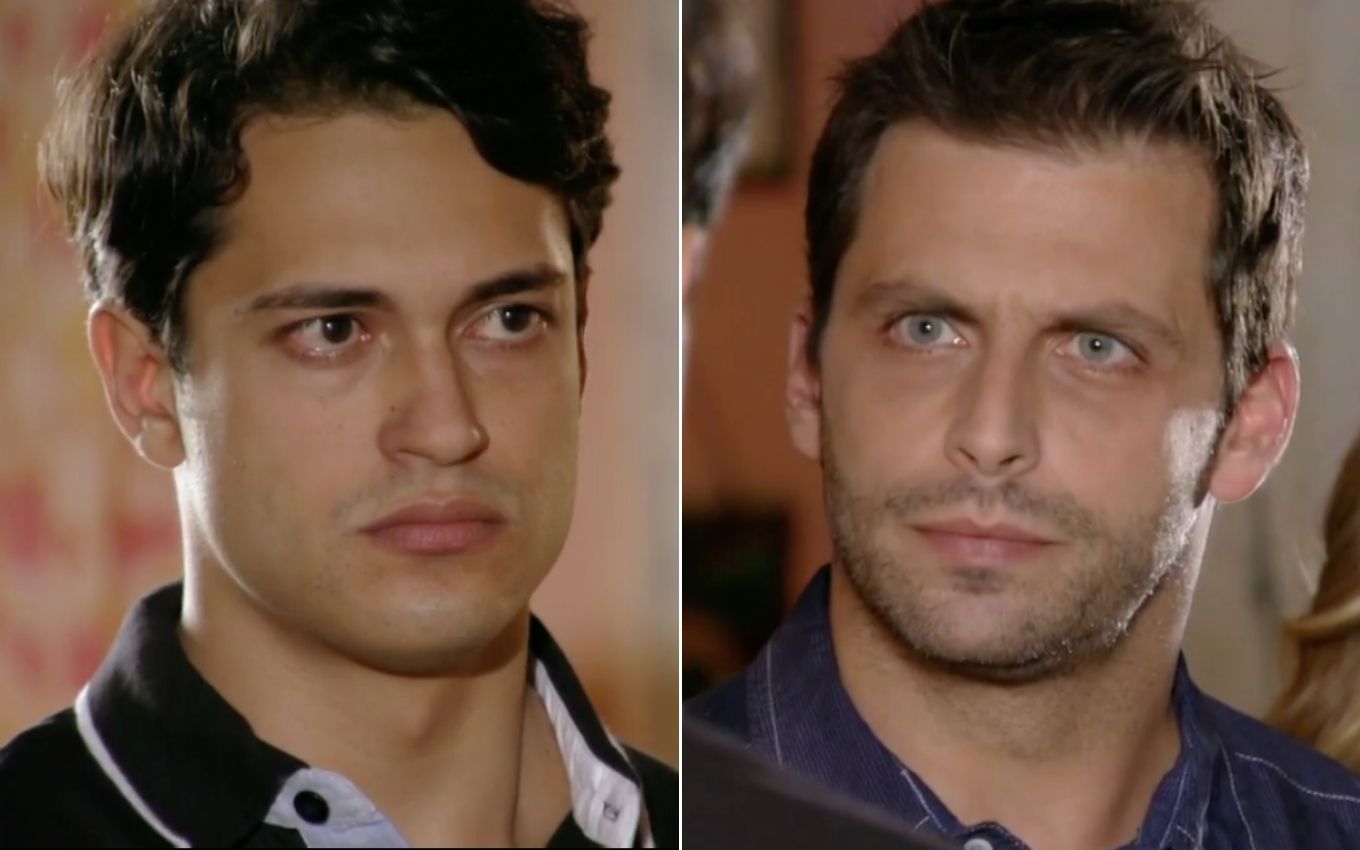 Cassiano (Henri Castelli) will put Hélio (Raphael Vianna) against the wall to compel him to confess that Dionísio (Sérgio Mamberti) is the real mastermind of the attacks against Samuel (Juca de Oliveira) in Flor do Caribe. Bibiana's son (Cyria Coentro), however, will continue to defend Guiomar's father-in-law (Claudia Netto) tooth and nail in the six o'clock soap opera.
Marizé's brother (Livian Aragão) will have accepted a small fortune from the millionaire to pay for the crimes in his place in Walther Negrão's booklet. The lawyer will lie to the police and take over in front of a group of journalists who ordered Ester's father (Grazi Massafera) killed to frame Alberto (Igor Rickli).
Samuca's mother (Vitor Figueiredo), however, will decide to make the story clear in the scenes that will be shown starting on the 20th. She will knock on the boy's door to demand explanations. "Everything I had to say, I already told the police. I'm sorry, so much that I had the courage to confess. What else do you want?", He will question.
"Talk to you", adds the pilot, who will make a point of accompanying his girlfriend. "No, people, I can't. I was very stressed with this whole situation. I am not able to explain it", will change the character of Raphael Vianna.
"It is not what it seems, Hélio. It seems that you are hiding something", will amend the brother of Taís (Débora Nascimento). "You would not commit such brutality. You may not have character, but you are not a murderer", will shoot the protagonist of Grazi Massafera.
Against the wall
Cassiano will lose his patience when he realizes that Juliano's friend (Bruno Gissoni) will continue to take the body away. "Tell the truth straight away, that you are being used as an iron forehead to free the face of the man who actually had Samuel killed. Your boss. Dionísio Albuquerque", the aviator will rage.
"I have nothing more to do with Seu Dionísio. He is no longer my boss. You are imagining things", the young man will insist, about to take a tremendous turn of the ex-soldier.
"You think you're doing a big deal, huh? Listen here. I spent seven years as a prisoner. Just like your father did. Undo this deal while it's time. After you're behind bars, you'll hit your wall so hard hate yourself for having come across this dirty business that looks like a big move ", will demand the hunk of Henri Castelli.
Helio will swallow the scold dry and open the door to expel the couple. "Let's go, Esther. He's too stupid to notice what's on his face. That Alberto and Dionísio are frying him in cold oil," Cassiano will pin. "What a pity. I'm really sorry for you, really. Be a man," will add the blonde.
With the premiere of the soap opera In the Emperor's Times postponed, Globo defined the reprise of Flower of the Caribbean as a substitute for the resubmission of New world. In addition to the spoilers, the TV News publish daily the summary of the six o'clock soap opera that the broadcaster is reprising due to the Covid-19 pandemic.
---
Subscribe to the channel TV News on YouTube and watch videos with revelations of what will happen in Flor do Caribe and other novels.
Feedback Policy
This space aims to expand the debate on the subject addressed in the news, democratically and respectfully. Anonymous comments are not accepted nor do they violate ethical and moral laws and principles or promote illegal or criminal activities. Thus, slanderous, defamatory, prejudiced, offensive, aggressive comments that use bad words, incite violence, express hate speech or contain links are summarily deleted.
.