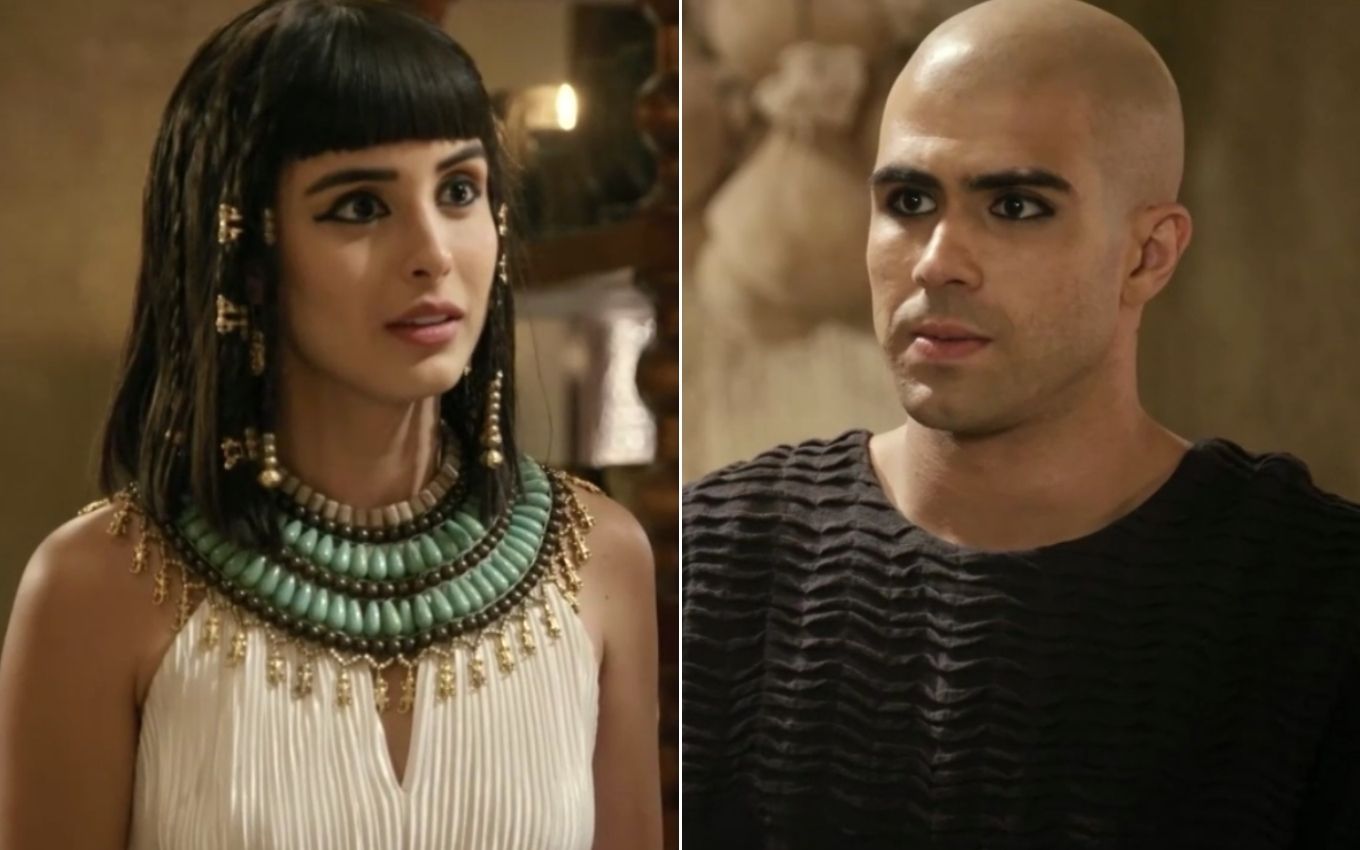 Asenate (Letícia Almeida) will break his face by insinuating that José (Juliano Laham) is the lover of Neferíades (Dandara Albuquerque) in Genesis. The Hebrew will respond accordingly. "I don't know why I wasted my time with a person who is nothing more than a spoiled girl," he will return in Record's Bible soap opera.
The young woman in love will even escape from Sheshi's harem (Fernando Pavão) in the middle of the night to meet the son of Israel (Petrônio Gontijo). In the story, the residents of Avaris are terrified of dawn because they believe that various demons are lurking during the rest of Ra — the sun god in Egyptian mythology.
"What are you doing out here? Aren't you afraid of the night?", asks José, when he sees her at the door of Potiphar's house (Val Perré). "Yes, that's why I brought Tamima with me," she will explain, as she shows you a cat.
"You don't need the cat. I'll design you. Abumani and I [Dudu de Oliveira], the Israelite will answer, giving the tip to his friend to leave them alone. "I'll protect you. Is that the sort of thing you say to Nepheriades too?" sneers Asenate, biting with jealousy.
"What are you talking about?", the boy will be surprised. "Of the many skills she said you have. Exactly what kind of relationship do you have with your lady, José?"
Nepheriads (Dandara Albuquerque) in Genesis
Who is Asenath in Genesis?
Angered by the distrust, José will make it clear that he has no affection or interest for his mistress. "You're accusing me, but in fact I don't even know what. Why are you acting like this?", questioned Judah's brother (Thiago Rodrigues).
"Because I don't like being made an idiot. One moment you come close to me, say you miss me. The other moment you seem to want to be close, it's other people. You know what? Leave it alone. You don't. He owes me the satisfaction of his life. He's nothing to me. He's just a slave like any other," will tread Asnate.
The protagonist played by Juliano Laham will be filled with reason in the scenes that will be shown from next Monday (27):
Then that's it? Are we back on that? You are the mistress and I am the slave. Wants to know? I don't really owe you any satisfaction. I don't know why I wasted my time with a person who is nothing more than a spoiled little girl, who doesn't know anything about life, except changing her mind whenever she wants to.
"So is this over here?" the nobleman will ask. "What is this here? There was never anything", will end José in the serials by Camilo Pellegrini, Stephanie Ribeiro and Raphaela Castro.
Genesis is a free adaptation of the first book of the Bible. The serial is divided into seven phases, and, currently, Record exhibits the seventh: José do Império. In addition to the spoilers, the TV news publishes the summary of the biblical novel.
---
Learn all about the upcoming chapters of soap operas with the Noveleiros podcast
---
Subscribe to the channel TV news on YouTube and watch videos with revelations of what will happen in Genesis and other soap operas.
.